Sports
Agassi finally meets his wall
Mon., Sept. 12, 2005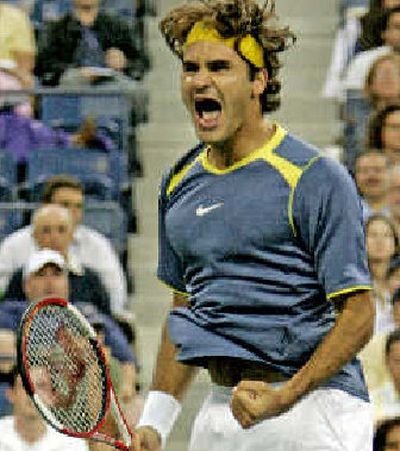 NEW YORK – Seven rounds and 14 days into his 20th U.S. Open, Andre Agassi finally hit his wall. It happened as dusk fell over the National Tennis Center, and over the skyline that changed forever four years ago Sunday.
The wall came in the form of a sublime 24-year-old Swiss with a fat yellow headband and a game as fluid as hot syrup. Top-ranked Roger Federer didn't just defend his U.S. Open title Sunday night, or capture his 23rd consecutive tournament final without a defeat.
He crashed a coronation-in-waiting, rewrote a storybook ending that 23,352 fans at Arthur Ashe Stadium were pulling for with a fervor more typically found in the bleachers in the Bronx.
Thirty-five-year-old Andre Agassi, the oldest man at the Open, didn't have to play five sets Sunday, the way he did the three previous rounds. Federer didn't let him get that far, finishing off his elder, 6-3, 2-6, 7-6 (1), 6-1, doing it with a stunning stretch in which he won 22 of 27 points, smacking winners off both wings and putting unrelenting pressure on Agassi.
"He's the best I ever played against," said Agassi, the oldest Open finalist in 31 years.
Considering the length and quality of Agassi's storied rivalry with Pete Sampras, it was no small compliment.
"I still can't believe how well I've been playing over the last few years and that it just keeps going on," said Federer, who is 70-3 in 2005, and has now won all six of his Grand Slam finals.
The seventh-seeded Agassi, a two-time Open champion, seemed on the cusp of a third title after squaring the match at one set apiece and going up a break for 4-2 in the third.
Agassi won the first two points for 30-love, two points from 5-2. He was mixing his groundstrokes, belting angled returns, giving Federer pace on one shot, taking it away on the next.
"He had made believers out of most people in the stadium (at that point)," said his coach, Darren Cahill. "I absolutely believed he could win the match."
Then Federer mis-hit a backhand that found a line, got to 30-all. Moments later, Federer was hitting a forehand approach winner, and breaking back with a crosscourt backhand off a net cord.
That fast, the match was back on serve, and Federer was coming on. Agassi had a huge hold serving at 5-5, turning away four break points, smacking an ace on the last one, going up 6-5 when Federer hit a forehand return into the net.
Who knew it would effectively be Agassi's last highlight of the match?
Federer held at 15 to force a tiebreaker. Agassi took the first point with an artful backhand slice drop, then came a seven-point barrage on a mix of service winners, deep returns, a backhand return winner on set point.
"He always elevates in tiebreakers," Agassi said. "He can hurt you at any point."
Federer broke Agassi at 15 in Game 2 of the fourth on a forehand approach, one of his 69 winners (more than twice Agassi's 34), and was on his way, forging another break at 15 for 4-0.
Agassi fought off two match points to avoid the indignity of a bagel, drawing one more huge roar from the crowd.
"He never, ever stopped fighting," Cahill said. "I'm so proud of his performance today."
Federer has now beaten Agassi eight straight times, but don't be misled: this was no routine dismissal.
Early in the match, a minute before 5 p.m., a burly guy with a goatee and a backwards hat broke the quiet in the biggest tennis stadium in the world.
"Andre the Giant Killer!" he yelled, from Section 222C in the upper deck.
The guy was almost right. Agassi began his summer with a first-round loss in the French Open, and a withdrawal from Wimbledon. People wondered if he was done, if his chronic sciatic never problem would bring down one of the great American tennis careers in history. No one is wondering that anymore, even if Andre Agassi hit his wall.
Local journalism is essential.
Give directly to The Spokesman-Review's Northwest Passages community forums series -- which helps to offset the costs of several reporter and editor positions at the newspaper -- by using the easy options below. Gifts processed in this system are not tax deductible, but are predominately used to help meet the local financial requirements needed to receive national matching-grant funds.
Subscribe to the sports newsletter
Get the day's top sports headlines and breaking news delivered to your inbox by subscribing here.
---