Sports
Good start to second act for Bledsoe, Parcells
Mon., Sept. 12, 2005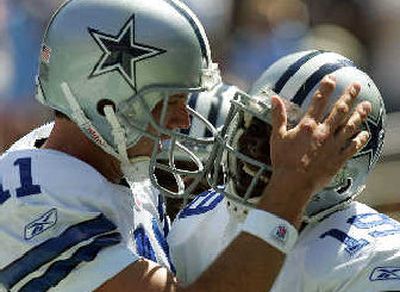 SAN DIEGO – Except for one particularly brutal series, Drew Bledsoe's reunion with Bill Parcells is off to a wild and impressive start.
Hit and harassed all afternoon, Bledsoe responded like the veteran he is, throwing three touchdown passes, two to Keyshawn Johnson, to lead the Dallas Cowboys to a 28-24 win over the defending AFC West champion San Diego Chargers on Sunday.
"It is the best feeling in the world to have a close game come down to just a couple of plays and you are able to do it," said Bledsoe, who became the 10th player in NFL history to throw for 40,000 yards.
Bledsoe threw the winning 2-yard touchdown pass with 3:06 left as Johnson beat cornerback Sammy Davis on a quick out.
"That third-down completion to Keyshawn for the touchdown … I live for this stuff," Bledsoe said.
The Cowboys didn't get to celebrate, though, until Aaron Glenn intercepted Drew Brees' throw in the end zone with 24 seconds left. Brees kept alive a desperation drive with a 33-yard completion to Eric Parker to the Dallas 7-yard line with just more than a minute left. Then Brees' fourth-down pass bounced off Parker and Glenn came down with it.
"When it got tipped in the air I knew it was going to be either me or him that was going to get it," Glenn said.
Signing the 33-year-old Bledsoe on Feb. 23 was part of a sweeping off-season makeover after the Cowboys went 6-10. While with New England, Parcells made Bledsoe the first overall pick in the 1993 draft.
"This game was very, very important for us, not only to win it but to win it the way that we did," Bledsoe said.
Dallas' winning drive started on the San Diego 44 after Mike Scifres' shanked punt went only 18 yards. It was kept alive when cornerback Quentin Jammer was called for holding on third-and-16 at the 37. After three carries by Julius Jones, Bledsoe hit Johnson.
Bledsoe passed the 40,000-yard mark on a 15-yard completion to Terry Glenn on the first play of the fourth quarter. Bledsoe was 18 of 24 for 226 yards, giving him 40,034 yards in his career. He was sacked four times and wasn't intercepted.
"Bledsoe was pretty accurate," Parcells said. "When we were open, he hit it, pretty much."
Local journalism is essential.
Give directly to The Spokesman-Review's Northwest Passages community forums series -- which helps to offset the costs of several reporter and editor positions at the newspaper -- by using the easy options below. Gifts processed in this system are not tax deductible, but are predominately used to help meet the local financial requirements needed to receive national matching-grant funds.
Subscribe to the sports newsletter
Get the day's top sports headlines and breaking news delivered to your inbox by subscribing here.
---