Sports
Title in Wheldon's grasp
Mon., Sept. 12, 2005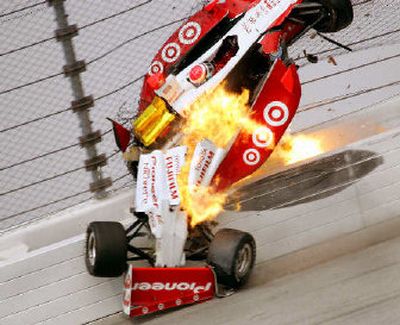 Dan Wheldon set an Indy car record Sunday with his sixth victory this season and all but clinched his first IRL championship, beating Helio Castroneves and Sam Hornish Jr. in a tight finish to win the PEAK Antifreeze Indy 300 at Chicagoland Speedway in Joliet, Ill.
Wheldon beat Castroneves by about a hood's length, with Hornish taking third place.
Wheldon will win the points title simply by taking to the track at Watkins Glen in two weeks. With Sunday's victory, he broke a tie with Hornish for wins in a season.
Wheldon survived a pit speed violation midway through the race, regained the lead on the 179th lap, held off a pack in the final stages, and finished in 1 hour, 47 minutes, 49.6126 seconds – 0.0133 seconds ahead of Castroneves.
Hornish, a two-time winner at Chicagoland, was followed by Tomas Scheckter and Tony Kanaan.
Danica Patrick, starting from the pole, was sixth – the seventh top-10 finish of her rookie season. The Roscoe, Ill., native lost the lead to Scheckter on the second lap and never got it back despite a push late in the race. She jump started coming out of a pit after the 188th lap and got knocked down two spots to fourth.
"Ryan Briscoe suffered broken bones and a concussion in a fiery collision with Alex Barron on the 20th lap of the PEAK Antifreeze Indy 300.
Briscoe's car flipped over Barron's and slammed into the safety barrier after the two clipped tires on the fourth turn. The rear end of Briscoe's car broke away, and debris tore a hole in a fence along the barrier.
Briscoe was taken by helicopter to Advocate Christ Medical Center in Oak Lawn, Ill. He was to spend the night with broken right and left clavicles, a concussion and bruised lung.
Barron and Kosuke Matsuura, who also was involved, walked away unscathed.
Formula 1
Kimi Raikkonen won the Belgian Grand Prix in Spa-Francorchamps, Belgium, for the second straight year, keeping alive his distant shot at the title, while denying Fernando Alonso a first chance at becoming Formula One's youngest champion.
Raikkonen overtook McLaren Mercedes teammate Juan Pablo Montoya in the final stages for his sixth victory of the season. Alonso capitalized on Montoya's late collision and finished second with a contained and conservative race. Jenson Button of Britain was third, followed by Mark Webber of Australia.
"It was a perfect race for the team but very unlucky for Juan Pablo," Raikkonen said.
Alonso pumped his fists on the victory stand as if he won. The 24-year-old Spaniard leads Raikkonen in points 111-86 with three races to go, the next one in Brazil in two weeks. Alonso can clinch the title by finishing in the top three.
"The international automobile federation criticized Michelin for threatening to quit Formula One if teams have to use a single tire producer after 2008.
FIA said the French tire producer had an "almost comical lack of knowledge of modern Formula One" over reform plans for the sport. The company, which provides tires for most F1 teams, threatened at the Belgian Grand Prix to leave the sport if the plans were adopted.
"Michelin would be forced to question its involvement in Formula One in 2008," Michelin said in a statement. "Michelin could even reconsider its participation in 2007."
A decision is expected before the end of the year.
FIA and Michelin have been feuding since the Grand Prix in Indianapolis on June 19 when seven teams could not compete after Michelin said its tires were unsafe for the circuit. Michelin wanted a series of turns installed to slow cars, but FIA refused.
The federation contends all Formula One teams support a single tire producer. Michelin has argued that one supplier would reduce competition, could profit one team more than another and not necessarily cut costs.
Local journalism is essential.
Give directly to The Spokesman-Review's Northwest Passages community forums series -- which helps to offset the costs of several reporter and editor positions at the newspaper -- by using the easy options below. Gifts processed in this system are not tax deductible, but are predominately used to help meet the local financial requirements needed to receive national matching-grant funds.
Subscribe to the sports newsletter
Get the day's top sports headlines and breaking news delivered to your inbox by subscribing here.
---