News > Spokane
Church serves up compassion
Wed., Sept. 14, 2005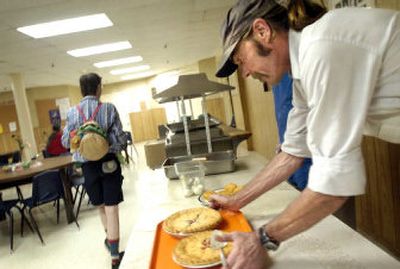 He showed up hungry on a cold winter day, carrying everything he owned in a ragged old backpack.
George Hawkins had eaten nothing but chips for three days, so the meal before him seemed like a feast: meat, pasta, vegetables, pie for dessert – served warm on a tray and with real silverware.
"Come back later and we'll feed you dinner," said a volunteer with Shalom Ministries, an outreach ministry of Central United Methodist Church.
So Hawkins returned. For dinner. For breakfast the next morning. For lunch a few days later.
For more than a year, the hot, free meals at the downtown church helped sustain the man as he struggled to survive on Spokane's streets.
Since it was established in 1879, Central UMC has always reached out to those in need. This church – where the idea for Father's Day was born – was involved in the creation of Meals-on-Wheels, Goodwill Industries and other service organizations in Spokane. Today, hundreds of homeless men, struggling families and the working poor continue to count on Central UMC's Shalom Ministries – which not only serves 3,500 meals a month but also offers job training, counseling and health services.
On Sunday, members and friends of this old downtown church will celebrate this history of service during the 100th anniversary of the church sanctuary. Hundreds are expected to attend morning worship and view the century-old mementos placed behind Central UMC's cornerstone.
"This church reaches out to people," said Hawkins, who was homeless for 18 months until Central UMC offered him a job in the soup kitchen. "They wanted me off the streets as much as I wanted to get off. … They've given me security, self-confidence, a paycheck, a place to stay. What more can I ask for?"
Hawkins started out as the dishwasher a year ago. Earlier this month, he was promoted to kitchen manager. The 39-year-old hopes to save up enough money to go back to college and earn a business degree.
"Not everyone on the street is a drug addict or alcoholic," said Hawkins, who grew up in Ephrata and served in the U.S. Army for 14 years. "Some of us just have a streak of bad luck."
People like Hawkins say they've received a great deal of compassion and empathy from the members of Central UMC. So they keep coming back – not only to eat, but to work.
Rob Tidd, who sleeps on the streets and carries all his possessions in a black plastic bag, shows up every morning at 5 a.m. to cook breakfast. On Mondays, when Shalom Ministries offers three meals, Tidd and the others work in the kitchen until 7 p.m.
"I like helping out," said Tidd, who put together a lunch of tuna fish sandwiches, boiled eggs and vegetarian soup on Tuesday. "It helps me feel good to be here."
Although many live in Spokane Valley, the North Side and other parts of Spokane, the roughly 200 members of Central UMC have always been committed to helping their downtown neighbors, said the Rev. Mark Randall, the church's pastor for the last eight years.
Living out their faith means extending a welcoming hand, offering a nutritious meal, supporting the people who have nowhere else to turn, he said. Many of the regulars at the Shalom Ministries' free meals are homeless men, who often don't receive as many services as women and children.
"We get our strength from helping others," said 90-year-old Jean Chamberlin, who joined Central UMC in 1928 when she was a sophomore at Lewis and Clark High School. "It's always been a friendly church. We do things for people. That's what we're there for."
While many who work with the poor often experience "compassion fatigue" because the emotional and financial needs can be overwhelming, Randall said he continues to be inspired by the congregation's "resiliency to keep their hearts and doors open."
"We are a small church with a big heart," he said.
Local journalism is essential.
Give directly to The Spokesman-Review's Northwest Passages community forums series -- which helps to offset the costs of several reporter and editor positions at the newspaper -- by using the easy options below. Gifts processed in this system are not tax deductible, but are predominately used to help meet the local financial requirements needed to receive national matching-grant funds.
Subscribe now to get breaking news alerts in your email inbox
Get breaking news delivered to your inbox as it happens.
---