News > Idaho
Phys ed poses problems
Wed., Sept. 14, 2005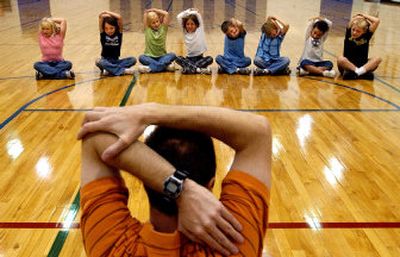 The only thing everyone agreed on was this: Physical education is important, especially in light of the obesity epidemic and associated health problems.
As to how that fits into public education, opinions fell across the spectrum.
At a public hearing Tuesday, proponents and detractors of a state-led proposal to increase PE in schools gave their sides of the story.
People like Joann Harvey, an elementary-level PE teacher in Coeur d'Alene, argued that if parents haven't promoted an active lifestyle with their children, schools have a tremendous job to do because students at that age are establishing lifelong habits. Furthermore, she said, some children can't participate in organized sports because they lack transportation or money to do so, and they're being left behind.
Then there were people like Post Falls Superintendent Jerry Keane, who asked where schools will find the time for more PE, with all the test preparation required to comply with the No Child Left Behind Act. Even if it's a funded mandate – as the State Department of Education has said it would be – there are bigger priorities, Keane said, such as student assistance programs.
"I certainly philosophically agree with what they're trying to achieve," Keane said before the meeting. "But how does it fit into the other mandates?"
The education department wants feedback before the proposal goes before the State Board of Education, said health and physical education coordinator Barbara Eisenbarth.
The hearing was the first of six taking place across the state this month. Comments will be transcribed and submitted to the board of education, Eisenbarth said, which will then decide whether to approve the proposal and take it to the Legislature. The board preliminarily approved the proposal in June but will make a final decision in mid-October.
The proposal, for which an estimated $5.6 million would be allocated, calls for increased time for PE at all levels of school, but especially in the lower grades.
For elementary school, the proposed change calls for about 30 minutes a day of physical education. Currently there's a requirement for PE but no specific parameters; school districts determine their guidelines on an individual basis. Middle school students would complete two years of PE, up from one year. High school students would have to take one year; currently they are not required to take PE.
The proposal, along with a national move last year to restrict junk food sold in schools, are among educators' efforts to reverse past decisions that may contribute to the obesity problem. Idaho cut back on PE requirements in 1997.
The percentage of young people who are overweight has tripled since 1980, according to the Centers for Disease Control. More than 9 million Americans between the ages of 6 and 19 are now considered overweight.
And that can lead to health problems and shorten a person's lifespan.
"Active kids make active adults. Inactive kids make inactive adults," Eisenbarth said. "This could be the first group of children not to live as long as their parents."
Eisenbarth acknowledged concerns about a lack of facilities and staff to accommodate the proposal, but said that school districts would have time to make the changes. The proposal would be phased in, with elementary schools required to meet the standards in the 2006-07 school year, middle schools in 2007-08, and high schools in 2008-09.
Still, details of the proposal alarm some educators. Matt Barkley, the band director at Post Falls High School, said that right now there isn't enough time in the day to accommodate all subjects. With 30 minutes a day of physical education, he added, "I can just see music going by the wayside."
Keri Jaworski, the PE teacher at Coeur d'Alene High School, said she doesn't want another subject to bear the brunt of the changes but thinks a compromise can be reached.
"It's going to be difficult," Jaworski said. "But this is something that needs to happen and it needs to happen now."
Only a handful of parents attended the meeting.
Joyce Kratz Klatt, whose son Brian is an eighth-grader at Canfield Middle School, said she sees the effects of inactivity every day at her job in the cardiac rehabilitation program at Kootenai Medical Center.
Klatt said she isn't worried that her son's test performance would slump if the proposal passes. Physical activity helps stimulate brain growth and learning capabilities, said Klatt, who considers her son proof that students can be academic achievers, athletes and band members.
"I think it's possible to have them do all the things they're discussing."
Local journalism is essential.
Give directly to The Spokesman-Review's Northwest Passages community forums series -- which helps to offset the costs of several reporter and editor positions at the newspaper -- by using the easy options below. Gifts processed in this system are not tax deductible, but are predominately used to help meet the local financial requirements needed to receive national matching-grant funds.
Subscribe now to get breaking news alerts in your email inbox
Get breaking news delivered to your inbox as it happens.
---