News > Nation/World
Roberts grilled over abortion
Wed., Sept. 14, 2005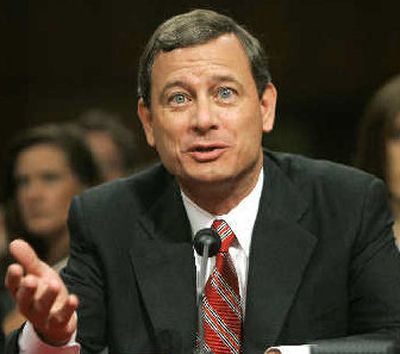 WASHINGTON – Supreme Court nominee John G. Roberts gave strong indications Tuesday that he'd be reluctant to overturn court precedents such as Roe v. Wade, and he voiced support for a right to privacy – which underpins court rulings on gay rights and other individual liberties – that's much broader than his previously known stance.
On the first day of questioning during his confirmation hearings for chief justice, Roberts bluntly described the landmark 1973 ruling that legalized abortion as "settled precedent." He said he would apply a complicated set of criteria to any effort to overturn such a precedent. A judge's personal disagreement with precedent, he said, isn't enough to justify a vote to reverse it.
"I do think that it is a jolt to the legal system when you overrule a precedent. Precedent plays an important role in promoting stability and evenhandedness," Roberts said.
That view dovetails with Roberts' insistence that judges play a limited role, and that restraint, rather than activism, is his preferred approach to cases.
Roberts was even more effusive about the right to privacy, saying it's supported in several different clauses of the Constitution and tied to fundamental notions of liberty. That idea puts him at odds with many conservatives – including Justice Antonin Scalia, one of President Bush's favorites – who argue that no such right to privacy exists.
"The court has … recognized that personal privacy is a component of the liberty protected by the due process clause," Roberts said in answer to a question from Judiciary Committee Chairman Arlen Specter, R-Pa. "The court has explained that the liberty protected is not limited to freedom from physical restraint, and that it's protected not simply procedurally, but as a substantive matter as well."
Specter, a moderate conservative and the committee's first questioner, pushed Roberts on abortion and privacy issues. He tried several times to get Roberts to commit to upholding Roe and Casey v. Planned Parenthood of Pennsylvania, the 1992 case that upheld it.
But Roberts said he didn't feel comfortable commenting on specific issues that might come before the court.
Specter said he was satisfied with Roberts' answers.
"He did not give a definitive answer because obviously that question is going to be before the court again; it's going to be on the next term," Specter said. "But I think he – as they said in the old song, `Kansas City,' he went about as far as he could go."
Both liberal and conservative interest groups said Roberts' comments gave no definitive sense of what he might do on the court. Liberals said his statements weren't committed enough to the right to privacy or the right to abortion. Conservatives said he hadn't ruled out any action, particularly concerning abortion.
"He gave no assurance that he believes there is a right to privacy," said Nancy Northup, president of the Center for Reproductive Rights, which supports abortion rights.
"He didn't give any answers," said Sen. Tom Coburn, R-Okla. "What else can you want out of a judge? He's not going to answer where he is. It's wrong to make him answer where he is."
Sen. Jeff Sessions, R-Ala., a staunch opponent of Roe, said Roberts' answers left him in the dark. "I don't know how to read him. I don't know what he's going to do. It just made me know that we don't know what he's going to do. I don't think the president knows what he's going to do.
Asked whether Roberts' answers could raise questions among religious conservatives about his stance on abortion, Sessions said: "They could misinterpret … and believe that he was making some sort of commitment that I don't think he made. I'm not sure that I could disagree with much of what he said."
Roberts' comments came on a long day of interrogation by senators. It was mostly cordial, but at times got testy. Roberts gave lengthy answers to many questions and mostly maintained the calm, cool demeanor that's his mark in Washington, where, as a private attorney, he's argued 39 cases at the Supreme Court, winning 25.
His refusal to address some queries caused several senators to complain that he was being evasive. Specter cautioned Sen. Edward Kennedy, D-Mass., and Sen. Joe Biden, D-Del., to let Roberts answer their questions before jumping in with commentary or new queries.
"His answers are misleading, with all due respect," Biden replied at one point after Specter tried to silence him.
"They may be misleading," Specter replied, "but they are his answers."
Roberts interrupted quickly. "With respect, they are my answers. And, with respect, they are not misleading. They're accurate."
Roberts also addressed dozens of other issues during the questioning – some with substantive answers, some with deft evasion and others with polite demurral.
Several times, he suggested that many of the memos he wrote as a young lawyer in Republican administrations were reflective more of presidential policies than his views. But Democratic senators were skeptical.
Sen. Patrick Leahy, D-Vt., zeroed in on a memo that Roberts wrote suggesting that a teenager whose teacher abused her couldn't sue school district officials who did nothing to help her.
Leahy noted that the court unanimously rejected the administration's position, and he asked Roberts whether the memo's intent was to suggest sexual harassment was OK.
"There was no issue about condoning the behavior," Roberts said. "I found it abhorrent then, and I find it abhorrent now." The issue was whether Congress has intended for victims to be able to sue, and the administration believed it hadn't, Roberts said.
Kennedy asked him about his writings on the Voting Rights Act in the early 1980s, which Democrats have said showed hostility to voter participation. As a lawyer in the Reagan White House, Roberts wrote a memo advising the administration to support the act, but not expand it to make it easier to prove voter discrimination in some states.
Ultimately, a congressional compromise accepted the expansion.
Roberts insisted that he believed voting rights were the Constitution's single most important liberty, calling them "preservative of all the other rights."
Then he said the memo was reflective of a different view from Kennedy's – not an indication of a lack of support for voting rights.
"I agreed that the Voting Rights Act should be extended," Roberts said. "There was never a dispute about the basic proposition."
Roberts addressed the question of support for civil rights more directly in response to Sen. Charles Schumer, D-N.Y.
"Opposition to quotas is not opposition to civil rights," Roberts said.
Local journalism is essential.
Give directly to The Spokesman-Review's Northwest Passages community forums series -- which helps to offset the costs of several reporter and editor positions at the newspaper -- by using the easy options below. Gifts processed in this system are not tax deductible, but are predominately used to help meet the local financial requirements needed to receive national matching-grant funds.
Subscribe now to get breaking news alerts in your email inbox
Get breaking news delivered to your inbox as it happens.
---