News > Spokane
Spokane pair launch relief effort
Fri., Sept. 16, 2005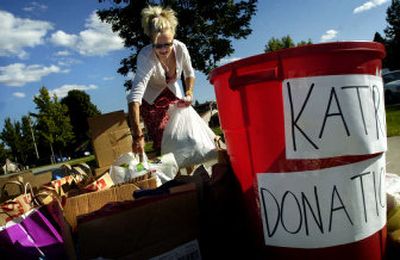 It seemed crazy at first: Two Spokane citizens leading a hurricane relief effort.
But only a few days after two sisters decided to rent a truck, fill it with supplies and drive 2,400 miles to reach Hurricane Katrina evacuees, a food bank is awaiting their arrival, and Spokane schools, businesses and churches have donated enough cash and food for the women to get a bigger truck.
"It's going to be a long, hard journey," said Sharon Larson's husband, Andy Larson. "When she first brought it up I was like, 'You're out of your mind.' "
Sharon Larson and her sister, Angela Geiss, plan to leave early Monday for St. Thomas Aquinas Catholic Church in Hattiesburg, Miss. The congregation houses a food bank and is among numerous Hattiesburg faith communities assisting the thousands of evacuees who are living in the city.
Even though semitrucks of food have been arriving, Spokane supplies are welcomed, said Alejandro Barquero, a relief coordinator at St. Thomas. About 750 people used the food bank Wednesday.
"There's still a need, but we're able to keep up with the demand," Barquero said. "There's been overwhelming support."
If the Spokane food isn't needed in Hattiesburg when it arrives, it will be sent elsewhere, Barquero said.
The sisters are opening their effort to anyone who wants to give cash or items that the food bank requested: nonperishable food, water and cleaning supplies with bleach.
"I was picturing if all of Spokane was gone," Geiss said. "It's incomprehensible to me – losing everything."
Sharon Larson's scheme took root Saturday when she and her husband were watching the devastation on television.
"We wanted to do more than writing a check," Sharon Larson said. "We wanted our friends involved, and we wanted the community involved."
She got the idea of renting a truck from a friend in Seattle, and Geiss soon volunteered to help. They aimed for Mississippi because the country's attention has been focused on Louisiana. Sharon Larson looked at a Mississippi map and found the first city north of the coast: Hattiesburg. She then searched online for Catholic churches in the town, got a number and called.
Hamblen Elementary School and All Saints Catholic School agreed to collect items from students. Our Lady of Fatima and St. Peters Catholic churches gave $500 each. URM Cash & Carry donated some food and agreed to sell more to the sisters at an employee discount. Star Medical donated cleaning supplies.
"It's a gift from Spokane to Hattiesburg," Sharon Larson said. "That's so easy to do when you look on the TV and see they have nothing."
Local journalism is essential.
Give directly to The Spokesman-Review's Northwest Passages community forums series -- which helps to offset the costs of several reporter and editor positions at the newspaper -- by using the easy options below. Gifts processed in this system are not tax deductible, but are predominately used to help meet the local financial requirements needed to receive national matching-grant funds.
Subscribe now to get breaking news alerts in your email inbox
Get breaking news delivered to your inbox as it happens.
---