News > Nation/World
Tyson gets hugs in Chechnya
Fri., Sept. 16, 2005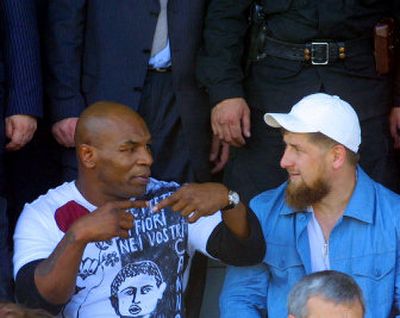 Moscow He's had trouble in many venues, but former world heavyweight boxing champion Mike Tyson got an enthusiastic welcome Thursday in Chechnya.
Russian television showed Tyson shaking hands with and then hugging his host, First Deputy Prime Minister Ramzan Kadyrov, a former boxer who invited Tyson as a guest of honor for a boxing tournament held as part of a growing effort to project a sense of normalcy in the war-torn republic.
Chechnya is predominantly Muslim, and one of the welcoming speakers referred to Tyson by a Muslim name he adopted in the 1990s, Malik Abdul Aziz. In Arabic, Malik means "king," and Abdul Aziz means "servant of the mighty."
Kadyrov, viewed by many as the dominant figure in Chechnya's pro-Kremlin administration, has promoted boxing as a good outlet for the republic's often unemployed young men.
Tyson has been on a tour of Ukraine and Russia sponsored by Ukraine's Nemiroff vodka company, which reportedly is in negotiations with the former champion to have him promote its products.
Gas prices changing opinions on energy
Washington Eight in 10 people say it's important for Americans now driving sport utility vehicles to switch to more fuel-efficient vehicles to reduce the nation's dependence on oil, a poll found.
With gas prices hovering around $3 a gallon nationally and the price of natural gas rising sharply, six in 10 said they are not confident President Bush is taking the right approach to solving the nation's energy problems, according to the survey by the Pew Research Center for the People & the Press.
The rising anxiety over high gas prices has caused a shift in public priorities about the importance of exploring for new energy.
Almost six in 10 now say exploring for new sources of energy is more important than protecting the environment. People were evenly split on that question in 2002. Half now support drilling for oil and gas in the Arctic National Wildlife Refuge in Alaska — up from 42 percent who felt that way in March.
North Korea talks in stalemate, says U.S.
Beijing The United States tried today to salvage stalled talks over North Korea's nuclear ambitions, urging China to persuade its communist ally to give up its weapons program without receiving a reactor for generating power.
U.S. Assistant Secretary of State Christopher Hill said the six-nation talks were in a "stalemate," with North Korea demanding a light-water reactor before dismantling its nuclear weapons program.
The North has been offered economic aid, security guarantees from Washington and free electricity from South Korea in exchange for bowing to demands that it give up the weapons program.
Bush blasts Venezuela on anti-drug efforts
Washington President Bush said Thursday that Venezuela "failed demonstrably" to make a concerted effort to block shipments of illicit narcotics to the United States and Europe last year.
The designation is certain to strain further U.S. relations with Venezuela's populist president, Hugo Chavez.
Venezuela could have been subjected to a cutoff of U.S. assistance, but Bush decided to waive the provision because of national security interests.
The United States has programs to support Venezuela's democratic institutions, establish community development projects and strengthen the country's political party system.
Local journalism is essential.
Give directly to The Spokesman-Review's Northwest Passages community forums series -- which helps to offset the costs of several reporter and editor positions at the newspaper -- by using the easy options below. Gifts processed in this system are not tax deductible, but are predominately used to help meet the local financial requirements needed to receive national matching-grant funds.
Subscribe now to get breaking news alerts in your email inbox
Get breaking news delivered to your inbox as it happens.
---