News > Nation/World
A call for cuts to offset costs
Sat., Sept. 17, 2005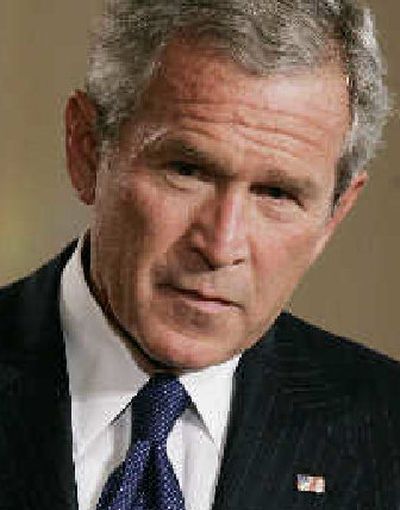 WASHINGTON – President Bush, trying to contain a brewing rebellion within conservative ranks, promised Friday to help Congress cut spending in other areas to offset the cost of Hurricane Katrina reconstruction.
Bush said he still intended to spend whatever it takes to finance the massive Gulf Coast rebuilding effort he unveiled in Thursday night's address to the nation. And White House officials acknowledged the government would cover most of the costs in the short term by running up the federal debt.
But the president ruled out tax increases to reduce the flood of red ink, and said the Office of Management and Budget would help lawmakers trim other federal programs to offset reconstruction costs that independent analysts have predicted will top $200 billion.
"You bet, it's going to cost money," Bush said during a joint news conference with Russian President Vladimir Putin at the White House.
"The key question is to make sure the costs are wisely spent, and that we work with Congress to make sure we are able to manage our budget in a wise way," he said. "And that's going to mean cutting other programs."
The president's remarks were aimed in part at GOP lawmakers and conservative activists who were expressing profound misgivings about what they perceive as an open-ended federal commitment to borrow and spend enormous sums to rebuild the city of New Orleans and nearby coastal communities in Louisiana, Mississippi and Alabama.
"This isn't the first time an American city has been devastated," said Pat Toomey, a former congressman from Pennsylvania who now heads the conservative Club for Growth. "We've had great disasters, and the federal government didn't always come in and rebuild these cities. We shouldn't assume the only way to do this is through Uncle Sam."
Rep. Shelley Moore Capito, R-W.Va., expressed concern about the potential for wasteful spending in Bush's reconstruction plan. "We don't want to turn rebuilding the Big Easy into the Big Dig," she said, referring to the costly underground-highway project in Boston.
Hurricane Katrina reconstruction, Capito said, "is going to require efficiency, which is not something synonymous with the federal government."
The debate reflected a deep schism within the conservative community, pitting advocates of a limited federal government against supporters of a more expansive GOP agenda.
The president's promise to undertake a reconstruction effort roughly twice as expensive as the post-World War II Marshall Plan intensified the anxiety of fiscal conservatives who already rued the rapid increase in deficit spending since Bush took office.
"Among advocates of limited government, there is despair," said David Boaz, executive vice president of the conservative Cato Institute. "This is the biggest-spending president since Lyndon Johnson. And if he spends the kind of money that's being talked about here, I don't know if there will ever have been a president who increased spending as fast as this one did."
The government recorded a $127 billion surplus in 2001, the year Bush took office. But a variety of factors plunged the government back into debt – the big tax cuts Bush pushed through Congress, the 2001 recession, the cost of the Sept. 11 terrorist attacks, and the wars in Afghanistan and Iraq. The Treasury posted a record $412 billion deficit last year; this year's shortfall is expected to be $333 billion.
Bush did not specify the kind or extent of budget cuts he wants Congress to consider. "Our OMB will work with Congress to figure out where we need to offset, when we need to offset," he said.
But administration officials said a good place to start would be the reductions in discretionary and entitlement spending proposed in the president's budget for the 2006 fiscal year that begins Oct. 1.
Legislation approved by the House contains about $20 billion in discretionary spending cuts, but the House and Senate have not agreed on the proposed reductions.
Local journalism is essential.
Give directly to The Spokesman-Review's Northwest Passages community forums series -- which helps to offset the costs of several reporter and editor positions at the newspaper -- by using the easy options below. Gifts processed in this system are not tax deductible, but are predominately used to help meet the local financial requirements needed to receive national matching-grant funds.
Subscribe now to get breaking news alerts in your email inbox
Get breaking news delivered to your inbox as it happens.
---