News > Business
A simple answer for gamers
Sat., Sept. 17, 2005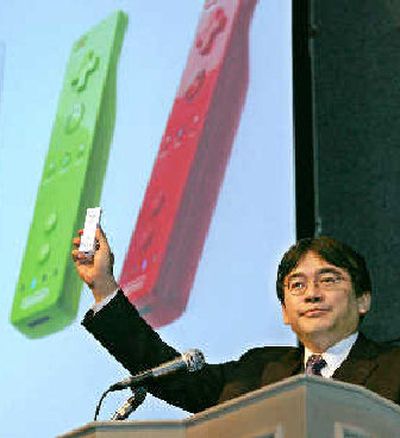 CHIBA, Japan — Nintendo thinks it has the answer for people scared off by all the complex switches and buttons on home video-game controllers — a simpler device that looks like a TV remote control and can be waved like a wand or a baseball bat.
Nintendo showed off the controller at the Tokyo Game Show, which opened Friday and is turning into a showcase for the intensifying three-way battle among Sony, Microsoft and Nintendo Co. Ltd. in next-generation video-game consoles.
"We thought about how everyone in the family uses the TV remote, but some people don't want to even touch the game controller," Nintendo President Satoru Iwata said. "We want to set a new interface standard for games."
Iwata said games must appeal to a wider audience, including novices, if game creators hope to survive, but many people are intimidated by the many buttons now required to play.
The Kyoto-based company, famous for the Game Boy Advance handheld as well as the Super Mario and Pokemon games, has been introducing simpler-to-play games like the "Nintendogs" virtual-pet game for its Nintendo DS — a portable game machine with two screens, including a touch panel.
Equipped with a sensor at the end, the new Revolution wireless controller can be used as a virtual bat, sword, fishing rod or racket. In a demonstration video, an elderly couple were pretending to conduct an orchestra, while a younger person appeared to play a musical instrument or fire a gun.
Redmond, Wash.-based Microsoft Corp. is also aggressively pushing its next-generation Xbox 360 at the show, determined not to repeat the dismal failure of its original Xbox console in Japan — home to some of the most devoted game fans in the world and a market dominated by Sony Corp.'s PlayStation.
Microsoft has sold 21.9 million Xbox machines globally since it went on sale three years ago, but only about 1.8 million of those were sold in Asia, including Japan.
For most Japanese, the home console of choice is still Sony. The Japanese electronics and entertainment company has sold 91 million PlayStation 2 consoles worldwide over the last five years, 21 million of them in Asia. More than a 100 million of the original PlayStations have been sold worldwide.
PlayStation 3, which will go on sale next year, will be powered by a new computer chip called "cell" that Sony says will also drive digital electronics products in the works. PlayStation 3 will also use the next generation video format called Blu-ray Disk.
Local journalism is essential.
Give directly to The Spokesman-Review's Northwest Passages community forums series -- which helps to offset the costs of several reporter and editor positions at the newspaper -- by using the easy options below. Gifts processed in this system are not tax deductible, but are predominately used to help meet the local financial requirements needed to receive national matching-grant funds.
Subscribe now to get breaking news alerts in your email inbox
Get breaking news delivered to your inbox as it happens.
---