News > Spokane
Katrina fund-raiser frothy fun
Sat., Sept. 17, 2005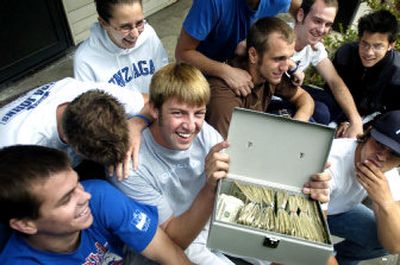 Campus fund-raisers have been using all manner of attractions to raise money for victims of Hurricane Katrina, from benefit concerts to bake sales.
But an enterprising and party-loving group of Gonzaga students turned to the most reliable draw of them all – the kegger.
A 21-keg block party near GU last Saturday attracted some complaints and briefly left a mess, but it also raised about $5,000 for hurricane victims. It is among the most money raised during a single event for hurricane relief at any regional campus since the storm struck, though it also landed the students in a little hot water.
"It's inevitable that college students want to party," said Katy Loewy, 21, one of the organizers of the party. "If you can do it for a good cause, why not?"
Originally a birthday party dubbed Mitch-A-Palooza – in honor of student Mitch Holda's 21st birthday and the movie "Old School" – the students decided to add the hurricane fund-raiser to the all-day party. Hundreds of people donated a minimum of $7 – and some more – and one of the student's employers has pledged to match $2,500 raised that way, students said.
But the party also led to noise complaints and left beer cups and glass strewn around the neighborhood, said the Rev. Len Sitter, addiction counselor and off-campus disciplinarian for the school.
"Basically, I think their intentions were good," he said, "but they didn't do a good job of planning it and I told them that."
Sitter said the students cleaned up the street the next day, and several students said they were planning to do neighborhood cleanups today as a kind of penance, after meeting with Sitter earlier this week.
The kegger was perhaps the most unusual of a host of fund-raising activities on regional campuses.
The University of Idaho and Washington State University combined on a benefit concert earlier this week – and raised not quite $2,000. The Gonzaga Student Body Association raised about $3,000 in a week of different events.
Also, from the students' perspective, Mitch-A-Palooza had one very important additional advantage.
"Was it fun?" asked 21-year-old Dan Wadkins. "Are you kidding?"
Local journalism is essential.
Give directly to The Spokesman-Review's Northwest Passages community forums series -- which helps to offset the costs of several reporter and editor positions at the newspaper -- by using the easy options below. Gifts processed in this system are not tax deductible, but are predominately used to help meet the local financial requirements needed to receive national matching-grant funds.
Subscribe now to get breaking news alerts in your email inbox
Get breaking news delivered to your inbox as it happens.
---