Sports
Out to keep a good thing going
Sat., Sept. 17, 2005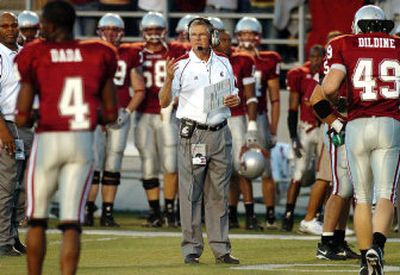 SEATTLE – The Washington State University Cougars can look at the calendar this morning and see themselves ever so close to being in perfect position.
Entering today's 4 p.m. football game against Grambling State at Qwest Field, they are almost completely healthy, having mowed through Idaho and Nevada already with barely a hiccup.
Today's opponent, a Division I-AA school making the trip from Louisiana, appears to be nothing more than a temporary concern on the way to the Pacific-10 Conference season.
In fact, the Cougars have a bye after this game before launching into their conference schedule, something that head coach Bill Doba hopes will keep his team's focus on today, not the tomorrow that seems so imminent for Washington State.
"It's way early in the season to try to say that this game is going to be a walk," Doba said Friday, one of many times this week he has defended today's opponent. "I get comments about, 'Are you going to go in at halftime or are you going to let them watch the band?' That kind of stuff. What the heck are you talking about? These guys are big and they have speed and they have a quarterback that's experienced, who can throw."
Grambling opened its season last Saturday with a 44-0 win over Alabama A&M.
But even Doba has had to admit that in Grambling, a possibility exists for complacency. And the Pac-10 season that's getting closer might be drawing the attention of more than one player in the Cougars locker room.
"I'd be lying if I didn't think that was in the back of some of our kids' minds," Doba said. "It's like preseason in the NFL. But it's not. This game counts just like the rest of them. You've got to win the six or seven or whatever it is to qualify for the bowl."
After today, though, the 2-0 Cougars expect to be 3-0. That means a 3-5 run through the conference – the same mark as last year's – would be good enough to qualify WSU for a bowl game somewhere.
WSU running back Jerome Harrison said he doesn't see the same possibility for a letdown that Doba fears.
"This is a pretty focused team," Harrison said. "We don't worry about getting to the bye week or nothing like that."
But the senior tailback, who's averaging 143 yards a game on the ground, said he doesn't see any problems for the WSU offense – which has scored 38 and 55 points this year – even if it does come out sputtering.
"It always helps (to come out fast), but in the Idaho game we did that then lapsed," Harrison said. "But if we don't get out to a good start, we're a poised enough team that we will turn it on and that's when I think no team can beat us."
Local journalism is essential.
Give directly to The Spokesman-Review's Northwest Passages community forums series -- which helps to offset the costs of several reporter and editor positions at the newspaper -- by using the easy options below. Gifts processed in this system are not tax deductible, but are predominately used to help meet the local financial requirements needed to receive national matching-grant funds.
Subscribe to the sports newsletter
Get the day's top sports headlines and breaking news delivered to your inbox by subscribing here.
---