Sports
Pullman knocks off Prosser
Sat., Sept. 17, 2005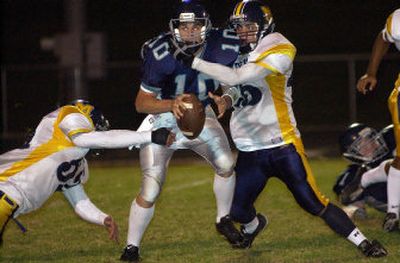 J.C. Sherritt ran for 178 yards and two touchdowns, and Michael Thomas' 1-yard run in the fourth quarter gave Pullman a 35-28 upset victory over 3A powerhouse Prosser in a non-league football game Friday night at Prosser.
The Greyhounds (3-0) took an early 14-0 lead after J.T. Levenseller's touchdown passes to Aaron Pflugrad and Ashton Gant. Levenseller threw for 75 yards and added 87 rushing yards on 15 carries. Thomas ran for 70 on eight carries.
The Mustangs (2-1) were led by quarterback Kellen Moore, who was 26 of 44 for 309 yards, all four Prosser scores and two interceptions. Cody Bruns had 11 receptions for 154 yards and two scores.
In other 11-man action, Aaron Rutt scored from 78 yards in the first quarter and 3 yards in the fourth to lead Deer Park (1-2) to a 21-7 home victory over Newport. Rutt led the Stags with 163 rushing yards on 13 carries, and Richie Mullenberg hit field goals from 22 and 31 yards. Thomas Garcia led the Grizzlies (1-1) with 120 rushing yards on 11 carries. … Daniel Karp ran for 178 yards to lead host Cascade to a 35-8 victory over Medical Lake at Leavenworth. Andre Decastro scored the lone touchdown for the Cardinals (0-3) on a 90-yard kickoff return in the second quarter. … Bryce Heitstuman ran for 80 yards and two scores on five carries to lead Asotin over Tekoa-Oakesdale/Rosalia 41-22 in a non-league game between two Southeast B-11 teams at Tekoa. Ryan Witters threw for 143 yards and a touchdown and added a 17-yard TD run for the Panthers (1-1). Nathan Bailey threw three TD passes for the Nighthawks (0-2), who have lost 11 straight. … John Roberts ran for 168 yards and four TDs as Colville (1-1) defeated host Kettle Falls 37-20. Tanner Bircher scored on a reception and a fumble return for Kettle Falls (2-1). … Clayton Becker ran for touchdowns of 27, 37 and 63 yards as Chewelah defeated Freeman 22-20 at Chewelah. Becker finished with 184 yards on 30 carries. Freeman fumbled the snap on a 40-yard field-goal attempt as time expired. … Adam Anderson scored the first four touchdowns as Riverside routed Timberlake 42-6 at Riverside. Anderson returned a punt 83 yards, ran for a 79-yard score, caught a 36-yard pass from Micah Kuntz and scampered in from 8 yards out. Kuntz threw for two touchdowns as the Rams (2-0) scored the first 42 points against the Tigers (1-3). … Jeremy Nichols had 209 all-purpose yards, including a 79-yard kick return, and three touchdowns as host Waitsburg defeated Enterprise (Ore.) 38-28.
"Leigh Talkington ran for 189 yards and five touchdowns and Terry Kissler added 103 yards and a sixth score as Sprague-Harrington defeated Prescott 40-16 in a non-league B-8 game at Sprague. The Falcons (3-0) also had an outstanding defensive effort from senior middle linebacker Heath McKinney, who had 27 tackles. The Tigers (0-2) were led by quarterback Julio Almanzar, who ran for 114 yards and both Prescott touchdowns. Andrew Mings added 129 rushing yards. … In other B-8 action, Kyle Kelly threw for five touchdowns and ran for a sixth as Colton/Pullman Christian defeated host Clark Fork 52-26. Chilton Williams caught two scores and ran for a 21-yard touchdown as the Wildcats (3-0) racked up 40 first-half points against the Wampus Cats (1-2). … Brent Leifer needed just seven carries to run for 179 yards and three touchdowns to lead St. John-Endicott to a 48-0 drubbing of Inchelium at St. John. Phillip Lust added two scores as the game was called by 45-point rule in the third quarter. … Joe Campbell continued his dominant season with 205 yards on 29 carries and three touchdowns as host Tri-Cities Prep (3-0) defeated Almira/Coulee-Hartline (0-2) 42-14. Campbell already has 698 yards this season.
Northeast B-11
Luke Rodenbough ran for a touchdown and caught TD passes of 49 and 80 yards as Davenport (2-0, 1-0 NEB-11) held reigning state champion Lind-Ritzville scoreless after the first quarter and pulled off a 24-14 upset victory at Davenport. Nick Ashley had one rushing and one receiving touchdown for the Broncos (1-1, 1-1), who led 14-0 after 12 minutes. … In other league action, Derek MacArthur ran for 148 yards and two touchdowns on just eight carries and added a 57-yard TD reception as Selkirk crushed Springdale 49-8 at Ione. Clint March added 116 rushing yards, two scores and an interception for the Rangers (2-0, 2-0 NEB-11), who amassed 348 yards on the ground and held the Chargers (0-3, 0-2) to 100 total yards. … Andy Hodgson scored two rushing touchdowns in the first half and added an interception return for a third score in the second half as Liberty defeated host Odessa (2-1, 1-1) 34-7. Quarterback Andrew Canning added two rushing touchdowns for the Lancers (1-1, 1-1). … Eric Everett was 10 of 16 for 176 yards and three touchdowns as Reardan (2-0, 2-0) defeated Wilbur-Creston (1-2, 0-2) 35-7 at Wilbur. Everett, who didn't throw an interception, returned an interception for a score during a 21-point second quarter. Brad Alberts had 101 receiving yards and two touchdowns for the Indians.
Idaho non-league
Lake City High football coach Van Troxel anticipated a shootout. What Troxel didn't envision, though, was his Timberwolves getting caught up in a shooting gallery. Third-ranked Meridian showed few signs of road fatigue as the Warriors measured Lake City in every phase of the game for a resounding 41-14 win in a non-league game in Coeur d'Alene before an estimated crowd of 1,200. LC (2-1) suffered its worst home loss since a 38-13 setback to Sandpoint on Oct. 26, 2002. Meridian (3-0) was the preseason pick to win the 5A Southern Idaho Conference. Troxel understands why now. "I knew they were as good a football team as I had seen on film in a while and that confirms it," Troxel said. "They're every bit as good as anybody we're going to see."
Local journalism is essential.
Give directly to The Spokesman-Review's Northwest Passages community forums series -- which helps to offset the costs of several reporter and editor positions at the newspaper -- by using the easy options below. Gifts processed in this system are not tax deductible, but are predominately used to help meet the local financial requirements needed to receive national matching-grant funds.
Subscribe to the sports newsletter
Get the day's top sports headlines and breaking news delivered to your inbox by subscribing here.
---