News > Voices
Sole survivors
Sat., Sept. 17, 2005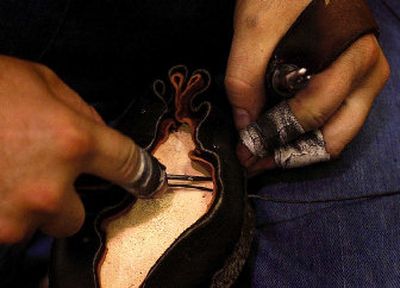 There are no rhythmic sounds of machines dropping work boots onto an assembly line. Norma Rae won't be climbing onto a table and holding a "Union" sign anytime soon. There are no fork lifts darting around the 35,000-square-foot factory.
White's Outdoor isn't that kind of mechanized factory. Never has been, since it was founded in Virginia before the Civil War. And it has no plans to be, said Alan E. Roberts, president of the work-boot manufacturing company. The location has changed over the years, but the emphasis on handcrafted workmanship remains the same.
Customers shopping in the retail store at 4002 E. Ferry Ave., west of the Spokane County Fair and Expo Center, can see for themselves.
Picture windows in the boot department look out at the factory, where about 70 boot makers are cutting, sewing, gluing and driving nails through thick, oil-tanned cowhide.
The craftsmen's fingers are bandaged and scarred. It takes strong hands to do this kind of work, Roberts explained. Some boot makers pass the time by listening to radios. Although everyone listens with earphones burrowed into their ears, the smiles and laughter are simultaneous. The most popular morning jabber-mouths are on the syndicated "The Bob and Tom Show," one worker explained.
Employees stay with the company a long time, many putting in more than 20 years.
"This is a great place to work," said 33-year-employee Gary Hubenthal, while crafting a pair of custom-made lasts (the form around which a shoe is molded). "They're the best boots built. That's why I like to be a part of it."
The boots, costing an average of $350, can last longer than the employees' careers. When the Vibram soles go bald and the shoelace eyelets go bad, many customers ship their boots back to Spokane and have them rebuilt. The finished products, which line the shelves in one room in the factory, look like new and re-makes cost about half the price of a new pair.
Many reconditioned boots will be on sale at this weekend's annual tent sale along with Pendleton, Columbia and other clothing.
Local journalism is essential.
Give directly to The Spokesman-Review's Northwest Passages community forums series -- which helps to offset the costs of several reporter and editor positions at the newspaper -- by using the easy options below. Gifts processed in this system are not tax deductible, but are predominately used to help meet the local financial requirements needed to receive national matching-grant funds.
Subscribe now to get breaking news alerts in your email inbox
Get breaking news delivered to your inbox as it happens.
---