News > Idaho
Bilingual kindergarten opens in CdA
Sat., Sept. 24, 2005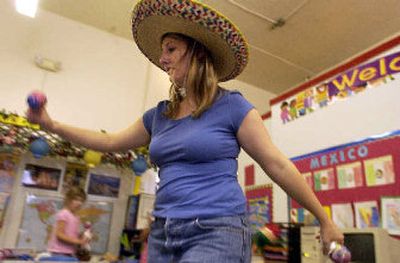 Armed with a bachelor's degree in bilingual education from Boise State University, Jamie McGinnis, 22, set off to find a job teaching in Coeur d'Alene. She applied with the Coeur d'Alene School District but wasn't having much luck. Then this young entrepreneur had an idea.
She heard about the opportunity to open a kindergarten inside the Stepping Stones Learning Center at 602 Garden Ave. The space in the old building needed work, but she pushed up her sleeves, cleaning, recarpeting and sprucing it up within a month to open kindergarten con Carino, a bilingual kindergarten, where 4- and 5-year-olds are learning Spanish in addition to the regular curriculum. Con Carino literally translates as "with affection, love, fondness, care and tenderness."
"I think it's really important giving them an opportunity to learn another language and learn about other cultures," McGinnis said. "They don't get a lot of that in elementary school. They might get a glimpse of cultural education, but nothing where they can learn some Spanish as well."
She loves Spanish and kids and is pleased to be able to use her degree in her work. Kindergarten con Carino is a private school, able to accommodate 12 students. She currently has eight now, six of whom are full time. She distributed more than 900 fliers before opening, but now most of her business is word-of-mouth.
Normally a child has to be 5 years old by Sept. 1 to enter a public kindergarten, but because her school is private, McGinnis can take kids who are younger. Several of her students are 4-year-olds, but about to turn 5.
On Sept. 16, the day Mexico celebrates its independence from Spanish rule, McGinnis' students were having a fiesta and finishing making papier-mâché maracas. The students' reading area is a colorful inside arbor decorated with bright flowers and paper lamps. McGinnis uses a rain stick, as a gentle way to get her students' attention.
Each child has a designated duty. Maria, who will turn 5 Oct. 19 maintains the library, or bibliotheca. Emily, 4, is the lider de fila, or line leader. Caden, 4, on his first day, is told he will be responsible for turning on and then turning off the computadora each day. He seems pleased with this duty. Jonne, who will turn 5 in a few days, is in charge of the calendario, or calendar. Mercedes, 5, has the responsibility of taking care of the class mascota, or pet, a light brown hamster named Skippy. Five-year-old Sarah is responsible for the plantas. Briley is the ayudante de comida, or snack helper, and Burke is the ayudante del aspirador electrico, or vacuum cleaner helper.
Sarah offers an ola! Then the students demonstrate their ability to count in Spanish. They are a democratic group, voting on issues that effect them all, such as Skippy's name. Even though the kids bring their own lunches, they do have a kitchen to use, where they make birthday cakes for birthdays, or on this occasion, Mexican food.
McGinnis offers morning kindergarten Monday through Friday; afternoon kindergarten Monday, Wednesday and Friday or full days Monday, Wednesday and Friday from 9 a.m. until 4 p.m. Tuition for mornings is $250 and $150 for afternoons, which reflects $50 per session. Full days are $80. McGinnis has a state child-care licenses and is working on getting her program state-certified, which will enable her to be reimbursed by the state for parents who are unable to pay full tuition. McGinnis said state certification will make it easier for her to service families who can't afford private school.
A cappella concert tonight
The a cappella group The Standards, will perform tonight at 8 p.m. in North Idaho College's Schuler Auditorium to benefit the NIC athletics through the Booster Club.
The group of five brothers originally from Twin Falls, now resides in Nashville. They have been performing for more than 10 years in addition to producing five albums.
Tickets are $10 for adults and $7 for students, available by calling 769-3348 or at the box office in the lobby of Boswell Hall or in the athletics office in Christianson Gymnasium.
NIC enrollment drops
North Idaho College has announced a decrease in enrollment this fall of 146 students, a 3.2 percent drop.
Dual enrollment students increased by 17.98 percent over last fall, from 228 to 269 students. The program allows eligible high school juniors and seniors to enroll in NIC courses for both high school and college credit.
Despite the overall decrease, the college is enjoying a 12.6 percent increase in new students. The drop in enrollment reflects a decrease in student retention, according to Bruce Gifford, NIC vice president of student services.
Local journalism is essential.
Give directly to The Spokesman-Review's Northwest Passages community forums series -- which helps to offset the costs of several reporter and editor positions at the newspaper -- by using the easy options below. Gifts processed in this system are not tax deductible, but are predominately used to help meet the local financial requirements needed to receive national matching-grant funds.
Subscribe now to get breaking news alerts in your email inbox
Get breaking news delivered to your inbox as it happens.
---