Sports
Cal too much for Aggies
Sat., Sept. 24, 2005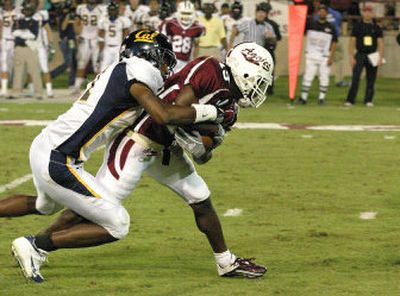 Joe Ayoob ran for three touchdowns and threw for another and sophomore Justin Forsett rushed for a career-high 234 yards as No. 13 California wore down pesky New Mexico State 41-13 Friday night at Las Cruces, N.M.
Cal (4-0) scored on its first two possessions and was never in trouble, but the four-touchdown underdog Aggies (0-4) kept it interesting in the first half for the national TV audience.
A 94-yard kickoff return by freshman Chris Williams and 28-yard field goal by Conor Foley had the Aggies within 20-10 just before the half.
A pair of second-half TDs by Ayoob from 5 and 8 yards broke it open. The Golden Bears, who came in averaging 264 yards rushing, had 311 yards rushing and 595 yards total offense.
The Aggies made it tough on Cal kicker Tom Schneider. They blocked Schneider's first PAT attempt and Schneider missed a 40-yard attempt just before halftime after NMSU first-year coach Hal Mumme called three straight timeouts to try to ice him.
The Aggies also blocked Schneider's 28-yard field goal attempt in the third quarter. The ball was blocked by Tim McManigal and returned to near midfield by linebacker Jimmy Cottrell.
That set up a 32-yard field goal by Foley on the last play of the third quarter to trim Cal's lead to 27-13. Foley could have kept the Aggies closer in the first half but missed field goals from 42 and 38 yards.
(22) Iowa St. 28, Army 21: At West Point, N.Y., Ryan Kock scored on two short runs in the fourth quarter and the Cyclones (3-0) came back to deny the Black Knights (0-3) their first win over a ranked opponent since 1972.
Army held Cyclones leading rusher Stevie Hicks to 22 yards on nine carries, but the Black Knights couldn't stop Kock, a 6-foot-1, 240-pound fullback, from bulling in from the 4 and 3, the last coming with 6:50 left in the game.
Army had two chances to tie the game. The first ended when the Black Knights couldn't convert a fourth-and-3 at the Iowa State 22 with less than a minute left. Army got the ball back with 10 seconds left, but quarterback Zac Dahman was sacked at midfield as time ran out on the Black Knights' first Friday night game.
For a time in the second half Army looked as if it might beat a ranked opponent for the first time since defeating No. 15 Air Force 17-14 on Nov. 4, 1972.
Caleb Campbell's third-quarter interception of a tipped pass by Bret Meyer gave Army the ball at the Iowa State 40. Three carries by Carlton Jones moved it to the 17 and a pass from Dahman to Jared Ulekowski gave Army a first-and-goal at the 1. Four plays later, Scott Wesley powered it in from the 1 to give Army a 21-14 lead.
In the fourth, an interception by DeAndre Jackson gave Iowa State the ball at the Army 27. That led to a 4-yard TD run by Kock that tied the game 21-all with 11:07 to play. The score came after Army sacked Meyer on a fourth-and-2, but a 5-yard facemask penalty kept the drive going.
Meyer threw for 158 yards and two TDs but was intercepted three times. He finished 18 for 26.
Dahman's 233 passing yards gave him 5,655 for his career, breaking the Army record of 5,502 set by Leamon Hall from 1974-77.
Local journalism is essential.
Give directly to The Spokesman-Review's Northwest Passages community forums series -- which helps to offset the costs of several reporter and editor positions at the newspaper -- by using the easy options below. Gifts processed in this system are not tax deductible, but are predominately used to help meet the local financial requirements needed to receive national matching-grant funds.
Subscribe to the sports newsletter
Get the day's top sports headlines and breaking news delivered to your inbox by subscribing here.
---