News > Spokane
Catholic Charities head dies
Sat., Sept. 24, 2005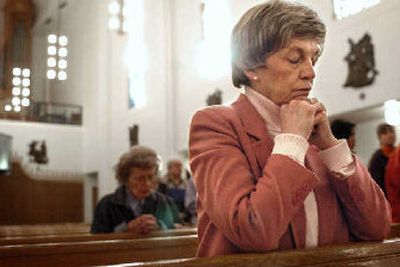 Through her life – and death – Donna Hanson taught others to live.
Even as cancer wracked her body during the final months of her life, the director of Spokane's Catholic Charities continued to focus on the needs of others. Almost every day, she dictated messages of love and gratitude from her home that were then sent via e-mail to friends and family.
"When I awoke this morning, I was deeply conscious of what a gift it has been to share my life with so many wonderful people, especially those who are accompanying me during these summer Emmaus days," Hanson wrote this summer.
She called the last days of her life "My Journey to Emmaus," referring to the story in Luke's Gospel that describes how two disciples unknowingly encounter the risen Christ during a trip from Jerusalem to the village of Emmaus.
On Friday, Hanson reached the end of her journey. After a long battle with cancer that started in the lining of her reproductive organs, Hanson died about 9 a.m. surrounded by her husband Bob and her dear friends, the Rev. Frank Bach and Mary Ann Heskett.
Hanson was 65, the mother of two grown sons, grandmother to three and the wife of Robert Hanson for the last 40 years. Her family, she often said, was her greatest achievement.
But to many in Spokane and to Catholics nationwide, Hanson was the voice of the laity in the Catholic Church.
As the Diocese of Spokane's secretary for social ministries and the CEO of the largest faith-based social service organization between Seattle and Minneapolis, Hanson was recognized as a courageous leader, a champion for social justice and a Mother Teresa-like figure who became just as anxious over a malnourished child in Africa as she did when her own granddaughter had the flu.
Despite her frail health – she had been under hospice care at home since June – Hanson never stopped thinking of Catholic Charities, a nonprofit that serves tens of thousands annually with food, clothing, emergency assistance, counseling, housing and child care. Instead of sending her flowers or food, she asked her friends and well-wishers to consider instead a donation to Catholic Charities or to do volunteer work.
"She is a woman of God," Heskett, her friend and co-worker, once said. "She's a walking, talking, living saint."
Hanson was born into the Southern, segregated world of Paducah, Ky., where she first became aware of prejudice and injustice. She graduated from Ursuline College in Louisville, Ky., and had a master's in social work. It was her experiences during this period that shaped her desire to champion the rights of women and children, especially within her own church.
She started working for Spokane's Catholic Charities in 1964 and became its director in 1978. At the time, priests were still in charge of Catholic Charities in most cities so she was among the first few lay women to assume that leadership role.
In 1987, Hanson was asked to address Pope John Paul II on behalf of the laity during a papal visit to San Francisco.
More than 3,000 people cheering "Vive il Papa" filled the pews of St. Mary's Cathedral that day. The pontiff looked her in the eye and smiled as he took her hands in his. In his native Polish, she said to him: "Praise be the name of our Lord Jesus Christ." Her words brought a salute and another smile from the Holy Father.
Hanson also invited John Paul II to walk with her – as a woman, a wife, a mother, a social minister, as a lay member of the Catholic Church. She told the pope that the church hasn't always listened to her perspective as a laywoman, so she urged him to reach out to others like her, as well as to the divorced, to people of color, to gays and lesbians. Because of that speech, Hanson was recognized with the U.S. Catholic Award as the woman who had done the most to further the cause of women in the Catholic Church. Eight years later, she traveled to Beijing as a delegate to the United Nations Conference of Women. That same year, Pope John Paul II awarded her with a medal for lifetime achievement.
She also served on a number of boards and committees including the American Red Cross, the YWCA and the Junior League of Spokane.
First diagnosed with peritoneal cancer last March, Hanson received treatment and believed she was cancer free in November. But three months later, she learned that the cancer had returned so she once again endured rounds of chemotherapy that weakened her body and drained her of the high energy she had been used to all her life.
But she still attended Mass at St. Augustine's every morning and came to her downtown office on most days with her yellow pads of paper and day planner stuffed with newspaper clippings and sticky notes. She had planned on retiring later this year.
After she started receiving hospice care at her South Hill home, Hanson and her husband developed a ritual that included the sharing of numerous greeting cards and a daily rosary. During that time, she was blessed by the five active and retired bishops of Washington state, by members of the state Catholic Conference Board of Directors and her prayer group that has met regularly for 16 years.
"I have always thought that the invitation from Jesus was for me to come alone seeking rest," she wrote in her reflections on July 5. "Because I am on a unique journey now, I see that others are coming with me to Jesus, which makes my burden far lighter."
Hanson's spirit will continue to be present in all the works of Catholic Charities, said Rob McCann, the new executive director. "It was her vision, her leadership and her commitment that brought us where we are today," he said, listing the many programs that serve thousands of people in need throughout Eastern Washington.
She was a role model to many, including McCann.
"Donna changed my life as much or even more than any of the countries I visited (with Catholic Relief Services)," he said. "Working with her has transformed me."
In a written tribute to Hanson, her friends and colleagues at Catholic Charities recalled some of her favorite phrases: "We create the path by walking" and a passage from the book of Micah, "Act justly, love tenderly and walk humbly with your God." They wrote that Hanson also frequently told people to "Get a grip!" and that she never gave in to cynicism or hopelessness.
Hanson always organized her remarks by saying, "I want to do three things today," recalled the staff at Catholic Charities.
So they ended their tribute to their leader and friend with these words: "We thank you, Donna, for three things: your faith in us, your hope for us and your love."
Local journalism is essential.
Give directly to The Spokesman-Review's Northwest Passages community forums series -- which helps to offset the costs of several reporter and editor positions at the newspaper -- by using the easy options below. Gifts processed in this system are not tax deductible, but are predominately used to help meet the local financial requirements needed to receive national matching-grant funds.
Subscribe now to get breaking news alerts in your email inbox
Get breaking news delivered to your inbox as it happens.
---