Sports
Hawks run all over Timberlake
Sat., Sept. 24, 2005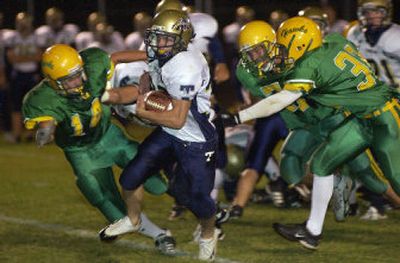 It was a rush to Homecoming for the Lakeland Hawks.
In fact, the Hawks ran so much en route to their 53-43 victory over visiting Timberlake that the team's top three rushers, who combined to rush for more than 400 yards, may need to sit out the first few dances at the Homecoming Ball.
Junior Chase Roberts rushed 11 times for 220 yards – 131 yards in the second half – and four touchdowns to lead Lakeland. Senior Tyler Beck added 140 yards and a pair of touchdowns while senior Brenden Biggs added 101 yards and two scores.
"Our offensive line was perfect tonight," Roberts said. "They handled their assignments and gave us room to run."
"Our offensive line is what won us the game tonight," Lakeland coach Tim Kiefer said. "I wasn't as pleased with our defense, but I have to give credit to Timberlake – they have a very good offense."
Lakeland built a 22-0 lead before the Homecoming crowd was settled in their seats.
On the second play of the game, Beck broke free for a 47-yard gain, carrying to the Timberlake 13, then romped through a huge hole for the touchdown on the next play to put the Hawks up 7-0 just 31 seconds into the contest.
Beck added another score on Lakeland's next possession, dashing 28 yards for the score while piling up 100 yards rushing in just less than 5 minutes of action.
Biggs then burst through a huge hole on the left side of the Lakeland offensive line and rumbled 56 yards for a touchdown to cap a two-play, 62-yard drive.
Timberlake rallied behind fullback Nick Puckett, who amassed 126 yards on 21 carries, adding a 75-yard kickoff return for a touchdown in the third quarter.
Levi Powers, the Tigers' sophomore quarterback, ran the option for four touchdowns and passed for a fifth, leading Timberlake to 22 points in the fourth quarter, creating the final margin by squeezing over from the 1 with 11 seconds left in the game.
Lakeland heads into Inland Empire League play next week against powerful Lake City.
"We're going to go back and practice hard starting Monday and see if we can build on this," Kiefer said. "We have to improve our defense if we're going to stop Lake City. We haven't won there since the year that school opened – I think in 1994."
Local journalism is essential.
Give directly to The Spokesman-Review's Northwest Passages community forums series -- which helps to offset the costs of several reporter and editor positions at the newspaper -- by using the easy options below. Gifts processed in this system are not tax deductible, but are predominately used to help meet the local financial requirements needed to receive national matching-grant funds.
Subscribe to the sports newsletter
Get the day's top sports headlines and breaking news delivered to your inbox by subscribing here.
---