News > Spokane
Sometimes hearts dwell elsewhere
Sat., Sept. 24, 2005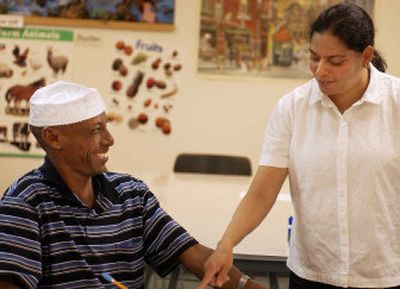 The Russian husband and wife wear their Sunday best. At the classroom table behind them sit four new immigrants from Cuba, wearing neatly pressed clothes. It is the first week of English class.
The students are eager and nervous. Because they cannot yet read English, they read the face of their teacher, who communicates with hand gestures and simple words spoken slowly.
VJ Pavani, a woman I feature now and again in this column, is the teacher. I'm sitting in VJ's class at the Institute for Extended Learning's adult education center on North Monroe in Spokane. As I watch VJ teach, my mind rewinds to the past.
Four years ago this week, VJ first came to see me at The Spokesman-Review. She had been a journalist in India, before moving to the United States for her husband's computer software job. VJ wore a traditional sari, and she cried as she toured our newsroom, missing the newsroom she left behind, missing work of any kind. She was here on a dependent visa and not allowed to hold a job.
India was still known mostly for its poverty. Sept. 11 had just happened in the United States. We were still in shock that anyone could despise us that much. "You Americans are so trusting, so innocent," VJ told me that day.
Four years. Lots of change. Our United States innocence is gone. VJ wears slacks and dress shirts now. Her English, always good, is superb. She is fluent in idioms. For instance, she understands the expression "jeez!" In the beginning, she thought people were saying "cheese!"
VJ's son, Sanjay, was 9 when we first met. Now he's almost 14, a freshman at Central Valley High School. When I first met Balaji, VJ's husband, I asked him about India's poverty. He bristled. He told me the world's best software engineers were emerging from India. He told me how educated and hard-working his people were.
The world finally caught on; India's economy is now booming. When VJ, Sanjay and Balaji visited India a few years ago, they took digital cameras as gifts, rare in India at the time. This summer they visited again, with gifts of DVD players. Everyone already had them.
Their relatives and friends were driving bigger cars, imported from other countries. They were building homes with modern amenities.
"The suburbs are springing up everywhere," VJ says.
Four years ago, VJ lived in an apartment on Spokane's North Side. Now, she and her family own a home in a Spokane Valley subdivision. They are entrenched in American life.
"All you really need to have here is the intention," she says. "If you really want to do something, open your eyes and look."
Yet despite her success here, VJ has a sense of sadness about her. She misses the land where she grew up. Misses her mother, misses her in-laws, misses her sisters and brother, misses her food, her culture.
Our four-year friendship has taught me this: The bodies and minds of new immigrants dwell in this land, but their hearts sometimes dwell elsewhere.
"People are very open-minded and accepting here, but the good thing in India is that we have values in family," VJ says. "We have respect for elders."
When her work permit finally came through, VJ was hired by the Community Colleges of Spokane to teach English to new immigrants at the institute's adult education center. VJ has found her true community there. She loves the staff. She loves her students.
My mind returns to the present. Tonight, VJ teaches the English alphabet. The letters look like diamonds hidden in a rocky beach. Two refugees from Somalia, who learned the English alphabet in a refugee camp in Kenya, find these diamonds easily, hidden in words they don't yet fully understand.
They look to VJ for approval. They look to her and see the future they hope for — fluent in English, a good job. Jeez, who could want for more?
While teaching, VJ's sadness drops away. She smiles at her students. They have filled some of the space in her heart left vacant by the missing.
"Good job," she says. Indeed.
Local journalism is essential.
Give directly to The Spokesman-Review's Northwest Passages community forums series -- which helps to offset the costs of several reporter and editor positions at the newspaper -- by using the easy options below. Gifts processed in this system are not tax deductible, but are predominately used to help meet the local financial requirements needed to receive national matching-grant funds.
Subscribe now to get breaking news alerts in your email inbox
Get breaking news delivered to your inbox as it happens.
---