News > Spokane
One part anger, one part grief
Sun., Sept. 25, 2005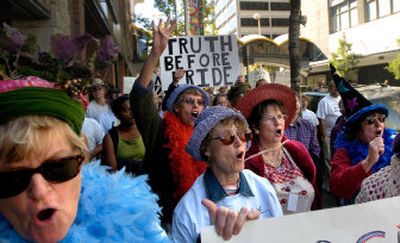 These grandmas are mad.
They're furious that their children and grandchildren are being sent to war; outraged that the violence in Iraq continues; aggravated by what they see as poor leadership from the president.
To vent their frustration and anger, this group of Spokane women recently banded to transform negative energy into music, dance and creative protest. After just one rehearsal, the Spokane unit of the Raging Grannies got together to sing peace songs Saturday during an anti-war demonstration in downtown Spokane.
"I wanted to do something constructive and to vent the rage and sadness I feel about the war," said Joanne Bailey, a retired teacher and nurse, mother of three, grandmother of five and great-grandmother to three little ones.
"We're grandmothers who have lived through too many wars," said Myrta Ladich, another Spokane grandma.
At least 350 people turned out for "Bring 'Em Home Now," a rally and march that began in front of the U.S. Courthouse on Riverside Avenue and ended at the north bank shelter in Riverfront Park. Organized by the Peace and Justice Action League of Spokane, the gathering was in conjunction with anti-war activities in Washington, D.C., and other cities across the country.
Dressed in feathered boas, flowery hats, flowing skirts and comfortable sneakers, the grannies used a pitch pipe and sang songs with titles such as "Gaggle Against Hate," "We Grannies Work for Peace" and "Yankie Doodle Georgie." The group started with about 10 women in their 50s through 70s and quickly grew during the march as other grandmas in the crowd expressed interest in becoming raging grannies.
"We're tired of our children getting killed," said Valerie Harper-Murdoch, a grandmother and editor of the West Central Community Center's newspaper. "And we do support our troops. That's why we're here."
Many who shared the grannies' sentiment showed up at the rally, some wearing white T-shirts that blared "Bring 'Em Home Now!" or the word "Liar" above an image of President Bush.
Some of the signs people waved contained typical anti-war messages: "Peace." "No War." "Love, Not Hate."
Others were more creative: "No More Blood for Bush Blunders." "End King George's Reign of Terror." "Draft the Bush Twins."
The event began with the brassy sounds of Pjammers, a group of local musicians who decided to play together specifically for the rally. They entertained the crowd by playing "When the Saints Go Marching In," "Down by the Riverside" and a moving rendition of "We Shall Overcome."
"Bring them home," PJALS co-director Rusty Nelson intoned into the microphone.
"Now!" the crowd replied in chorus.
"Bring my children home," he said.
"Now!" they cried.
Before they started their march through downtown Spokane, the Giant Ass Drum Corps played a steady rhythm and the crowd erupted into a chant: "No More War! No More War!"
At Riverfront Park, people sat on a lawn lined with wooden crosses bearing with the names of people who have died in Iraq. They listened to speakers such as Marianne Torres, of Spokane, who spoke of how women and children suffer the most in war, and former Spokane Human Rights Commissioner Brad Read, who advocated Bush's impeachment and the banning of military recruiters from high schools.
The crowd also listened to a variety of music, including serious folk songs from the Blue Ribbon Tea Company and the humorous tunes belted out by the Raging Grannies.
The Grannies began when Mary Naber, a teacher at Shadle Park High School, started contacting other women who had expressed anger over the war and fear that their children or grandchildren would be shipped to Iraq to fight. The women's goal is to have a good time while challenging their audiences, Naber said. They also want to show that "it's patriotic to be against the war," she said.
Like Raging Grannies groups in Canada and the United States, the Spokane unit is committed to promoting global peace, justice and social and economic quality. As the wise elders of the community, it's the job of grandmothers to protect their families and world, said Spokane grandma Marilynne Mueller. "Grandmothers tell the truth," she said.
Local journalism is essential.
Give directly to The Spokesman-Review's Northwest Passages community forums series -- which helps to offset the costs of several reporter and editor positions at the newspaper -- by using the easy options below. Gifts processed in this system are not tax deductible, but are predominately used to help meet the local financial requirements needed to receive national matching-grant funds.
Subscribe to the Coronavirus newsletter
Get the day's latest Coronavirus news delivered to your inbox by subscribing to our newsletter.
---