News > Home
Inside this week's issue
Thu., Sept. 29, 2005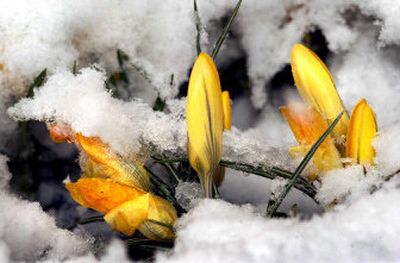 Snapshot of Spokane
Book about Spokane post cards tells story about city in a different era.
Page 4
Elegant albums
Mary Ann Sanger has collected more than 100 ornate photo albums.
Page 6
Stuff from the attic
The Collector identifies use for turnbuckle device discovered in attic.
Page 7
Carving out a home
Cheney resident Joe Chatburn built home for his family with lots of storage.
Page 8
Choice rentals
Spokane offers a variety of apartments at bargain prices compared to some other areas.
Pages 10-11
Recycling the West
Bob and Linda Ashcraft used recycled goods to construct a mock Western town.
Page 12
Early blooms
Get a jump on the garden season with early-blooming bulbs, advises Pat Munts.
Page 13
Mountain ash health
Pat Munts advises gardener on how to keep tree and plants around it healthy.
Page 14
Duck-pond manners
There is a certain etiquette to follow with park ducks to ensure everyone has a good time.
Page 19
How are we doing?
Let us know what you think. Suggest a story or write us a letter.
Local journalism is essential.
Give directly to The Spokesman-Review's Northwest Passages community forums series -- which helps to offset the costs of several reporter and editor positions at the newspaper -- by using the easy options below. Gifts processed in this system are not tax deductible, but are predominately used to help meet the local financial requirements needed to receive national matching-grant funds.
Subscribe now to get breaking news alerts in your email inbox
Get breaking news delivered to your inbox as it happens.
---