Sports
LC's Delport aims to keep fire inside
Thu., Sept. 29, 2005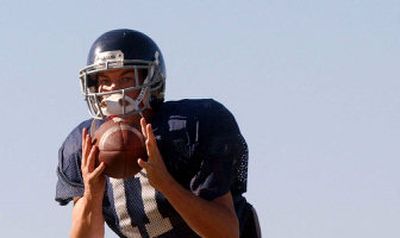 Patti Delport swears she knows how her oldest son came by his speed. It's from chasing him around the house with a wooden spoon.
Then, just as he is most of the time now, he was difficult to chase down.
Some might argue that mom didn't apply the wooden spoon enough. An explosive temper has followed Lake City High senior Chris Delport like a shadow.
It's an image Delport would just as soon shake like the defenders who try to cover the Timberwolves' speedy wide receiver.
It reached a crescendo last spring at the 5A state track meet. Delport, who had anchored the state-title winning 400-meter relay the year before as a sophomore, was trying to bring home a repeat as he surged down the homestretch at Boise State University's Bronco Stadium. He crossed the finish line second and threw his baton in disgust. Moments later, LC's relay foursome was disqualified and denied the runner-up medals.
It was the second finish-line outburst of the season for Delport and seemed to follow a similar pattern. In previous seasons on the junior varsity basketball team, he had several technical fouls for vocal eruptions.
But the episode at state track went over the line as far as his coaches and the school's administrators were concerned. He was disciplined and told that future outbursts would not be tolerated.
Prior to meeting with administrators following the state meet, Delport had determined in his heart that he had had enough of himself as well.
"The day after it happened I put it behind me," he said. "It makes me look bad. It makes everybody look bad around me. For the first time, I was embarrassed at myself for what I did. Ever since then, I said whatever happens, happens. It's not going to change no matter what I do, so I might as well try to handle it the best that I can."
As a two-way starter at wide receiver and defensive back and LC's primary kickoff and punt returner, Delport knows he draws a lot of attention just by the nature of his on-field activity. He also understands his every action this year is drawing extra scrutiny.
"I know I'm under a microscope," the 6-foot, 180-pounder said. "There are probably people watching me just to see if I screw up. (Administrators) told me if there are any outbursts in football, I'll be done for that game and one more. They're keeping a close eye on me."
Delport still has the same kind of frustrations that triggered outward expressions of anger before. That's the competitive nature of being a competitive athlete. He's just tried to internalize them more this year.
"I guess the fact that I know so many people are watching me – waiting for me to screw up – is sort of like motivation," Delport said. "I think I've matured."
Van Troxel, Delport's coach, agrees.
"He's still Chris, but you can tell there's a definite maturity," Troxel said. "He's been much better at thinking before he reacts."
It would be easy for Delport to be irritated these days. He caught 44 passes for 802 yards and 10 touchdowns last year on a pass-happy team. This year he finds himself on a pace to finish with a little more than half the receptions he hauled in last year because Troxel has shaped the offense to fit the personnel.
"He could have an argument that he should have more catches," Troxel said.
Delport's newfound maturity has been tested.
"I'm not frustrated," he insisted. "I realize the opportunities will come."
To try to get Delport more involved in his team's run-first approach this year, Troxel shifted Delport to slotback – where he can both catch and run the ball.
In LC's 35-27 victory at Eagle last week, Delport took four pitches for 30 yards. He also had one in which he outran the Mustangs on a 60-yard touchdown scamper that was called back because of a penalty.
To ensure that Delport has fresh legs late in games, Troxel has cut down on Delport's time on defense – although he set a single-season record for interceptions last year (seven) and has two this season. He was in on 15 defensive plays last week, down from 30 the week before.
The slot is the same spot where the previous Timberwolves player to wear No. 11 – Troxel's son, Matt – played.
"He's going to get four to five carries, four to five catches and three to four returns," Troxel said. "Now we're talking 12 to 15 touches a game."
The prospects of which puts a smile on Delport's face and will cause game-plan anguish for opposing coaches.
"He's getting to a point where he can take over a game like Matt did at times," Troxel said. "Last year he made most of his plays in the first half, but didn't finish well. This year we're seeing more plays in the second half.
"He covers more ground quicker than anybody I've ever had. His top-end speed is incredible. He can run like nobody else in this league. If he gets a step, nobody in the state is going to catch him. We've seen just glimpses of it, but I think we'll see more in the next five weeks or so. And hopefully more than once."
Delport is being recruited by five schools – Idaho, Idaho State, Utah, Eastern Washington and Oregon State.
Troxel has no doubts that Delport can not only play in college, but also excel.
"The hard part at the next level is doing it 365 days a year," Troxel said. "He can play at the next level. But you have to have the total package. You have to do it in the weight room, school, practice – 365 days a year. That will be his challenge.
"He's working much harder than he did a year ago. The thing I'm most pleased with in terms of maturity is the fact that he's our impact guy, but in the Post Falls game he didn't have a single catch or rush.
"A year ago he'd been in a complete funk that he didn't have a catch or something. The team's success is more important to him than it ever has been."
Local journalism is essential.
Give directly to The Spokesman-Review's Northwest Passages community forums series -- which helps to offset the costs of several reporter and editor positions at the newspaper -- by using the easy options below. Gifts processed in this system are not tax deductible, but are predominately used to help meet the local financial requirements needed to receive national matching-grant funds.
Subscribe to the sports newsletter
Get the day's top sports headlines and breaking news delivered to your inbox by subscribing here.
---