News > Nation/World
One month after Katrina, some progress, huge problems
Thu., Sept. 29, 2005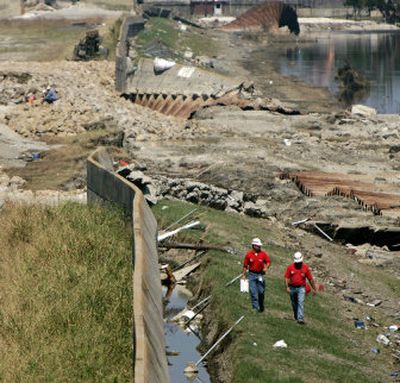 NEW ORLEANS – Ladling out bowls of red beans and rice for passers-by in the French Quarter, bar owner Finis Shelnutt buoyantly proclaims over blaring jazz music, "People will come back."
"Oh yeah, we're going to have a helluva time," he says, and plenty of other business owners and residents agree with him.
One month after Hurricane Katrina smashed ashore and swamped 80 percent of New Orleans, there are unmistakable signs of progress.
The electricity is back on in key business districts. A few restaurants are open with limited menus. Gasoline and groceries are available in neighboring communities. Alongside the National Guard Humvees and police cruisers, garbage trucks and vans rumble through town on their way to cleanup and repair jobs.
Streets where corpses floated are nearly dry and cleared of most garbage, and despite new flooding brought last weekend by Hurricane Rita, the Army Corps of Engineers' pumping and repair work has removed nearly all of the water.
"I think we're making progress," a pleased Mayor Ray Nagin said. On Wednesday, the mayor announced that all parts of the city that were spared Katrina's high waters would be formally opened to residents Friday, although many have returned ahead of his timeline.
But New Orleans still has a long, long way to go to recover from a storm that killed hundreds, ruined thousands of homes and left the very future of a major American city in doubt.
In the city's impoverished Ninth Ward, for example, the neighborhood is all but deserted, with block after block of waterlogged homes and ruined cars. One of the hottest businesses around was St. Claude Used Tires, where a burly, shirtless Joseph Peters patched hundreds of tires punctured by roofing nails and other storm debris.
"I was one of the bad boys who wouldn't leave," he said with a smile. "Now they appreciate me being here."
Even those predicting a Big Easy comeback steer clear of timetables.
"We've never seen this kind of catastrophe before in the United States," said Coast Guard Capt. Tom Atkin, chief of staff for Vice Adm. Thad Allen, the federal official directing the Katrina relief effort.
There are still some 5,000 federal military and 4,000 National Guardsmen in the city, and a long-term presence seems likely. The beleaguered Police Department, whose chief abruptly resigned Tuesday, plans to investigate about 250 of its 1,750 officers for leaving their posts in the first few days after the storm.
There are other immediate problems:
"The vast majority of the city remains without power, drinkable water or reliable communications. While the return of lights to the French Quarter was hailed this week, Entergy Corp. says only about 17 percent of the city has power.
"There are major health and safety concerns, including gas leaks, mold and structural damage in flooded homes, and toxic sludge left behind by the floodwaters.
"With a huge, complex rebuilding job ahead, there are serious questions of leadership, coordination and communication.
The mayor has said he will soon have a commission start developing a plan for the new New Orleans.
Nagin has been pushing to get residents back into the dried-out neighborhoods, brushing aside warnings that crucial services are not in place.
"People are saying it's too early to bring back jazz, the gumbo and the red beans," Nagin said. "If it's too early, when is the right time?"
It seems certain that post-Katrina New Orleans will be a smaller city, with a less diverse economy.
Loren Scott, an economist and Louisiana State University professor emeritus, expects the port-related businesses, including petrochemical and shipping industries, to bounce back, and said that tourism will eventually rebound, too.
But many service-related businesses will probably not be able to hold out during the long rebuilding.
The city of some 475,000 pre-Katrina residents could lose more than a fourth of its population, by some estimates. With such uncertainty here, many New Orleans residents who were evacuated after Katrina may settle where they are, rather than return.
Historian Douglas Brinkley, a Tulane University professor, predicted the rebuilt New Orleans will be largely gentrified, centered around the French Quarter and arts district, filled with townhouses and tourist lures. Along the way, it may lose some of its funky traditions and lowbrow charm, becoming more like Charleston, S.C., or Santa Fe, N.M., he said.
"The bottom line is it will not be the city it once was," he said.
Local journalism is essential.
Give directly to The Spokesman-Review's Northwest Passages community forums series -- which helps to offset the costs of several reporter and editor positions at the newspaper -- by using the easy options below. Gifts processed in this system are not tax deductible, but are predominately used to help meet the local financial requirements needed to receive national matching-grant funds.
Subscribe now to get breaking news alerts in your email inbox
Get breaking news delivered to your inbox as it happens.
---