Sports
OSU's Hass has what it takes
Thu., Sept. 29, 2005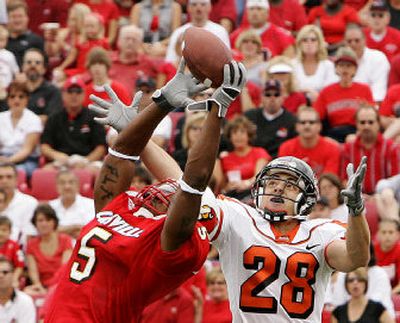 PULLMAN – Robb Akey didn't need 18 years of collegiate coaching experience, nor did he need hours of time studying game film.
All the Washington State University defensive coordinator needed while watching the Oregon State-Arizona State game Saturday night was his son, Jack, a third-grader.
"It's third down, and he looks at me and says, 'Dad, they're going to throw the ball to 28,' " Akey said.
Twenty-eight, in this case, is Oregon State wide receiver Mike Hass, and Akeys of all ages know WSU will need to make him a top priority on defense Saturday.
Hass, once a walk-on in Corvallis, is on pace to easily break every significant Oregon State receiving record in this, his senior season. Hass is also on a pace that would push him into the Pacific-10 Conference's top slot for receiving yards in a career.
In 2005, the Portland native has seen double and sometimes triple coverage on almost every down. But with a struggling running game and other wideouts who have yet to prove themselves on a grand stage, the Beavers keep throwing the ball Hass' way. He keeps catching it, too, to a tune of 10 receptions and nearly 170 yards a game thus far.
"We're hoping for a breakout game from him one of these days," Oregon State receivers coach Lee Hull laughed. "I guess 11 catches and two touchdowns would be a great game instead of 11 catches and one touchdown. But you can't do much better."
One would think that teams would force the ball to other players on the Beavers offense. But in Hass' career, no one has figured out how to do that – Hass reeled in another 11 catches for 174 yards against the Sun Devils.
Part of the reason, most everyone seems to agree, is the senior's remarkable ability to come up with tough catches in traffic. That's become more important over his career as defenses pay him more attention.
"Even when he's not open, he does a great job making catches," Akey said. "There was one play against Arizona State where he jumped over the top of the guy and caught the ball. He looks to me like he's got great concentration and focus on the ball. He'll fight for it and go get it."
The Cougars didn't need to see last week's tape to know about that talent. In last season's 38-19 drubbing, Hass made the game's pivotal play. WSU kicked off to open the game and made two nice defensive plays to put the Beavers in a third-and-long situation.
So what did they do? Throw it down the field to a well-covered Hass, who made a leaping grab over cornerback Karl Paymah for a first down. Oregon State took off down the field for a touchdown thereafter and never looked back.
That one play still comes up often in conversation around WSU when the Cougars look back upon a disappointing 5-6 season.
"That Hass kid, he's covered like a wet blanket and he still makes catches," WSU head coach Bill Doba said. "He's got great body positioning and great body control."
Ever the perfectionist, Hass said this week that he sees no reason why he shouldn't make a greater impact on Oregon State games this season.
"I had a couple of chances to make some more plays against Arizona State that I should have made," said Hass, who spent the off-season working primarily on running routes to try and get open more often for first-year starter Matt Moore at quarterback. "If I improve from here, my numbers should improve too."
That early catch notwithstanding, Hass didn't have one of his better games against WSU in 2004. He caught five passes for 99 yards, a big day for almost any other receiver. But for Hass, at least in this season, that's just better than half of his normal production.
So whether the Cougars decide to put one, two or three defenders on the Oregon State star seems not to matter. The ball will be thrown to Hass on Saturday afternoon, and it'll go that way often.
"We won't have to (spread it around) if we can throw 11 balls or 12 balls or 15 balls to Mike Hass," OSU head coach Mike Riley said. "If he's open, we'll throw it to him because he can catch them."
Local journalism is essential.
Give directly to The Spokesman-Review's Northwest Passages community forums series -- which helps to offset the costs of several reporter and editor positions at the newspaper -- by using the easy options below. Gifts processed in this system are not tax deductible, but are predominately used to help meet the local financial requirements needed to receive national matching-grant funds.
Subscribe to the sports newsletter
Get the day's top sports headlines and breaking news delivered to your inbox by subscribing here.
---