News > Home
THE COLLECTOR
Thu., Sept. 29, 2005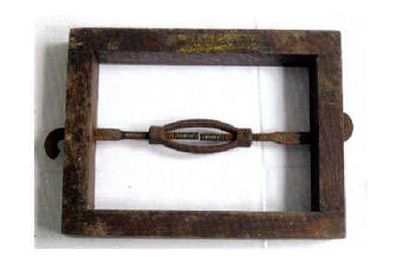 Dear Collector,
Can you identify this device marked DeBoer Mfg., Co., Pat'd 5-2-1911? I found it in the attic of our house.
This square wooden frame with connecting rods tightened by a turnbuckle was once used by furniture retailers to display a bed's headboard/footboard. You can still see similar contrivances in today's stores. No real money value (perhaps $10), but take it out of the attic, put in on a bookcase or office shelf, and you'll have a great piece of industrial art.
Dear Collector,
I have a 1955 "Juliana Koningin Der Nederlanden" coin which is tarnished but otherwise in good condition. Can you tell me what metal it is made of, and how much it's worth?
Your coin with a likeness of Queen Juliana (reigned 1948-1980) is from The Netherlands. Meaning golden, your gulden is actually silver, hence the tarnish. Value is only about $3.
Dear Collector,
What do you think these 44 Monkee trading cards are worth?
Luckily, you have a complete set of these 1966 Donruss gum cards, whose value is at least $125.
Dear Collector,
I hope these photos are good enough to help you identify the age and value of this Shiloh rifle.
Regretfully I have to inform you that your percussion firearm is a replica of an 1863 military carbine, and is less than 20 years old.
Dear Collector,
The person who gave me this teapot said it was made in England more than 100 years ago; is that so?
Not so; your earthernware piece from James Sadler & Sons, a Staffordshire potter, is only about 50 or 60 years old, according to its printed mark.
Dear Collector,
Do you think I should keep this 1926 calendar?
I would if I were you! With that wonderful illustration by Maxfield Parrish, it's probably worth $200-$300.
Dear Collector,
This one slice McGraw-Edison toaster belonged to a grandparent for many years before I acquired it. Can you provide me with its appropriate date of manufacture?
According to research, this is one of the earliest (if not the earliest) automatic pop-ups made for the domestic market. Your electric toaster was priced at more than $12 when new in 1926.
Dear Collector,
I have a Dennis the Menace spoon; what do you think it is worth?
Offered by Kellogg's in 1961 for 25 cents, these silver plate cereal spoons are now dished out for about $5 each.
Dear Collector,
I found this Sozodont bottle more than 30 years ago. Any info would be appreciated.
A dentifrice (defined in the dictionary as a "substance for cleaning the teeth"), this product was all the rage back in the late 1800s. Since many of these bottles have survived, the price for one is the $5 to $7 range.
Dear Collector,
You're always telling people to keep their old things; why?
Every old plate, coin, book or toy contains a minute portion of human history. Wise men say that the future is built on the past. So, each time we throw something away, we discard a piece of the past. No past, no future!
Local journalism is essential.
Give directly to The Spokesman-Review's Northwest Passages community forums series -- which helps to offset the costs of several reporter and editor positions at the newspaper -- by using the easy options below. Gifts processed in this system are not tax deductible, but are predominately used to help meet the local financial requirements needed to receive national matching-grant funds.
Subscribe now to get breaking news alerts in your email inbox
Get breaking news delivered to your inbox as it happens.
---