News > Spokane
Weekend a success for Valleyfest
Thu., Sept. 29, 2005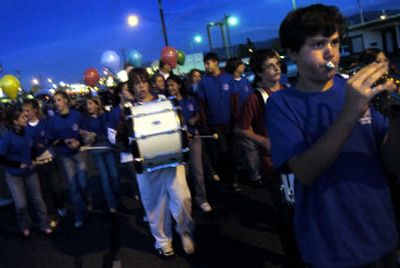 Spokane Valley's premiere festival was a huge success.
Concerns that changes to the event – having the parade on Friday night on East Sprague Avenue and expanding Valleyfest from one to three days – would impact attendance were erased by Saturday evening.
Valleyfest's first nighttime parade attracted nearly 10,000 people, according to police. Saturday's festivities in Mirabeau Point Park drew an estimated 32,000 attendees, 4,000 more than last year.
The success for the entire event "was beyond belief," Valleyfest Director Peggy Doering said. "As the years go on, the activities and participation will increase. I don't see this going backward in attendance.
Doering was pleased with the attendance during Saturday's festivities. However, she was shocked when she heard how many people watched the parade.
In addition to those positioned along the parade route, there was a constant stream of people coming off University Road. They pulled into a parking lot there to watch.
"I thought the parade was great fun. The Police Department did a great job blocking off traffic and rerouting it," Spokane Valley Mayor Diana Wilhite said. "I didn't see any glitches. I saw people in the crowd who weren't even from Spokane Valley."
Next year's Valleyfest parade is planned for the same time at the same place, 7 p.m. Friday on East Sprague Avenue.
"We need more lights in the parade," Doering said. "I think people realized that after the parade. When people saw the Tekoa float, they saw possibilities. And when they saw the Geek Squad's float, they got ideas from that."
The Tekoa community's float was a vividly colored, brightly lit float with a 1970s theme. Best Buy's Geek Squad was a 35-foot-long inflated Volkswagen.
The only changes to the parade Doering has planned: "We need parade marshals along the parade," she said. "We need a set-up and tear-down committee."
A need for more volunteers was something Doering couldn't emphasize enough as she talked about the Spokane Valley festival that has taken off during the last 16 years.
"We need more hands, everyone is stretched too thin," Doering said.
In addition to past Valleyfest activities, a car show was added and kids under the age of 14 fished for free in the Mirabeau Springs Pond. The poles and bait were provided.
"The fishing group, they got worn out," Doering said.
Organizers want to add more outdoor activities for kids, the Valleyfest director said.
"The car show will likely return next year," Doering said. "They said they have ideas for me."
Despite a huge increase in the number of food booths, about half the vendors at Valleyfest ran out of food. Parking ran out at the Pinecroft Business Park for the second year in a row.
"Next year the business park will be larger, so there will be some parking," Doering said.
A way to move people from the YMCA and CenterPlace, which will be an ongoing added attraction to Valley-fest, down to Mirabeau Point Park is one planned improvement. Doering said, "We also need to have some kind of mobile signage, so people know what's going on in different parts of the park."
While it's widely known that Valley-fest offers tons of activities for kids, Doering says the event is expanding.
"It's important for people to know there is something for all ages, not just kids," the Valleyfest director said. "What I can see in my vision is an event open to everyone.
Spokane Valley's mayor hopes Valleyfest's success is a signal for other event organizers.
"Spokane has its big events," Wilhite said. "Valleyfest is a possible starting point for bigger events to come to Mirabeau Point Park, like Pig Out in the Park."
Local journalism is essential.
Give directly to The Spokesman-Review's Northwest Passages community forums series -- which helps to offset the costs of several reporter and editor positions at the newspaper -- by using the easy options below. Gifts processed in this system are not tax deductible, but are predominately used to help meet the local financial requirements needed to receive national matching-grant funds.
Subscribe now to get breaking news alerts in your email inbox
Get breaking news delivered to your inbox as it happens.
---