News > Spokane
Tech transfer 101
Sun., April 30, 2006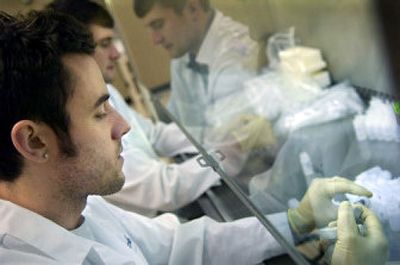 Jim Fleming was a biology professor at Eastern Washington University when he and some colleagues had the idea that would change their lives.
They developed a chemical process to identify the presence of bacteria quickly, something useful in everything from cheese making to screening for terrorist threats.
"There are those who want bugs," Fleming said, "and those who don't want bugs."
Fleming and his colleagues started GenPrime, a Spokane company that makes and sells testing kits to the Postal Inspection Service, the food industry and others. The company, founded in 1997, employs 16 and has expanded steadily in recent years.
Similarly, University of Idaho researchers took their new method of filtering phosphorus from water and formed Blue Water Technologies. The company has launched a test facility connected to the water treatment plant in Hayden, Idaho.
In Wenatchee, Washington State University professor Larry Schrader runs FruitGard, a company that sells his spray-on invention to protect apples from sunburn. The product is now in use on an increasing portion of the state's crop.
They're examples of innovations moving from the campus lab to the retail market. Proponents said it's a way to make sure university research benefits people and doesn't exist only in specialized journals or on a shelf.
"I think the academy has to do more of this," said Schrader. "We're public institutions, and particularly land-grant institutions like WSU need to do more to benefit our taxpayers, stakeholders, consumers – whatever you want to call them."
Critics say that an increasing emphasis on commercialization shifts the focus of public universities from educating students, basic research and the overall social good toward one of making money and satisfying business interests. John Curtis, director of research for the American Association of University Professors, said certain disciplines without much income potential – such as the humanities, liberal arts and some basic sciences – can suffer when the emphasis shifts to bringing in new revenue.
"The question becomes, in the process are you changing the nature of the university," Curtis said. "Public universities are supposed to be operating for the public good. They're part of the public sector."
But the effort is well under way, and everyone from administrators to the business community is interested in the commercial possibilities of university research. Harm-Jan Steenhuis, an EWU professor who has studied tech transfer, said it's a natural direction.
"We're talking about a knowledge economy," he said. "A lot of economic development is generated by knowledge, and universities generate knowledge."
The patch and the chip
Several university innovations in the region are somewhere on the pathway to the market. WSU scientists have licensed a variety of chemical processes to produce cancer treatments and patented a way to control the height of plants. They've patented varieties of cherries and a strawberry called "Schwartze," and recently licensed a potato sprout inhibitor that should help farmers protect spuds on the way to market.
Nationwide, the impact of academic research has been huge, according to a report by the Association of University Technology Managers subtitled "25 Innovations That Changed the World." The report includes Blue Water Technologies alongside several well-known inventions, ranging from Google to the V-chip to the nicotine patch.
Greg Moller, a UI professor who helped develop Blue Water's reactive filtration system, said academia has had a surplus of great ideas over the years, but a shortage of business knowledge and comfort with entrepreneurial risk. He said connecting the two is one way that land-grant universities like UI can fulfill their mission of serving the state.
"We're already challenged with finding ways to address community problems," he said.
At WSU and UI – the region's two research schools – "technology transfer" offices have been expanded in recent years to work on patenting university discoveries, seeking to license them to companies or sometimes start a company. Typically, income from the research is divided among the researcher, the researcher's program, the university's overall budget and its research foundation.
"Income comes from home runs, and home runs are very rare," said Keith Jones, executive director of the WSU Research Foundation. Jones came to WSU in 2005, as part of an effort to expand the university's tech transfer efforts. WSU spent more than $182 million in 2005, taking into account all funding sources for research. That same year, the school brought in more than $2 million in revenues from licenses purchased by companies for university inventions – a huge increase from recent years.
The University of Idaho has also expanded its efforts, with licensing income growing more than fourfold between 2003 and 2005, to more than $426,000.
Gene Merrell, interim director of the UI's research foundation, said UI's tech transfer office isn't big enough to handle the school's $73 million research operation. "Now we're at the point where we really need to grow the foundation," he said.
Sunscreen for apples
Larry Schrader first developed his sunscreen for apples as a WSU professor in the 1990s. He thought the product had great potential to cut into the roughly 10 percent of crop losses apple growers experience each year because of sunburn.
But the path between the university lab and the commercial market was strewn with obstacles.
"The university hadn't done this before," or not much, he said. "It was, 'No, you can't do that. No, you can't do that.' "
He applied for a patent in 1998 and licensed the product through WSU. Between normal bureaucratic procedure and a paperwork gaffe, it took him until 2005 to get the patent. He and a partner formed FruitGard, a Wenatchee company that produces the spray-on sunburn protectant for apples. The product may soon be expanded for use on other sun-sensitive crops.
"Sunburn is a problem in about 30 crops that I'm aware of," Schrader said.
He still works as a professor of horticulture in Wenatchee, and says he must be careful to make sure his academic work doesn't spill inappropriately into his business – by using student labor, for example.
Nationally, the push for tech transfer began in 1980, when Congress passed legislation allowing universities to license technologies discovered through federally funded research. Proponents point to Silicon Valley and North Carolina's Research Triangle Park as examples of booming marriages of academia and entrepreneurship.
"I firmly believe that universities as knowledge centers can have a great impact on the local economy," Steenhuis said. "But it's not a given. … It depends on how you do it."
Steenhuis produced a report in 2005 comparing Inland Northwest universities in terms of commercializing university research. Generally, he said that WSU and UI are "middle-of-the-road" in terms of technology transfer.
The UI does a "reasonably good job" in terms of the ratio of patents and license income to its overall research budget, the report said. WSU, with nearly twice the research budget of the UI, scored high or near the average in the number of patents and licenses, but below average in income generated, the report said. That didn't include last year's big increase.
Both schools have added staff and resources in recent years to their tech transfer offices. The process of moving an idea onto the market can take years and involves lots of risk, from patenting to trying to find a company that might be interested in buying the rights to the research.
Tech transfer officials say a lot of useful knowledge wouldn't make it to the public without such licensing arrangements, because companies won't go through the expense and trouble of duplicating university research themselves, especially if they don't have any financial protection. A license gives them the rights to the technology and gives the university some income.
But supporters say profit isn't the main goal of tech transfer, and few inventions ever really become significantly profitable. At Stanford, considered a leader in the arena, only 31 inventions licensed and marketed since 1969 have produced more than $1 million in cumulative royalties.
Still, a large part of the growing interest in commercializing research comes from public officials and the business world, who see universities as potential economic fuel.
"If you look at the national discussion on economic development, everyone is placing expectations on research universities to play a role in states' economic development," said Charles Hatch, vice president for research and graduate studies at UI. "There's a lot of pressure on the institution to serve states that way."
The ripple effect
Curtis, with the AAUP, said that commercializing research has been a part of the university landscape for years. He said that as schools begin trying to patent and license more inventions – and especially as they get into creating startup companies themselves – the conflicts between science and business can become pronounced.
When private companies help finance research, they may want proprietary control. But science is supposed to be open to everyone and shared widely, he said. And companies may be interested more in research that's beneficial to them, whereas science is supposed to be devoted to the pursuit of knowledge wherever it leads.
He said that tech transfer has become more appealing to universities as state funding has steadily decreased as a proportion of overall college funding.
"Administrators, especially, have become more entrepreneurial and looking to bring in revenue from other sources," he said. "One of the key sources is this kind of research funding."
Others say that universities have long contributed forcefully to the country's economy and that tracking patents and licenses underestimates the true impact universities have. Steenhuis noted the long history of agricultural research at WSU, and the effect of that on the state's economy.
Fleming and the co-founders of GenPrime went into business on their own, without the help of a university office. He said that tech transfer offices can help manage the complicated legal process of moving a product to market, but they can't provide the key ingredient – the innovation that arises from research.
"I would argue that technology transfer departments play a great role in signing the paperwork when someone's already figured out what they want to do," he said.
Fleming hopes GenPrime's growth can have a ripple effect in the Spokane area. He hires local college grads, has local firms do machine work and has steadily expanded.
"At some point, we're going to be looking for other people's technology to add to ours," he said.
Local journalism is essential.
Give directly to The Spokesman-Review's Northwest Passages community forums series -- which helps to offset the costs of several reporter and editor positions at the newspaper -- by using the easy options below. Gifts processed in this system are not tax deductible, but are predominately used to help meet the local financial requirements needed to receive national matching-grant funds.
Subscribe now to get breaking news alerts in your email inbox
Get breaking news delivered to your inbox as it happens.
---