News > Spokane
After 24 years, Strait murder resolved
Tue., Aug. 1, 2006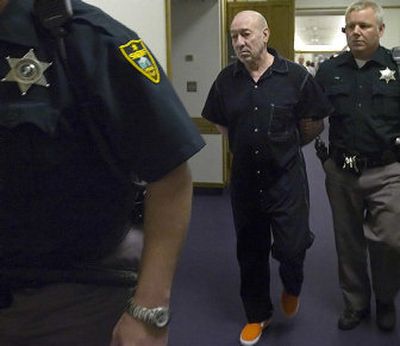 Donna Ragland made a promise that she would live long enough to confront the "scum of the earth" who picked her teenage daughter at random 24 years ago to rape and strangle.
Monday was that day.
The woman, 74, who suffered years of nightmares and uncertainty, struggled through tears as she spoke about her murdered daughter, 15-year-old Linda Strait.
"She was the light of my life," Ragland said. She then faced her daughter's killer, convicted rapist and kidnapper Arbie Dean Williams. "I think you are the scum of the earth and I hope you rot in hell."
Williams, 62, pleaded guilty Monday to second-degree murder in connection with Linda's killing on Sept. 26, 1982.
A fisherman found Linda's body the next day on the shore of the Spokane River near Plantes Ferry Park. Investigators determined that Strait had been raped and strangled.
They also found a pillowcase with semen on it near her body. That piece of evidence was preserved and eventually was used to catch Williams 21 years later, when advances in DNA technology were able to link him to the crime.
At the hearing, Williams admitted that he "killed Miss Strait." He then tried to withdraw his guilty plea after Deputy Prosecutor Kelly Fitzgerald began relaying details of the crime to Superior Court Judge Kathleen O'Connor.
Williams, who faced a trial for first-degree murder later this month, would have been able to withdraw his plea of guilty but he couldn't rescind his confession. After thinking it over, Williams agreed to continue.
O'Connor sentenced Williams to 20 years in prison. At the end of that sentence, it will be up to a state parole board to decide if Williams ever becomes a free man.
Linda's stepfather, George Ragland, said that if the death penalty applied he would serve as executioner "and maybe with a smile on my face. I think I could do it because of the years I've agonized over the terrible things done to Linda before and during her murder," he said. "My God, how can any human being do something like this to anyone or anything?"
Williams spoke at length at the hearing. But he didn't explain how he picked Linda for his victim as she walked from home that day to a nearby Safeway to purchase a hair perm kit and a gallon of milk.
"I don't expect them to forgive me," he said of Linda's family. "I don't see how you could forgive a person like me."
Williams also said that had the death penalty applied, he would have agreed to plead guilty "because I'm tired of doing time.
"Sometimes we say we are sorry for things that we do. Most people are only sorry for when they got caught," Williams said. "I'm not begging you for mercy. I don't deserve any mercy. I just didn't want to put her family through a jury trial for three weeks."
Williams has been in prison since 1983, when he was arrested and convicted of kidnapping two 8-year-old girls from Trent Elementary School in Spokane Valley. He lured the girls into his car by saying he lost his keys and wanted them to help look, according to court records.
Once inside, Williams pushed the girls onto the front floorboard and ordered them to be quiet. He drove around until it got dark and told the girls to take off their clothes, according to court records. One of the girls complied, the other girl was able to run away.
The girl who remained was repeatedly raped and was choked until she was unconscious. Thinking she was dead, Williams then dumped her in a wooded area. She regained consciousness and ran for help, according to court records.
That girl, now a grown woman, also testified Monday.
"I, too, was a victim of this monster and I survived," she said. "Unfortunately I do know what Linda went through her final hours because I went through it, too."
The woman believes she was saved by a "higher intervention. I was meant to go on and point him out and put him away because you wouldn't have stopped," she said turning to Williams. "To come in contact with you is to lose a part of your soul. Not even death is good enough for you. You can't look at me now, can you?"
Investigators said they talked to 1,000 people trying to find Linda's killer. But when Williams was arrested eight months later for the kidnapping case, he refused to talk.
Detectives sent the pillowcase for DNA testing in 1989 and 1998 but results from both tests were inconclusive.
Detective Tim Hines then sent the sample to a private crime lab in April 2003 and the results came back a month later as a match to Williams, who was only days away from a parole hearing where he was seeking release from his 1983 kidnapping and rape convictions.
At the same time that former Sheriff Mark Sterk announced the DNA linking Williams to Linda's killing, George and Donna Ragland were placing flowers at Linda's grave.
"Nobody can hurt like a mother who loses a child, especially to murder," George Ragland said. "To lose a child in broad daylight on a Sunday morning just yards from her home with people all around by a kidnapper, to be raped, robbed, murdered and thrown in the Spokane River at night like a sack of garbage was just too much to take. But she chose to go on living as best she could."
For 11 years after the investigation foundered, Donna Ragland couldn't even talk about Linda's case. But she never gave up hope and she often would have dreams about Linda. Eventually, even the dreams stopped.
"I had almost resigned to the fact that we would never find him," George Ragland said of Williams. "Donna said she wasn't going to die until she found out. She doesn't have to think about the creep anymore."
Local journalism is essential.
Give directly to The Spokesman-Review's Northwest Passages community forums series -- which helps to offset the costs of several reporter and editor positions at the newspaper -- by using the easy options below. Gifts processed in this system are not tax deductible, but are predominately used to help meet the local financial requirements needed to receive national matching-grant funds.
Subscribe now to get breaking news alerts in your email inbox
Get breaking news delivered to your inbox as it happens.
---