News > Spokane
Replacing street signs is expensive
Thu., Aug. 3, 2006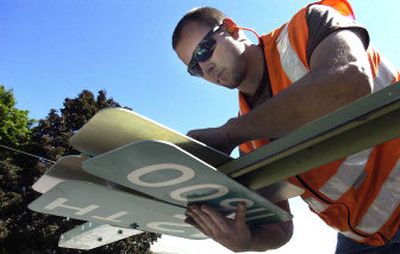 Residents on Saxon Drive just have to get used to the fact that nobody can tell what street they live on.
The street sign that identifies their road near High Drive is almost always missing, likely stolen by Ferris High School students desiring a literal, metal representation of their mascot. The man who watches over Spokane's 80,000 street signs said there's no point in replacing it.
"Don't ever allow a developer to name a street after a female or a sports team," said Kent Green, the city's signs and markings supervisor. "That one hasn't been replaced for 18 years. The people that live there deal with it as best they can."
Theft replacements amount to about 20 percent of the effort that goes into maintaining the region's thousands of road and street signs. But an even bigger task may soon lie ahead for street officials. A new federal law may require nearly every street sign in the country to be replaced in seven years.
The rules would require all road signs to use a highly reflective material, currently seen in new school zone signs, said Barry Greene, who is in charge of the county's sign program. Though replacing all 42,000 signs in unincorporated Spokane County and Spokane Valley would be a monumental – and likely expensive – task, street signs don't usually last too long, anyway, he said.
"You can usually get seven years out of a sign," he said.
The lifespan depends on the direction the sign faces or its propensity to being smashed by cars.
The new federal signage guidelines are under review, Greene said, and a decision will be made this fall as to whether more reflective signs will be required.
Until then, most sign replacements will come from worn out signs, accidents and thefts.
Street officials said signs with female names, as well as unique placards and anything that can be seen as derogatory, will be wrestled off, cut down or unbolted from their posts by vandals and thieves.
The county has at least two people who work full time replacing street signs that have been stolen or have been knocked down by weather or car crashes, Greene said. That costs the county about $93,000 every year. Each sign costs between $25, for a smaller stop sign, to $77, for a bright yellow school zone sign.
In Coeur d'Alene, one of the more frequently stolen signs is Ezy Street.
"We lost a dozen of them in five months," said Tim Martin, streets superintendent for the city.
Most frequently stolen are street name signs, particularly ones that feature first names, such as Spokane Valley's Dick Road.
"We find a lot of them at Gonzaga," said Paul Worley, a signs foreman for the city of Spokane. "The college just calls us up and they have a stack, so we go get them. It's kind of a yearly thing."
Though the city and county keep an inventory of all the signs they put up, it's often up to residents or passers-by to notify officials of a missing or damaged sign, Worley said.
"We're not going to catch them all or get them the very day someone sees them missing," Worley said. "We get to them as quick as we can. There's a lot of territory to cover; sometimes it takes us awhile."
Rarely are stolen signs reported to law enforcement, said Spokane County sheriff's spokesman Sgt. Dave Reagan. He said he's never seen a report himself, but he said most street crews will simply replace the sign without doing much investigation into the theft.
"Every now and then we'll run across somebody who has signs hanging in their garage," Reagan said. "We try to determine if they're stolen or not."
If somebody is caught with a sign that has a Spokane County identifier tag on it, they could be arrested on third-degree theft charges and face 30 days in jail or a $250 fine. If the road sign is regulatory, such as a stop sign or yield sign, the charges could get much more serious, including reckless endangerment, he said.
Local journalism is essential.
Give directly to The Spokesman-Review's Northwest Passages community forums series -- which helps to offset the costs of several reporter and editor positions at the newspaper -- by using the easy options below. Gifts processed in this system are not tax deductible, but are predominately used to help meet the local financial requirements needed to receive national matching-grant funds.
Subscribe to the Coronavirus newsletter
Get the day's latest Coronavirus news delivered to your inbox by subscribing to our newsletter.
---