News > Voices
School weather watch
Thu., Dec. 14, 2006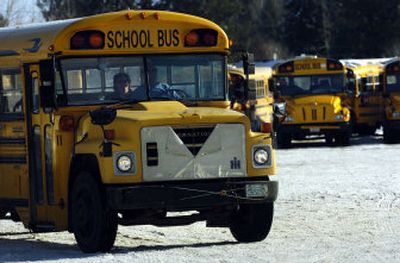 Listen up, all you boys and girls praying for a massive snowfall so you can get the day off school.
Even if there's a whiteout outside your bedroom window, the cold truth is that there's hardly a snowball's chance in hell that school is going to be canceled.
Fact is, the last time Spokane Public Schools and most every district around here called off school was Nov. 20, 1996, after the ice storm that disrupted things for days.
Disappointing those thousands of students are area transportation directors, who cut fresh tracks on the roads before dawn, all for the sake of deciding whether it's safe for school buses. The information is called in to school superintendents, who make the final decision whether to delay school for plowing, or cancel it all together.
In most cases, it's the transportation director and his or her assistants who test the most treacherous stretches of roads in their districts. Central Valley School District relies on transportation director Gene Marsh. Cheney's director of transportation is Paul Harris.
When it's snowing in Deer Park, transportation supervisor Shirley Hobbs said she wakes up almost every hour until she climbs into the district's '97 Suburban and heads into the darkness. Her inspection-run covers areas in Spokane, Stevens and Pend Oreille counties.
"Seriously, I kind of enjoy it," said Hobbs, while driving a passenger through a gnarly patch on Redman Road she referred to as "The Jungle."
"The area is dense with trees; there'll be a foot of snow on the ground. I'll crank up the heat, put on the radio and enjoy my ride."
Although the 27 Deer Park bus drivers transport about 1,100 students (of the 2,434 in the schools), the district covers 173 square miles. Aside from the obvious – impassable, icy roads – Hobbs also checks for downed trees, snowed-in turnarounds, and drifting.
"We have drivers I trust," said Hobbs, a Deer Park graduate who has worked in the school's transportation department for 33 years. "They know how to make it through unless somebody has a car stuck in the middle of the road.
"I don't think I have a driver I'd be afraid to send anywhere."
Harris, a Cheney High graduate and 28-year employee in the district, and Marsh, 20 years in the CV district and four in his current job, echoed the same praise.
"You want to make sure there's nothing exceptional out there in winter driving conditions," Harris said. "You have to be careful, and we have a fantastic group of drivers. They're very caring."
Harris oversees the 39 bus routes that cover 378 square miles. Each day, approximately 1,950 students (of about 3,500) ride the buses. The district had one late start this school year because of an overnight windstorm on Nov. 13.
When the weather gets iffy, Harris heads out in a district-owned '97 four-wheel pickup and assistant Debbie McGhee-Hill will take a district-owned '99 Suburban as the two blanket the region. Harris said the most difficult condition is drifting snow, especially in the wheat fields, south and west of town.
However, the conditions don't seem to faze drivers, such as Jim McGuire, who drove a school bus in Newport, Wash., before moving to Cheney, where he's driven for four years. He can't recall school being closed due to snow during his 16 years in the rural town of Newport.
The retired military man and Baptist minister has a few rules for kids: Listen and stand back at the bus stops.
"(In bad weather), the good kids sit down and listen to you," said McGuire, whose part-time gig earns him roughly $10,000 a year. "When they're bad, they take more of your attention off the road."
Marsh and his assistant supervisor, Marie Scott, run Central Valley's pre-dawn inspection much like Hobbs and Harris, although the district only covers 80 square miles. However, the district is much more populated with about 11,000 students.
Marsh and Scott do the road testing in district-owned 4-wheel SUVs. At times, bus drivers are advised to put chains on.
"We'd have to have some pretty serious weather, or like the ice storm, no power, to close school," Marsh said.
But that doesn't stop the kids from hoping.
According to Hobbs, "the kids always want the driver to get stuck on the way to school … but not on the way home."
Local journalism is essential.
Give directly to The Spokesman-Review's Northwest Passages community forums series -- which helps to offset the costs of several reporter and editor positions at the newspaper -- by using the easy options below. Gifts processed in this system are not tax deductible, but are predominately used to help meet the local financial requirements needed to receive national matching-grant funds.
Subscribe to the Coronavirus newsletter
Get the day's latest Coronavirus news delivered to your inbox by subscribing to our newsletter.
---