News > Spokane
EWU gets new leader
Tue., Jan. 10, 2006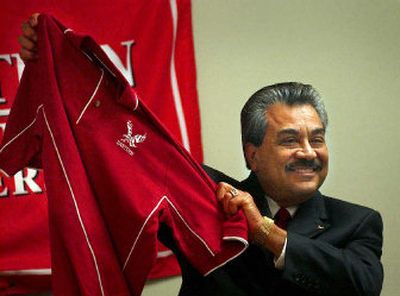 Rodolfo Arevalo first came to this part of the country as a child when his parents worked in the fields.
On Monday, he came to accept the position of president of Eastern Washington University – the first Latino to hold such a post at any public four-year school in the state. At the announcement, after a standing ovation, he choked up briefly before speaking.
"It does become emotional after a while," he said afterward. "It is a humbling experience to have faculty, students, staff and community looking to you to ensure the institution is successful."
Arevalo, 59, oversees academic programs as provost at the University of Texas-Pan American in Edinburg, Texas – the town where he was born and where he earned his bachelor's degree. He will start at EWU on April 1 and will live on campus with his wife, Nadine.
Gordon Budke, chairman of the search committee and member of the board of regents, called Arevalo "the right guy at the right time" and praised his background and skills in working on behalf of students and faculty, administration, diversity and fund raising. Kris Mikkelson, regents chairwoman, said Arevalo brings experience across a wide range of issues.
"There was a real compatibility between his strategic view for the university and the board's strategic view for the university," she said, noting specifically his experience and interest in helping first-generation college students.
EWU's 25th president, he replaces Stephen Jordan, who left after seven years to take the same position at Metro State College of Denver.
Jordan's seven years as EWU president were marked by rising enrollments and a renewed focus on building a residential campus in Cheney. Eastern's fall enrollment was about 9,800, and it has increased for 16 straight academic quarters.
Victor Rodriguez, a student who served on the search committee that recommended the three presidential finalists, said the fact that EWU hired a Latino for the top position shows the school is serious about diversity.
"I think this is a great step for Eastern – and it's a first step," Rodriguez said.
"We're making history here, and students should be aware of that. We're in the forefront of what we have strived to be."
Arevalo has 34 years of experience, including his seven years as the provost at the Texas school. He served as provost at Fort Hays State University in Kansas, and spent 18 years before that working in the California state university system as a faculty member and administrator.
He has a doctorate in educational administration and a master's in social work from the University of Michigan, and a bachelor's in accounting from Texas-Pan American.
He and Nadine have five grown children and three grandchildren.
He said he'll be visiting the Cheney campus periodically before April 1, trying to meet people and find out what they want to see at EWU.
"My basic approach is a people-person approach," he said. "I need to understand individuals, I need to understand what groups of people are looking for, what their goals are, what improvements they want to see to the university."
Alicia Kinne, president of the Associated Students of EWU, said Arevalo had shown commitment to student needs in his current job.
"He has kept the student at the heart of the decisions he's been making," she said.
Doug Kelley, who represented alumni on the search committee, said it's important for the new president to view the university as part of the larger community.
"The impact we have on the region and the economy is huge," he said. "We prepare the workers."
Eastern's provost, Brian Levin-Stankevich, has served as interim president since Jordan left last year.
Arevalo said when he was very young, his parents, migrant workers originally from Mexico, would come to Walla Walla and the Yakima Valley to work in the fields.
"I still do remember a little bit of that experience," he said.
Later, his brother went to college and then he did. They were the first generation in the family to do so.
"That's part of what attracted me to Eastern," he said.
"It's dealing with first-generation students, trying to provide access and make sure those students are successful."
Local journalism is essential.
Give directly to The Spokesman-Review's Northwest Passages community forums series -- which helps to offset the costs of several reporter and editor positions at the newspaper -- by using the easy options below. Gifts processed in this system are not tax deductible, but are predominately used to help meet the local financial requirements needed to receive national matching-grant funds.
Subscribe now to get breaking news alerts in your email inbox
Get breaking news delivered to your inbox as it happens.
---