News > Spokane
Mice and man
Sun., Jan. 15, 2006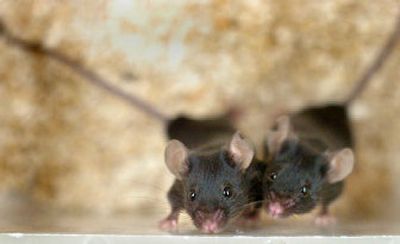 Somewhere right now, a mouse is being born with the express purpose of getting cancer, so someday, maybe, a human won't have to.
Somewhere else, a mouse is running in a wheel or splashing through a water maze. A mouse is being made anxious or sleepless or ill. A mouse is being born whose genes have been manipulated to give it diabetes or eliminate its immune system, to make it super-strong or addicted to nicotine.
Millions of mice worth hundreds of millions of dollars. Living in sterilized cages and sipping filtered water. Traveling cross-country in climate-controlled trucks or vans. And ending their lives under a microscope or, sometimes, in the beaks of an injured hawk or eagle.
The lab mouse is the workhorse of American research animals, credited with advances in the treatment of cancer, heart disease, arthritis, diabetes and virtually any disease you can name. At Washington State University, at any given time, between 6,000 and 7,000 mice are being used for research – a figure that's growing as the school's biotechnology programs grow.
In the last five years, as knowledge of the mouse and human genome has exploded, so has mouse research, as scientists locate the genes that control a host of behaviors, diseases and conditions. Separate genetic strains of mice – mutant mice, bred for research – number in the thousands, and the federal government is pushing for the creation of an army of the mice strains with a mutation in every single gene.
"It really has altered the landscape of modern science," said Terry Hassold, who studies chromosomal abnormalities in pregnancy at Washington State University.
The University of Washington conducts most of the mouse studies in the state, though researchers at WSU use them for a variety of purposes, from studying the effects of toxins on developing embryos to probing the sleeping mouse brain for secrets about why mammals snooze. At the University of Idaho, the mice have been used in behavior and performance studies.
"How well that relates to humans is always a question," said Michael Skinner, a WSU researcher who discovered through rat and mice studies that environmental toxins can permanently affect a family's genes. "The problem is you can't really use humans as an experimental model."
Short of that, mice are pretty good, scientists say. They breed frequently, produce large litters, are less expensive and controversial than larger mammals – though some oppose the use of the animals in experiments and urge limits or bans on the animals used.
"We want to see the day when animals are no longer used in research," said Martin Stephens, vice president for animal research issues at the Humane Society of the United States. "We think scientists themselves support that goal."
But nothing suggests a drop-off in mouse research any time soon. New genetic strains of mice create the chance for scientists to make close comparisons between genetically identical creatures. And when you get down to the level of DNA and genetic makeup, there's a lot of similarity between a 1-ounce mouse and a 200-pound man.
"If you look at a mouse lung, it's almost identical to the lung in a human," Skinner said.
Model of choice
The story of the lab mouse goes back a century or more, and it begins with a group of very non-scientific rodent lovers known as mouse fanciers.
Mouse fanciers bred varieties of mice, mostly for different coat colors, and kept the animals like pets. But when the genetic work of Gregor Mendel – showing that plant traits were inheritable over generations – was brought to prominence early in the 20th century, researchers gained a new interest in the mice.
In 1909, the first inbred strain of mouse was developed. Over the next decades, strains of mice were bred to be susceptible to tumors, cancer and other characteristics. By the middle of the century, the first mouse strain bred to be obese was discovered. Not long after that, the nude mouse was discovered – a creature with a compromised immune system that became critical for disease research.
"There are all these lines of mice," Skinner said. "Literally thousands of different lines of mice."
Mice research took another huge leap five years ago. Shortly after the announcement that scientists had produced the full map of the human genome, the mouse genome was sequenced.
But knowing all the genes isn't the same thing as knowing what all the genes do. Genes contain the instructions that lead to skin and hair color, gender, obesity, diseases – all the traits of human or mouse biology. If scientists find a gene's function, they can block it or increase it.
That, researchers say, is why the mouse has taken on added significance. Through manipulating mouse genes – "knocking out" or removing genes, adding or altering them – scientists learn what they do. Without that, the genetic map would be like an unreadable set of instructions.
The National Institutes of Health is pushing a program to develop a strain of knockout mice for each gene – more than 20,000 separate lines. When a gene is missing, some of its functions become apparent, and researchers hope they can follow that lead to treatment in mice, tests in humans, and eventual treatment of genetic diseases in humans.
When you look at the genetic sequences of mice and humans, you find a mouse equivalent for virtually every human gene, said Richard Woychik, the director of the Jackson Laboratory in Maine, a nonprofit research organization that is one of the leading mouse breeders in the country.
As mammals, mice and men share an evolutionary ancestry and many physical features. Another research advantage to lab mice is their genetic purity. The Jackson Lab sells almost 3,000 individual inbred strains of mice – each with some genetic mutation that is reproduced virtually identically among all mice of the strain.
They're like families of identical genetic twins, which is exceedingly rare given that there is great genetic variation between members of any natural species. That makes the mice a clean slate for reactions and comparisons.
"The mouse has really become the model of choice because of the genetics," said Patricia Hunt, who researches the effect of toxins on pregnancy in mice at WSU.
Balancing act
At WSU, when a mouse – or any other animal – is proposed for a research project, they'll come under the review of Steven Russell.
Russell, the campus veterinarian for lab animals, helps make sure federal and university standards for care are followed, and he sits on the campus committee that must review and approve any research project using animals.
"We try to eliminate the use of animals as much as we can," Russell said. "But there's a lot of interactions in the body that we just don't know. You need to see how a system reacts."
The care of the mice has become increasingly specialized. Some of the genetic strains of mice require sterile environments and are highly sensitive to disturbance. The most precious strains are kept in cages where the air is filtered and everything they touch has been sterilized.
Galen Gorence, an animal care coordinator or "mouse wrangler" at WSU, says the animals are checked daily, kept in climate-controlled atmospheres, and given wood chips and cotton for bedding and burrowing.
Still, mice live with rough circumstances – disease and pending death – and some animal rights groups oppose their use under any circumstances. People for the Ethical Treatment of Animals and the American Anti-Vivisection Society oppose the use of mice for any lab experiment.
The Humane Society of the United States advocates using fewer mice in experiments and providing more humane treatment when they are used.
Stephens, the group's spokesman, said the explosion of genetically altered mice creates new concerns about the suffering of the animals.
"Some of these engineered models inherently cause pain and distress," he said. "Some mice don't live beyond a few weeks because of the disease."
He said the expansion of research on animals is essentially unregulated from an animal care perspective – federal oversight is provided by the National Institutes of Health, which supports major efforts in mouse research.
Stephens said he recognizes that research on mice isn't slowing down, but "we're trying to fight the tendency to view these animals as disposable commodities, to be used and discarded."
Russell said the welfare of animals is on the minds of everyone who uses them in research. But they place that against the value to humans, which they say is immense.
"The research is worthwhile. It makes a difference in people's lives," he said. "If you know someone with diabetes, if you know someone who has heart disease, your life has been affected by animal research."
Skinner relates the example he has given in previous discussions about animals rights – this one involving dogs, a creature that inflames much more passionate opposition than mice.
Researchers at the University of Toronto discovered insulin for the treatment of diabetes in a series of tests in the 1930s. Researchers removed the pancreas from dogs, which caused a diabetes-like disease. They then took the removed pancreas, ground it up and re-injected it – and found that it prevented the disease.
"Since then, millions and millions of lives have been saved because of those experiments," Skinner said. "In all of those experiments, they used six dogs."
Local journalism is essential.
Give directly to The Spokesman-Review's Northwest Passages community forums series -- which helps to offset the costs of several reporter and editor positions at the newspaper -- by using the easy options below. Gifts processed in this system are not tax deductible, but are predominately used to help meet the local financial requirements needed to receive national matching-grant funds.
Subscribe now to get breaking news alerts in your email inbox
Get breaking news delivered to your inbox as it happens.
---