News > Spokane
Big Easy, hard choices
Thu., Jan. 19, 2006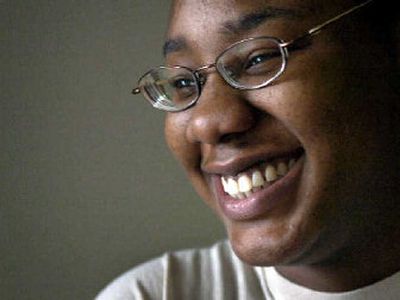 When colleges and universities in the hurricane-blasted New Orleans area opened their doors again this week, about 40 students who'd come to the Inland Northwest after the storms faced another big decision.
Arthur Rowe went back to Tulane.
Marchecia Harris stayed here.
Harris, a 21-year-old junior at Eastern Washington University, was entering her fourth year at Xavier University of Louisiana when Hurricane Katrina struck in late August. Shortly after, Hurricane Rita hit nearby.
"My parents were like, 'No, you're not going back,' " Harris said.
Now she's joining student organizations, adjusting to life in Cheney, and looking ahead to a degree in communicative disorders in 2007.
She's among thousands of students who decided not to go back to the Big Easy after the hurricanes. Enrollments at the nine colleges and universities there are down, as are the number of faculty members hired, according to a survey in the Chronicle of Higher Education. Damage on campuses is estimated in the hundreds of millions.
Rowe, on the other hand, never considered not returning to Tulane University, where he is a sophomore majoring in history. He and 20 other students from Tulane and Loyola University New Orleans also spent the fall at Gonzaga.
He said he enjoyed his time at Gonzaga, and that being a student in Spokane had its advantages.
"In Spokane, there's not quite as many distractions as there can be in New Orleans, in terms of nightlife," said Rowe. "So I actually made better grades at Gonzaga than I did at Tulane."
Of the 21 displaced students who came to Gonzaga, all returned to their schools, said Dale Goodwin, GU spokesman.
"It really worked out fine," he said. "We had kind of planned for it, knowing these students would be in some trouble and needing help."
Several students chose to stay at other schools in the Inland Northwest. Of the 10 who enrolled at the University of Idaho, four stayed. At Washington State, four of six students affected by Katrina are staying in Pullman. At EWU, Harris was one of two students from New Orleans – the other returned.
At Whitworth, two students came after the hurricane, and both returned.
The nine colleges and universities in New Orleans are now open for classes, and the enrollments so far show thousands of students didn't return.
One of the hardest-hit schools was Dillard University, which had $400 million in damages and got back 1,100 students – about half its student body – when classes began this week.
Tulane's enrollment for Tuesday's start of classes was 5,623, down from 6,390 before the storm, according to a survey in the Chronicle of Higher Education.
Rowe got back to Tulane last Thursday, and though it's not in one of the harder-hit areas of New Orleans, he was still shocked to see trees down, stores shuttered and other remnants of the storm's damage.
"I'm surprised a lot of the stoplights still don't work," he said.
Harris, meanwhile, is adjusting to changes of her own. Her parents live in the San Francisco Bay Area, and she grew up in Seattle and spent three years in New Orleans. Cheney offers a bit of a contrast.
"It's a culture shock," she said. "It's a lot different from what I'm used to."
But after a year in the dorms, she's moved off-campus with two friends. She's joined the Black Student Union and other clubs. She and a top EWU administrator, associate vice president of enrollment services Michelle Whittingham, recently made a presentation on the hurricane together.
"It's bigger than my last school," Harris said, "but everybody's been really helpful."
Local journalism is essential.
Give directly to The Spokesman-Review's Northwest Passages community forums series -- which helps to offset the costs of several reporter and editor positions at the newspaper -- by using the easy options below. Gifts processed in this system are not tax deductible, but are predominately used to help meet the local financial requirements needed to receive national matching-grant funds.
Subscribe now to get breaking news alerts in your email inbox
Get breaking news delivered to your inbox as it happens.
---