News > Spokane
Mayor looks outside
Tue., July 18, 2006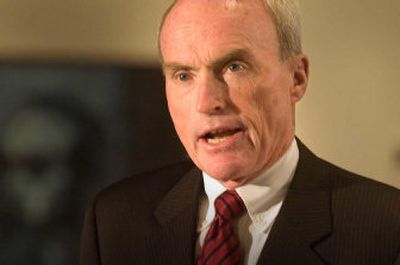 Bowing to public pressure, Spokane Mayor Dennis Hession said Monday he will hire an outside expert to examine the Police Department's handling of two recent scandals that have sparked outrage and renewed calls for civilian oversight.
The not-yet-named expert will review the Feb. 10 deletion of digital photos taken by a firefighter who had sex with a 16-year-old girl in a firehouse while on duty and the fatal confrontation a month later between Spokane police and mentally ill janitor Otto Zehm.
Hession also disclosed that the FBI is conducting a civil rights investigation into the March 18 death of Zehm.
"I believe certain events have called into question the credibility and integrity of our Police Department, and we cannot tolerate that," Hession said at a City Hall press conference just before the weekly City Council meeting. The outside review is an attempt to restore public confidence, he said.
Hession said he also will direct an outside expert to critique the city's current Citizens' Review Commission, a largely defunct panel empowered only to examine cases forwarded by the police chief.
Such a review hasn't happened in almost a decade because, police administrators say, there have been no police misconduct cases warranting civilian review.
"We're going to ask this outside investigative body to look at the Citizens' Review Commission and see if it's appropriately positioned to respond to the concerns of the citizens," the mayor said.
Hession said he wanted to start the outside investigation before he names a new police chief – which could happen later this week.
Hession said he still has confidence in Acting Police Chief Jim Nicks and the "outstanding police officers, men and women, (who) provide us with a safe and healthy environment.
"I do recognize, however, that the conduct of Chief Nicks and perhaps others in the Police Department could have raised questions." Nicks attended the press conference, but did not comment.
At an earlier meeting of the Public Safety Committee, Nicks said: "I believe (an outside investigation) will be a beneficial result to the city and the Police Department, in particular."
Sgt. Charles "Chuck" Reisenauer, president of the Spokane Police Guild, also attended the press conference.
Asked if he had anything to say on behalf of the department's 280-commissioned officers, he said: "Not right now." He later issued a statement citing concerns about "recent inaccurate media reports" that Zehm had nothing in his hands when confronted and that an officer gave him no verbal commands.
Reisenauer cited police reports that one witness recalled seeing Zehm "holding up a 2-liter Pepsi bottle." That witness reportedly said the officer repeatedly told Zehm to quit fighting, but Zehm screamed at the officer and was angry and aggressive, not scared. Two other witnesses said they saw Zehm holding a 2-liter bottle of pop, and two more witnesses said they heard the officer order Zehm to drop the bottle, Reisenauer said.
The civil rights investigation into Zehm's death began June 23, after the Police Department and Sheriff's Office concluded their joint investigation, according to FBI senior supervisory agent Frank Herrill.
Agents assigned to the FBI's Spokane office are investigating whether Zehm's civil rights were violated by officers. "At this juncture, it would be premature for me to say when it might be concluded," Herrill said.
Terri Sloyer, the Center for Justice attorney representing Zehm's mother, said she supported Hession's decision for an independent investigation.
"This is exactly what we have been asking for," Sloyer said. "All the issues that he wants the independent investigation to cover are what we have concerns about: the investigative practices, the internal policies and procedures, and, most importantly, we are really happy to see he wants to review the effectiveness of the current citizens' review committee."
That last piece is needed for the community to get past the Zehm case, she said.
"When the public loses faith in the Police Department, they lose faith in all the officers," Sloyer said. "There are a lot of good officers. They deserve the respect of the citizens. But given the climate we are in, that's not happening."
Meanwhile, the Fire Department has launched its own investigation into the propriety of its paramedics issuing a modified oxygen tank-style breathing mask to police officers who had hogtied Zehm on the floor of the Zip Trip convenience store. Police asked for a mask because Zehm was spitting, according to Deputy Chief Al Odenthal.
Videotapes from the store's security cameras, released Thursday by the Police Department, show Zehm stopped breathing and was given emergency CPR about three minutes after the mask was strapped over his face.
Hession's announcement came just hours after the three members of the Public Safety Committee – Joe Shogan, Mary Verner and Bob Apple – unanimously called for an independent probe.
Apple said citizens were outraged by the Zehm case, and particularly disturbed that it took four months before County Prosecutor Steve Tucker released the surveillance videos and a modified account of events leading to Zehm's death.
"I'm talking about information I have a right to know. This is an intolerable situation," Apple said, triggering a contentious exchange with Deputy Mayor Jack Lynch, accused him of lacking the credentials in police procedures to make such a comment.
Verner said she believes an outside review will "vindicate Chief Nicks' professionalism."
City Council President Shogan, who heads the Public Safety Committee, said the Zehm case "has caused a sense there is a need for an outside investigation of the matter." He criticized the Police Department for publicly releasing the Zehm video before giving it to committee members.
Hession said he is looking at outside law enforcement agencies, academic organizations and civilian experts in police procedures to conduct the independent review. It will include a detailed examination of the department's training, procedures and communications, including those with the public.
The mayor said he didn't know how much the independent investigation will cost or where the money to pay for it will come from, but he wants the work completed in six weeks.
"The citizens of our community deserve such a review, and it is my responsibility to initiate the process immediately," Hession said.
"The credibility of the Police Department has been badly compromised. We believe this will be the first step in restoring the public trust of the Police Department."
Local journalism is essential.
Give directly to The Spokesman-Review's Northwest Passages community forums series -- which helps to offset the costs of several reporter and editor positions at the newspaper -- by using the easy options below. Gifts processed in this system are not tax deductible, but are predominately used to help meet the local financial requirements needed to receive national matching-grant funds.
Subscribe now to get breaking news alerts in your email inbox
Get breaking news delivered to your inbox as it happens.
---