Sports
Adam, meet Charlotte
Thu., June 29, 2006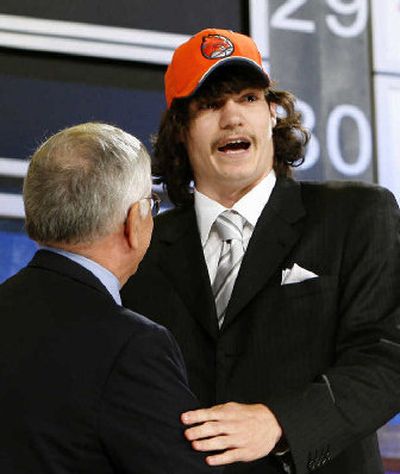 CHARLOTTE, N.C. – Coach and general manager Bernie Bickerstaff thinks Adam Morrison was the perfect choice for the Charlotte Bobcats' first major move since Michael Jordan became part-owner.
"We've had the addition of two competitors – Michael Jordan and Adam Morrison – and that's our profile," Bickerstaff said Wednesday night after the team took the Gonzaga forward with the No. 3 pick in the draft.
Jordan, who has the final say on all basketball-related decisions, signed off on Morrison, one of the most prolific scorers in NCAA history.
"The thing I see most is his desire to win, you can't teach that," said Jordan, who was in Charlotte's war room after holding meetings all day with Bickerstaff and team scouts.
The Bobcats hope the 6-foot-8 Morrison, the nation's leading scorer last season at 28.1 points per game, will be the consistent scorer missing in the Bobcats' first two seasons.
"Looking at the team and what they desperately needed, they needed scoring in the fourth quarter," Jordan said. "This team plays well in the first three quarters and competes and we needed somewhat of a leader going into the fourth quarter, a guy to finish ball games and take the big shots."
Toronto selected Italian forward Andrea Bargnani No. 1 overall, and Chicago took forward LaMarcus Aldridge of Texas with the No. 2 pick. The Bobcats then wasted little time taking Morrison over Connecticut's Rudy Gay and Washington's Brandon Roy.
Jordan acknowledged there was debate over who to take.
"We had a split room. Some guys thought about Gay, some about Roy, some about Morrison," Jordan said. "We weighed our options. Halfway through the day we narrowed it down and at the end we were on the same page."
Bickerstaff said Morrison's ability to score broke the deadlock.
"What's important for us is his ability to score in various ways," Bickerstaff said. "He reminds you of the Richard Hamiltons and the Reggie Millers, for how he comes off screens. He's a very confident young man."
Morrison, known for his long, shaggy hair and mustache, was considered a suspect defensive player in college and suffers from Type 1 diabetes. But Morrison, who routinely tests his blood-sugar level during games, believes he has the situation under control.
"Our doctors made a decision and they were very comfortable with it," Bickerstaff said.
Morrison has no reservations about coming to Charlotte.
"I felt good about Charlotte all along," said Morrison, who will wear No. 35. "It was my first (team) workout, my best workout and I liked the city. I'm very excited."
Morrison's personality and on-court demeanor might also help jump-start interest in the team in Charlotte. Morrison is known to be emotional, and was criticized by some for crying on the court in the closing moments of Gonzaga's NCAA tournament loss to UCLA in March.
Jordan, widely considered the biggest competitor in NBA history, doesn't see that as a negative.
"That to me was more a showcase of passion for the game," Jordan said. "So what, he's emotional? He's emotional because he pours his heart into it. That was a positive factor for me."
Local journalism is essential.
Give directly to The Spokesman-Review's Northwest Passages community forums series -- which helps to offset the costs of several reporter and editor positions at the newspaper -- by using the easy options below. Gifts processed in this system are not tax deductible, but are predominately used to help meet the local financial requirements needed to receive national matching-grant funds.
Subscribe to the sports newsletter
Get the day's top sports headlines and breaking news delivered to your inbox by subscribing here.
---