News > Spokane
Invasive species control urged
Fri., March 3, 2006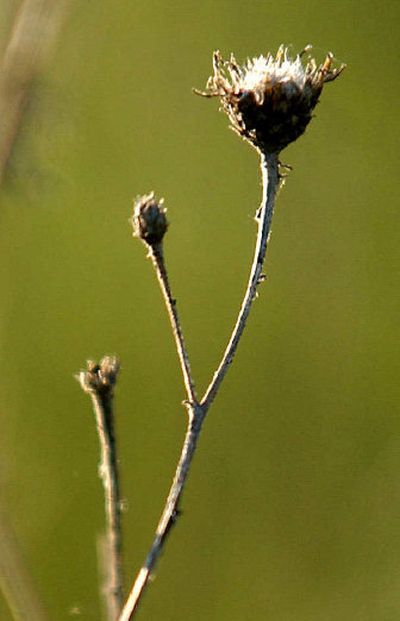 Nine years after it moved into Lake Michigan, the quagga mussel has covered the bottom to depths of more than 300 feet.
In a little more than a century, cheatgrass went from a North American newcomer to the dominant species on a lot of Western grassland.
And in the space of roughly 200 years, the tamarisk has spread all over North America, sinking its long roots into aquifers and destroying riverbank habitat. Satellites are used to help track its spread.
Everybody knows about the nuisance of knapweed, but Richard Mack wants people to know that alien species are much more than a nuisance – and that tomorrow's knapweed is still out there, waiting to come in.
Mack, a Washington State University professor, and other members of the Ecological Society of American will be announcing their proposals for a national strategy for invasive species this morning in Washington, D.C. Though the details aren't yet public, Mack has written in the past that the country needs to adopt a "guilty until proven innocent" attitude toward alien species at the border and get much tougher about what the United States lets in.
"Once something's in the country, it's much harder to deal with," Mack said in an interview earlier this week. "It's like letting the genie out of the bottle. It's very difficult to put it back."
Alien species come into the country as pets or crops or organisms hidden inside something else. Most alien species that cross the border simply die off, but a small proportion take a ravenous toll – Mack wrote in a 2000 article in the journal Ecology that the overall cost to the United States from invasive species was estimated at $138 billion.
Alien plants and animals also drive out native species and damage the environment in other ways – the tamarisk draws water away from other species and makes soil salty, according to a NASA news release about its satellite project.
Mack said that the United States lacks a coordinated, comprehensive approach to invasive species – taking them on one at a time and usually only after they've become a big enough problem to attract public attention.
"What we don't have is a truly comprehensive program that says we're not just going to deal with these as they arise," he said.
Mack said that the United States checks at the border for certain species – in batches of seeds coming into the country, for instance – but the list isn't complete. And the country doesn't have an aggressive, immediate response, which is the best way to combat the problem, he said.
He said countries like Australia and New Zealand have such an approach – if an alien species is discovered at the border check, they move quickly to eradicate it at the spot, he said.
Mack said he doesn't know how much it might cost to implement a more vigorous security system against invasive species, but he said it would be a fraction of the overall estimated cost to the economy. In agriculture alone, non-native weeds were estimated to cost farmers $27 billion in 2000 – about a tenth of the overall value of the country's crops.
"The combined expenses of pest control and crop losses constitute a 'tax' on food, fiber and forage production," he wrote in his Ecology article.
Local journalism is essential.
Give directly to The Spokesman-Review's Northwest Passages community forums series -- which helps to offset the costs of several reporter and editor positions at the newspaper -- by using the easy options below. Gifts processed in this system are not tax deductible, but are predominately used to help meet the local financial requirements needed to receive national matching-grant funds.
Subscribe now to get breaking news alerts in your email inbox
Get breaking news delivered to your inbox as it happens.
---