Sports
Attention gets tiresome, but Morrison understands role
Thu., March 16, 2006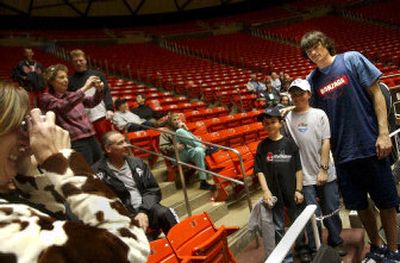 SALT LAKE CITY – Publicly, Adam Morrison says all the right things. He calls the massive amount of attention he has received this winter "cool," and says the exposure is "good for the university."
But when pressed on the issue, Gonzaga's junior forward, leading player-of-the-year candidate and top NCAA Division I scorer admits the media crush surrounding him this winter has worn on him at times.
"It's when I'm at home and O.P. gives me a call and tells me I have to come down for a conference call at 3 o'clock, and I'm just getting up from a nap and I had no idea I had to do it – that's when I get a little bugged. " Morrison confessed during a Wednesday get-together with the media prior to this afternoon's NCAA opening-round game against Xavier.
"It's not terrible, but I've been saturated with it. It gets exhausting, at times."
O.P., in this case, is Oliver Pierce, the Bulldogs' sports information director who handles interview requests for GU coaches and players.
According to Pierce, Morrison has been the subject of feature articles in such national publications as Sports Illustrated, ESPN The Magazine, The Sporting News and The New York Times. He has also done television interviews with Chris Myers of FOX Sports, Roy Firestone of the HD Network and ESPN's Jim Rome.
He was featured, along with Duke's J.J. Redick, in a short feature on College GameDay, when ESPN brought its cameras and traveling road show to Spokane last month, he was the subject of brief television spot during CBS's Selection Sunday last weekend, and he recently did an interview for the weekend edition of ABC's World News Tonight, which will air this Saturday.
Pierce said he didn't think the media attention at GU could get any more intense than it was during Dan Dickau's senior year, when the Bulldogs' first-team All-American point guard gained national acclaim for his floppy hair and silky shooting stroke.
"But this thing with Adam has been above and beyond anything I've ever been through," Pierce added. "There have been days when the calls I've received for Adam Morrison interview requests have filled up an entire page and half of a legal tablet."
With Dickau, Pierce explained, the media focused mainly on him being such an All-American Boy, who was a "damn good basketball player," as well.
"But with Morrison, there are so many more avenues to explore," Pierce added, "from his mustache, to his diabetes, to his political stance. And then you throw in the fact that he's the nation's leading scorer and a leading player-of-the year candidate and it's off the chart.
"I've even had one person request an interview so he could ask Adam where he buys his socks."
Through it all, Morrison has managed to remain semi-tolerant. He missed one of those dreaded mid-week conference calls and, during another, rested his head on the table next to the speaker in front of him and tapped his fingers while dutifully answering questions – most of which he had heard several times before.
And at one point, he raised his arms and shook his head in disbelief when a caller asked him just how many books about Communist he had actually read.
Still, Morrison's coaches and teammates marvel at the way he has handled the exposure, as well as the hordes of autograph hounds barking at his heels at every stop the Zags make.
"He's been unbelievably level-headed about the whole thing," said GU assistant Bill Grier. "To be his age and have that much attention showered on you and not have it affect your head is, to me, very, very impressive.
"And I think our team has done a great job of dealing with it, too. You could see how there could be some jealousy, but there hasn't been. They seem to enjoy the fact that there's been so much attention on Adam, because he deserves it."
GU's senior center J.P. Batista, who sat alongside Morrison at the head table during Wednesday's NCAA press conference, likes having the media attention steered toward his teammate.
"I think it's great," he said. "All you guys make me nervous."
Teammate Erroll Knight, a senior forward who was around to witness what Dickau went through, called the circus-like atmosphere surrounding Morrison "crazy.
"It gets tiring sometimes," he admitted, "but it's there. It's everywhere, so you have to deal with it. Little kids know about him, old people know about – it's crazy, but it's history, really.
"Adam is a unique person, and with his personality, people just want to know more about him and what he's doing. He's got a media thing to do about every day. It probably frustrates him a little bit, because he'd probably rather be playing video games."
Or jumping in a friend's hot tub, perhaps.
"There will be days when it's a day off, and there'll be a call that I've got an interview or a TV thing," Morrison explained. "And I've got buddies who have hot tubs and stuff … I'm not saying it's bad. I recognize it's better than not being recognized.
"But sometimes, it would be nice to go through three, four or five days without anybody knowing where I'm at or what I'm doing."
Local journalism is essential.
Give directly to The Spokesman-Review's Northwest Passages community forums series -- which helps to offset the costs of several reporter and editor positions at the newspaper -- by using the easy options below. Gifts processed in this system are not tax deductible, but are predominately used to help meet the local financial requirements needed to receive national matching-grant funds.
Subscribe to the sports newsletter
Get the day's top sports headlines and breaking news delivered to your inbox by subscribing here.
---