Wealth gap typifies Kabul five years on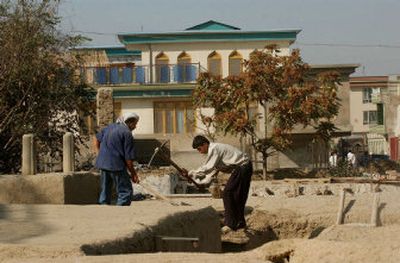 KABUL, Afghanistan – Eight-year-old Sajjad's kite struggles upward. It's nothing grand – a plastic bag salvaged from a heap of garbage and fashioned into a diamond shape.
But it's a symbol of change in Kabul, five years after the Afghan capital was freed from a Taliban regime that believed activities such as kite-flying would distract youngsters from studying the Islamic holy book, the Quran.
The U.S.-led war and the Western-friendly government that followed eliminated that rule and a host of others. Girls have returned to school. Public beheadings and amputations as punishment for crimes have come to an end.
The times have changed. But in Kabul today the question often asked is: How much and for whom?
Sajjad (he says he has no last name) lives in a neighborhood called Shirpur, a significant symbol of what has changed since U.S. and British bombs drove the Taliban from the city on the night of Nov. 12-13, 2001.
Part of it has been demolished and its inhabitants evicted to make way for a "new Afghanistan" of palatial homes – scores of four- and five-story mansions boasting gold-painted marble columns and floor-to-ceiling windows flanking grand wooden doors.
The owners are the successors to the Taliban – movers and shakers who in 2003 used their new power to seize and clear the land. About 250 of Sajjad's neighbors were tossed from their homes.
Miloon Kothari, the UN's housing representative, complained and Afghan President Hamid Karzai promised to investigate, but nothing has come of it.
Now, in the waning days of October 2006, Sajjad runs past a half dozen goats and a cow feasting on rotting garbage to get his flimsy kite airborne. He lives with seven brothers and four sisters in a single-story house of dried mud, straw and pebbles. He wears cracked plastic sandals and a torn brown shirt with only three buttons remaining.
One of his neighbors, Aziz Mohammed, a potbellied man with a speckled beard, stands ankle deep in the mud he is using to winterize his home of 25 years.
Mohammed says he has been told that his and his neighbors' houses will be flattened soon to make way for more mansions.
The owners of these mansions "are commanders, ministers. It makes me angry. These people use everything that isn't theirs and they ruin the houses of the poor people to build their homes," said Mohammed. "The Taliban were no good, they were just stupid people. But in this new life there is no job, nothing."
The man who ordered the first homes razed in 2003 was Kabul Police Chief Abdul Bassir Salangi. He has two houses in the ostentatious subdivision. Salangi has since been appointed police chief of eastern Nangarhar province and could not be reached for comment.
The big question, said Najibullah Siddique, director of the Afghan charity Afghans for Tomorrow, is why the billions of dollars in foreign aid that has poured into Afghanistan isn't making a difference. "Why doesn't the government help the poor? Why do the government people and commanders build big mansions and poor people still live in bad conditions?"
Gul Haider, a commander of the Northern Alliance that swept into Kabul after the Taliban's collapse, makes no apology for owning a mansion in Shirpur.
"This is the new Afghanistan. We are just beginning. All these houses are from the private pockets of Afghans and I hope one day that all of Afghanistan will be beautiful like Shirpur," he said in an interview.
"We are praying for the poor people to have houses like us," he said. "But everything belongs to God. God knows better who should be given property and who shouldn't. God gave us this property and we built our houses. We are praying that God will look more favorably on the poor."
In the months following the Taliban's collapse there were signs of a business renaissance. Barbershops, beauty salons and music stores reopened. Afghan exiles returned to start businesses.
But many have since been driven out by runaway corruption, lawlessness and the violence perpetrated by a resurgent Taliban, highlighted by a string of recent suicide bombings in Kabul.
Post-2001 Afghanistan has an elected parliament but it is criticized for its inclusion of warlords, commanders and mujahedeen leaders.
---