News > Spokane
Thorburn fired
Thu., Nov. 16, 2006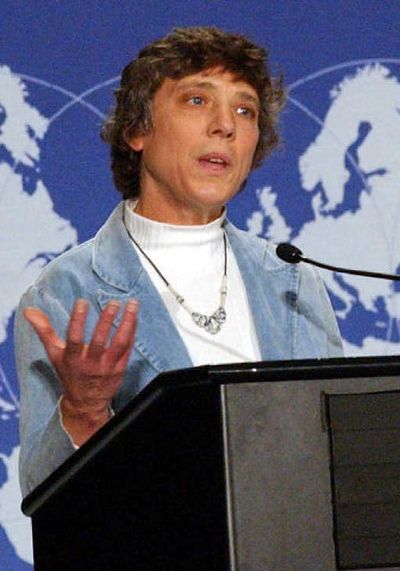 Citing a relationship fractured beyond repair, Spokane Regional Health Board members voted unanimously Wednesday to terminate the contract of the agency's health officer, Dr. Kim Thorburn.
Board members agreed to dismiss the nine-year veteran without cause and without complaint about her professional credentials or public health performance, said Chairman Todd Mielke.
Instead, the action reflects unspecified administrative problems and an ongoing communication impasse with Thorburn, 56, who has worked under a no-confidence vote since 2004.
"The board is looking to go a different direction," Mielke said. "They're looking for a dynamic relationship with their health officer that does not exist. They didn't believe a cohesive relationship existed or could be repaired."
The announcement clearly shocked Thorburn, who was surrounded by a crowd of more than 60 supporters, many sporting yellow buttons that read "I respect Dr. Kim Thorburn."
"I'm really disappointed," said Thorburn. "I was hoping it could be repaired."
Members of the crowd shouted "Shame on you!" as board member Mary Verner announced the decision. One man, Bob Glatzer, rushed to the dais to confront board member Mark Richard. Glatzer told Richard to "wipe that … smirk off your face," using an expletive.
Mielke and Richard threatened to have Glatzer ejected from the Spokane County meeting room.
Board members offered Thorburn a Nov. 27 hearing, although it was not clear whether she could appeal the decision. She was immediately placed on paid administrative leave.
Under terms of her 1997 contract, Thorburn is entitled to a year's pay – $125,000 – if the board terminates her contract without cause. Mielke previously said the board was examining the contract to determine whether there was cause for dismissal.
Thorburn's blunt manner and outspoken advocacy of public health positions has frequently put her at odds with supervisors here and elsewhere. Board members have said she didn't keep them adequately informed about issues and that she often pursued political agendas through local media without consulting them.
Thorburn said she has not sought nor been offered any other positions. Wednesday's announcement capped a yearlong evaluation process that culminated in low marks from board members for problems ranging from arrogance to dressing poorly.
"I don't have any other options," said Thorburn, whose eyes glistened with tears.
Thorburn holds a medical degree and a master's degree in public health. Last year, Washington Gov. Chris Gregoire appointed her to head the state Board of Health. It was not clear what effect her termination would have on that post.
Amid catcalls and threats that he'd be voted out of his county commissioner's post, Mielke said it was time for the board "to move on."
But at least one social service executive said losing Thorburn will hobble Spokane's public health system.
"I'm stunned – stunned," said Mary Ann Murphy, executive director of Partners with Families and Children, a local nonprofit group.
"It's a huge loss. I can't imagine another doctor with moxie will come in here."
Local journalism is essential.
Give directly to The Spokesman-Review's Northwest Passages community forums series -- which helps to offset the costs of several reporter and editor positions at the newspaper -- by using the easy options below. Gifts processed in this system are not tax deductible, but are predominately used to help meet the local financial requirements needed to receive national matching-grant funds.
Subscribe to the Coronavirus newsletter
Get the day's latest Coronavirus news delivered to your inbox by subscribing to our newsletter.
---