News > Nation/World
Girl uses text message to escape kidnap ordeal
Sun., Sept. 17, 2006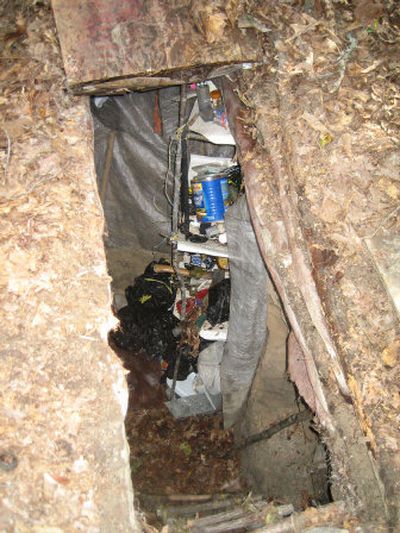 LUGOFF, S.C. – A text message sent by a kidnapped 14-year-old to her mother led to her rescue Saturday, when police found her in a hand-dug, booby-trapped bunker.
Elizabeth Shoaf's message also led investigators to name a suspect in her Sept. 6 abduction – police were searching a wooded area where the girl was found for 37-year-old Vinson Filyaw, said Kershaw County Sheriff Steve McCaskill.
Shoaf was found by deputies about a mile from her home in a 15-foot-deep hole in the side of a hill that was covered with plywood. The bunker had a hand-dug privy with toilet paper, a camp stove and shelves made with cut branches and canvas.
McCaskill said the girl appeared to be unharmed but was taken to Kershaw County Medical Center for evaluation. Police have not interviewed her, saying they would leave her alone until she's ready to talk.
"We're just glad that she's alive and she's safe and that she will be home with us," her aunt, Geraldine Williams, told WLTX-TV in Columbia. "She's a good girl. … We never believed that she ran away."
Investigators say Filyaw, 36, may have posed as a police officer when he met Shoaf. The unemployed construction worker also is wanted on an unrelated sexual assault charge.
"He dug this pit and this child was in this pit," McCaskill said. "He is linked to her disappearance and he's got to answer for that."
The sheriff said the girl was walked around in the woods by her captor until she became disoriented. In the bunker, she was threatened with handmade grenades and a flare gun.
The sheriff said the text message the girl sent to her mother came from Filyaw's cell phone and deputies began looking for him Friday night.
Investigators used cell towers to determine a general location of the phone used to send the message. "That was the first break," McCaskill said.
McCaskill said the girl cried out as searchers approached the bunker where she was found.
The bunker was protected by a booby-trap, the sheriff said.
Police tracking hounds were brought in to aid in the search for Filyaw, and helicopters with spotlights circled overhead as night fell. A $5,000 reward was offered for information leading to his capture. Filyaw was considered armed and dangerous.
Local journalism is essential.
Give directly to The Spokesman-Review's Northwest Passages community forums series -- which helps to offset the costs of several reporter and editor positions at the newspaper -- by using the easy options below. Gifts processed in this system are not tax deductible, but are predominately used to help meet the local financial requirements needed to receive national matching-grant funds.
Subscribe to the Coronavirus newsletter
Get the day's latest Coronavirus news delivered to your inbox by subscribing to our newsletter.
---