News > Idaho
Grand ol' Opera
Sat., Sept. 30, 2006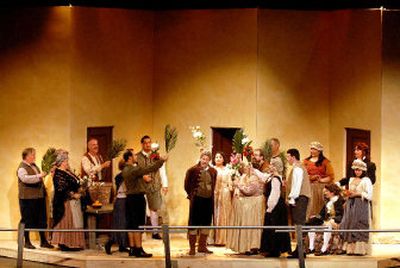 For years now I've wondered what the exclamation point was for in the name Opera Plus! (and am I supposed to put a period after the mark when it's at the end of the sentence?). Obviously I'm not a big opera fan. I love classical music, and I really enjoy musical theater, but opera is nothing like either.
However, I had never been to an opera. I had never actually listened to an entire opera either. There always seemed to be a lot going on, the singers all seemed quite emotional, and the music really set the stage for something, but without knowing Italian, it was hard to tell what.
So last year, when I heard that Opera Plus! (that's not the end of the sentence) was putting on "The Barber of Seville," I decided that it was time to go. I may not know anything about opera, but I knew that I liked one of the songs (I don't think that they are called songs in opera – are they?). In the piece that I knew, the name "Figaro" is sung over and over, and it's quite catchy. However, I had no idea what the story line was.
I arrived for the Sunday matinee with great anticipation, and a little trepidation. I had heard that the performance the night before was about three hours long. That would be a long time if I didn't like it, yet too short a time to learn much useful Italian. It was billed as a romantic comedy (I'm divorced and in my 50s and that seems redundant), but how would I know when to laugh at an Italian joke?
I learned after the fact that a pre-performance lecture precedes each Opera Plus! (that's not … never mind) presentation. That would have been helpful, but that would have made four hours. Hey, I'm just starting out here – that's a bit much. But marvel of marvels, above the stage there appeared a screen, upon which the lyrics (I don't think that they are called lyrics in opera are they?) were translated into English.
So here I am, the setting is Spain, it is sung in Italian, and it is translated into English as "supertitles." Before it even started, my head was swimming. I did have to admit right off that the stage was elegantly set, but that would not be enough to hold me through three hours.
From the program I had gleaned that the action was taking place in the 1600s and that the opera was written almost 200 years ago. Was this going to be relevant for today, I wondered. Then I thought about one of my favorite musicals, "Oklahoma!" (there's that darn point again), and realized that relevancy probably has little to do with its appeal.
When the opera started I saw that the costumes rivaled the set for elegance and detail, but I realized that if you thought about it, this whole thing of people going around singing their dialogue was just as corny as it is in a theatrical or movie musical. But you aren't suppose to think about that, so I didn't, much.
The singing was so incredible. How can they get their voices to do that? And all in Italian. I don't think Italian was the language of choice of any of the singers, but they did great. Although, how do I know that they actually got the words right? It doesn't matter, really – and I was truly thankful for the translations. It's just difficult to watch both the scene and the screen.
It all seemed very appropriately European and I must say that I loved the character names: Rosina, Figaro, Count Almaviva, Dr. Bartoloa, Basilio, Fiorello. They are even better when sung in that unique opera way.
In the end, my experience with Opera Plus! was a big plus, and I had a marvelous time. Three hours was an hour-and-a-half too much for me, but it was my first. This year's production is "The Marriage of Figaro," the sequel (I don't think that they are called sequels in opera – are they?) to "The Barber of Seville." As with any good sequel, though, I'm told that you don't need to have seen the first opera to enjoy the second.
And to ensure a good script (I don't think that they are called scripts in opera – are they?), Wolfgang Amadeus Mozart wrote this sequel. And I understand it's his 250th birthday. The Mozart name alone adds a certain extra appeal, not that Gioacchino Rossini was lacking in his barber story. It's just that sequels don't always meet expectations without a special twist.
Anyway, join me this weekend for a trip into Opera (not Opry) land and experience Mozart's "The Marriage of Figaro." Like me, you may not really understand the art form, and you may not be sure that you'd want a steady diet of arias as real aficionados do, but certainly you'll come away marveling at the talent and performance put on by Coeur d'Alene's own Opera Plus! (and that's the end mark I choose, too)!
Local journalism is essential.
Give directly to The Spokesman-Review's Northwest Passages community forums series -- which helps to offset the costs of several reporter and editor positions at the newspaper -- by using the easy options below. Gifts processed in this system are not tax deductible, but are predominately used to help meet the local financial requirements needed to receive national matching-grant funds.
Subscribe now to get breaking news alerts in your email inbox
Get breaking news delivered to your inbox as it happens.
---