News > Home
With each spring comes a new chore
Tue., April 10, 2007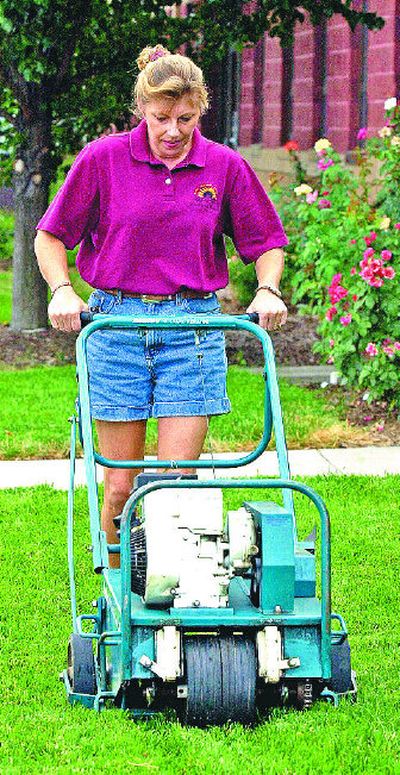 Is a lawn part of a garden? Definitely! And, if so, my garden is in some serious trouble, and it has been from day one.
A few years ago in April, we moved into this house. It was a new construction, and the yard was a golden sand pile front and back. The children were very young then. They loved it and rolled in it. In a hurry to minimize dirt in the house, we immediately threw down some grass seeds without any planning or thinking of any thought. "But you need a sprinkler system first!" Someone warned us. What was he talking about? Why would anybody need a sprinkler system when it rained for a month straight since we had been here? Twelve years in Alaska we had never heard of sprinkler systems. What happened to hand watering?
And hand water I did.
The rain shut off like a faucet in May, and I found myself out in the yard with the hose every day. It seemed like I was watering from morning till evening. By first of June, we still could not coax the green to come up. So many days my husband came home from work, only to be greeted by an exhausted wife with a garden hose in hand, hissing, "Do you want dinner or do you want grass? Take your pick! You can't have both!"
The poor guy missed a lot of dinners that summer.
It took an eternity to see some green. And when it finally came up, it was all at the edge of the yard. The middle was a giant bald spot. It looked like a bald man's pate.
There were occasional small mounds of grass dotted here and there, a result of the topsoil pushed together by the hose.
We prayed for rain every day. But the sky was azure blue for six months straight except for two thunderstorms.
Maybe a sprinkler system is not a bad idea, we conceded.
In the fall we hurried to have a sprinkler system installed. We also bought more grass seeds. But we couldn't remember what we had planted first. When the new grass grew the following spring, we realized there were two different types. One thrives in cooler condition; the other loves the heat. Now the lawn looks like a quilt of different shades of green broken by patches of dead brown spots – nothing like the well-manicured emerald rolling gentle green we had in mind.
It feels lumpy underfoot, full of little dips and valleys and bumps, a result of our not having prepared the ground properly. But despite it all, everyone in the house is completely satisfied. The mission of keeping dirt at bay accomplished.
Almost immediately, the wild animals discovered our lawn. In the midst of August drought, the garden provides a moist heaven for all creatures big and small.
Turkey and deer come to graze.
The saving grace of this is that now the lawn does not need to be mowed that often.
So what if it looks like a bad haircut; our intent is intact. But, along with the animals come their droppings. They are everywhere. One cannot take a step without stepping in something.
This new twist stuns me. Time saved from hand watering is now given to scraping children's shoes. And if there is company coming, I have to bribe the children to go out with buckets and garden trowels to scoop up for clean and safe roaming in the backyard. The work that these animals thrust upon us!
Spring is here.
The lawn needs to be raked. It needs to be aerated. It needs proper nutrients and loving attention. In short, it needs help. A winter's worth of deer droppings still needs to be picked up. I am at wit's end. The grass is always greener on the other side of the fence.
Local journalism is essential.
Give directly to The Spokesman-Review's Northwest Passages community forums series -- which helps to offset the costs of several reporter and editor positions at the newspaper -- by using the easy options below. Gifts processed in this system are not tax deductible, but are predominately used to help meet the local financial requirements needed to receive national matching-grant funds.
Subscribe to the Coronavirus newsletter
Get the day's latest Coronavirus news delivered to your inbox by subscribing to our newsletter.
---
Subscribe and log in to the Spokesman-Review to read and comment on this story