News > Spokane
Council rejects Park Board picks
Sun., April 15, 2007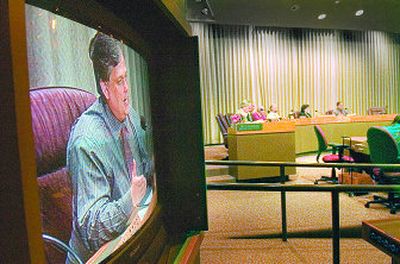 The Spokane City Council is refusing to confirm Mayor Dennis Hession's nominees for the city's Park Board, the latest in a series of election year clashes.
The council has refused to reappoint a member to the Park Board supported by Hession and has rejected another of his nominations for an open seat on that board.
Some council members say they're concerned that the Park Board is overrepresented by people with higher incomes, South Hill residents and men. Others question the board's ability to deliver.
"The Parks Department has grown complacent, stagnant and unresponsive," Councilman Brad Stark said.
But Park Board leaders and Hession say the council, which includes two members who are running against Hession for his job, are messing with a history of park independence.
"I would say they're playing politics with the park system," said Park Board Vice Chairman Ron Rector. "It's not in the spirit of the charter of the city."
In recent months, the mayor and council have fought over animal control, the appointment of a new solid waste director and communication between the two branches of government.
The Park Board includes 10 appointed members and one City Council member: Bob Apple, who represents northeast Spokane. Of the 10 appointed members, a majority live in the city's southern council district. Only one lives between Interstate 90 and Francis Avenue. Only two are women.
Independence
Under the city charter, the City Council and mayor have little power over the Parks Department. The Park Board has the final say on the department's spending and policy.
Councilman Al French, who is running for mayor, said that because elected leaders don't decide park issues, the City Council must make sure appointments to the Park Board are "going to serve the community's needs.
"This is an autonomous board. They don't answer to the public," French said.
But Hession, who served on the Park Board before winning a City Council seat, said autonomy from political manipulation has created a top-notch parks system. Council members "are trying to regulate the behavior of the Park Board," Hession said. "The citizens of Spokane spoke a long time ago about ensuring that the parks are independently monitored and managed."
French said the Park Board has moved too slowly to solve important park issues, such as a proposal, approved by voters in 1999 to build a sports complex near Joe Albi Stadium. French noted that the latest effort to move forward with the Albi plan is being led by City Councilman Rob Crow, not the Park Board.
Hession said the delay can't be blamed on the Park Board, in part, because the project includes land not controlled by the board.
Stark said he hopes to ask voters in the fall to change the city's charter and strip the Park Board of much of its authority, making it more of an advisory body, like the county's. However, he said he wants to maintain the stipulation that requires 8 percent of city funding to be spent on parks.
Hession said such a proposal would throw the park system at the mercy of politics.
Politics, however, already are in evidence, with the City Council refusing to back the reappointment of Elizabeth Schoedel to a second five-year term despite Hession's desire that they do so – and Hession saying their support isn't necessary. Citing city rules, he said Schoedel can continue serving on the board until a replacement is picked, and he doesn't intend to forward another name.
There's also a lack of council support for Jerry O'Neal, whom Hession nominated to fill a seat being vacated by Mike Howson.
Councilwoman Nancy McLaughlin said O'Neal is qualified, but he is too similar to those already on the board.
Southern dominance
Unlike the county's Park Board, which is required to have three members from each of the three county commissioner districts, there's no provision for council district representation on the city's Park Board.
"I know there are good people in the northern part and the central part of the city who would apply for membership," said City Council President Joe Shogan.
But Apple and others on the Park Board say they have made intense efforts to find members from throughout the city, including through newspaper notices and announcements at neighborhood council meetings.
Better representation of council districts would be nice, but the board's current members have ties throughout Spokane, they said. Rector, the Park Board vice chairman, noted that although he lives on the South Hill, he was raised in Hillyard.
Park Board President Frank Knott said the time commitment is intense for board members, and meetings are in the middle of the workday. He said many people in North Spokane are hourly workers who might have to sacrifice up to 10 hours of pay a month to serve.
"If a person would give that up, are they really financially responsible?" Knott asked.
Most of the members have owned or currently own businesses, bringing a strong financial background to the park system, Knott said.
But Mary Verner, who is running against Hession for mayor, said that while business acumen is positive, there's a need for people with other work experiences.
"To me it's important that, as much as possible, that we be representative to the city as a whole," Verner said.
Knott said while there's a lack of racial diversity on the board currently, there has been a better mix in the past. He mentioned past members who were not white, including Carl Boston, who is black.
"What was that colored guy's name from the east side?" he asked when trying to remember Boston's name.
Hession said he is making efforts to bring diversity to city boards, but that's not a big enough reason to reject a qualified candidate.
"Unless they can find some serious reason not to appoint that person, they should appoint the person I request," Hession said.
Crow said he believes the council has more than a rubber-stamping role in the process.
"If the core becomes so strong and the people being recommended are coming from friends and acquaintances of those in the organization, then you tend not to bring in diverse thought," Crow said.
McLaughlin said the lack of diversity could have played a role in the unanimous controversial decision from the Park Board late last year to ban sledding in city golf courses.
That's speculation, Hession said, adding that North Spokane residents would be just as likely to share concerns about liability and damage to golf courses.
Of the city's seven council members, only Councilman Bob Apple agreed with the mayor's interpretation of the council's role in appointments.
"It's a way to slap at Dennis, rather than anything else," Apple said of the council's rejection of Hession nominees.
At least one Park Board member said she's OK with the council's role.
"The Park Board needs to have some checks and balances, just as City Council does," said Martha Lou Wheatley-Billeter.
Local journalism is essential.
Give directly to The Spokesman-Review's Northwest Passages community forums series -- which helps to offset the costs of several reporter and editor positions at the newspaper -- by using the easy options below. Gifts processed in this system are not tax deductible, but are predominately used to help meet the local financial requirements needed to receive national matching-grant funds.
Subscribe to the Coronavirus newsletter
Get the day's latest Coronavirus news delivered to your inbox by subscribing to our newsletter.
---
Subscribe and log in to the Spokesman-Review to read and comment on this story