New beginning for Daugherty, Cougars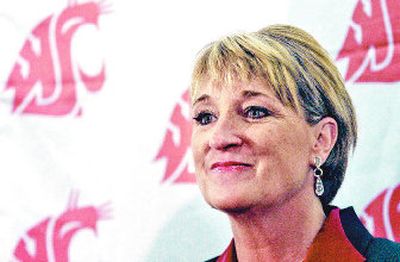 PULLMAN – In one of her first acts as the new head coach of the Washington State women's basketball team, June Daugherty accidentally knocked a tape recorder off of the lectern in front of her as she made some opening remarks.
"Whoops. Turnover," she chuckled.
The friendly audience of her new colleagues, players and townspeople laughed along with her, but Daugherty's words rang true on any number of levels, most of which had little to do with a recording device.
In taking over the Cougars, Daugherty has completed a whirlwind month of her own that started with the ending of her 11-year tenure coaching at Washington, fired by the Huskies after the program had grown stagnant.
And she gets the reins of a former Pac-10 rival that has failed to win more than eight games in each of the last eight seasons, one that has been down long enough that few in Pullman can say they witnessed it having any success.
Daugherty, known and regarded for her enthusiasm on the job, didn't disappoint in that department, cracking many a joke and drawing applause on multiple occasions on Friday afternoon.
Now, it'll be Daugherty's task to make sure that the Cougars are no longer a laughingstock in the Pac-10. She will sign a seven-year contract to coach at WSU, and it's probable that this will be the toughest task for Daugherty after winning 314 games in 18 years as a head coach at Washington and Boise State.
Already, WSU is down to at most nine returning players, a number that could go down in the coming weeks. Under former coach Sherri Murrell, WSU finished in last place in four of five seasons, and 1991 is the last time that the Cougars fared any better than sixth place in the conference.
"You concentrate on the process of winning," said Daugherty, who quickly detailed her five goals for the program, the first four of which focused on things in the classroom and the community. "You don't worry about winning. You don't talk about winning, doing all those things that are just kind of a waste of time, I think."
The Cougars have multiple scholarship slots open, and Daugherty said she and her husband Mike, who will serve as an associate head coach, would be on the phones later in the day in an attempt to fill those spots.
"We want to look at the numbers and get in the gym and recognize the amount of talent we have," Daugherty said. "I think there is some opportunity out there to recruit some student-athletes. I have some people in mind and we will look at that opportunity. But it is a little bit late in the recruiting game."
Athletic director Jim Sterk, in introducing Daugherty, said his criteria included a proven ability to turn around a program as well as postseason success, both of which are on Daugherty's resume.
"We all really feel that we hit a home run with June Daugherty," Sterk said. "Her teams competed in postseason play nine out of her 11 years at that other school."
That reference to UW was not the only time the Huskies came up, either. Wearing a WSU pin and crimson, Daugherty had her 12-year-old twins decked out in Cougars gear, as well as some friends who had made the trip to support her.
Asked if revenge would be a part of this new job after being jettisoned by the Huskies, the Cougars' new coach had this to say: "More than you'll ever know."
To get that revenge, however, Daugherty will have to find a way to turn over her new team's losing ways. That probably won't happen with one swipe of the hand.
"The challenge here, I think, is like everywhere else," she said. "You have to identify your strengths and identify your weaknesses and get out and get after it."
---