News > Spokane
Missing security guard found
Sun., April 22, 2007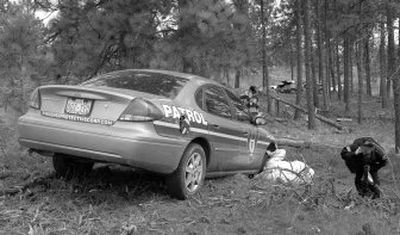 On a hunch, a Spokane police officer parked his car Saturday morning and hiked into an area near 29th and Havana. As a result, he found a missing security guard who had initiated a desperate search.
One of the last things the incoherent guard told searching officers at 3:45 a.m. Saturday was that he was in an area with a lot of downed trees, police spokesman Cpl. Tom Lee said.
The search began Friday night for 55-year-old Gary Sigman, who works for Phoenix Protective Corp. and usually patrols Spokane's North Side. Employees told officers they believed Sigman was suffering either from a stroke or was having an adverse reaction to new medicine.
Officers had a few brief conversations with Sigman, but he was unable to direct them to his location.
Without Sigman's directions to the downed trees, the only other clue officers had was that Sigman's cell phone call at 3:45 a.m. had bounced off a tower at 31st Avenue and Mount Vernon, Lee said.
"We were working off the cell phone tower. He should have been within a mile and a half of that location," Lee said. "But after so much time, we thought he could be farther because he was in a car."
Searchers called for the Spokane County sheriff's helicopter to aid in the search. Then, just before 10 a.m., Spokane police Officer John "J.J." O'Brien parked his car near 29th and Havana and hiked into an area where he knew a developer had felled some trees.
"We had been looking all over the area. We were just guessing," Lee said. "But Officer O'Brien knew they wanted to do a housing development back here."
O'Brien first found an abandoned hulk of an Oldsmobile, but he spotted another car off in the distance. The car had gone down an embankment and was high-centered on a rock, Lee said.
O'Brien "called the helicopter in to confirm it. They landed and helped get (Sigman) out of the car," he said.
The rescuers were able to walk Sigman out to a waiting ambulance at 10:05 a.m. for transport to Sacred Heart Medical Center.
"There was no sign of any physical injury. He's still really disoriented," Lee said. "He's just having some type of medical condition."
Lee said O'Brien deserved all the credit for finding Sigman.
"We are giving (O'Brien) a pretty hard time. He's pretty full of himself right now," Lee joked. "It was a real relief to find (Sigman) alive."
Local journalism is essential.
Give directly to The Spokesman-Review's Northwest Passages community forums series -- which helps to offset the costs of several reporter and editor positions at the newspaper -- by using the easy options below. Gifts processed in this system are not tax deductible, but are predominately used to help meet the local financial requirements needed to receive national matching-grant funds.
Subscribe now to get breaking news alerts in your email inbox
Get breaking news delivered to your inbox as it happens.
---