News > Home
Setup shakeup
Tue., April 24, 2007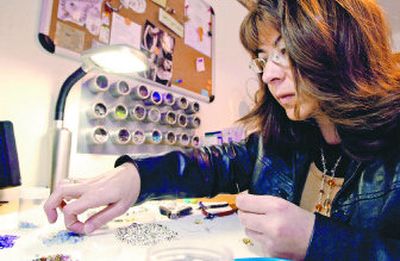 Patrick Cancilla had a pretty good setup.
His three-bedroom, 1,900-square-foot Dalton Gardens, Idaho, ranch home sat on a two-acre lot and gave him plenty of room to live and work from home.
But a couple of years ago, when Cancilla's fiancee, Pam Wilde, and her young son, Eric, moved in, space became tight.
Making things more complicated, Wilde had just sold a home and garden store in Seattle and really wanted to work from home.
Cancilla is a sales rep for a company that sells commercial playground and sprinkler park equipment. Wilde started a business called Silver Linings, making original and custom jewelry. Together, the couple began the work of transforming their home to fit their work and new lives.
"When she moved in with her son, I built an office in the garage," Cancilla said. "I worked in there for awhile, then she joined me out there because neither one of us wanted to be in the house."
Soon, the couple turned their attention to building a woodworking shop for Cancilla. A prefab 10-foot-by-10-foot wooden garden shed served as the starting point. Halfway through the project, Wilde said, she realized she was taken with the new space.
They added a deck and an overhang, cedar siding, windows, insulation, electricity, a phone line, Internet hook-up and small heating and air conditioning units. They did the work themselves, and bargain-shopped for supplies when they could.
Wilde then moved her jewelry business into "the cabin."
That worked for awhile. Once the couple completed an addition to the house – a 500-square-foot master bedroom and bath suite, it freed up more space inside.
By that point, Wilde had outgrown the cabin.
"When she's doing her jewelry work, you've got to have beads and gems everywhere," Cancilla said. "It does get pretty spread out."
Now, two and a half years after merging households, the new family has the space situation worked out – a pretty good setup once again.
Wilde moved her Silver Linings office back into the house, into a large and bright spare bedroom. Ten-year-old Eric upgraded rooms, too. He's now in the old master bedroom. And Cancilla works out of the cabin.
"The commute's kinda heck," he joked as he trekked the 200 feet from the house to his office. Being away from the house during the day suits him.
"When I had an office in the house, it was virtually impossible to get work done," Cancilla said. "You have people knocking on the door, the phone ringing, you have laundry, you have things calling you. I find now that I'm far away from my house, it's much easier to concentrate on work."
The best part of the arrangement, Wilde said, has been for her son.
"This has been a great change for my son. I went back to work when he was 6 months old. Owning a business, because I was a single parent, it was hard on him," she said. "Now he always comes home to one of us being here. That has been a first. He's always been in day care."
Of course, creating a successful home business takes more than additions and cabins and home improvement projects. Both Wilde and Cancilla say it takes discipline to work from home – probably more when two people are trying to do it.
"People always say, 'How do you get anything done?' " Wilde said. "We don't see each other during the day. Very rarely. Once in awhile we call each other and say, 'Do you want to meet for lunch in the house?' "
Local journalism is essential.
Give directly to The Spokesman-Review's Northwest Passages community forums series -- which helps to offset the costs of several reporter and editor positions at the newspaper -- by using the easy options below. Gifts processed in this system are not tax deductible, but are predominately used to help meet the local financial requirements needed to receive national matching-grant funds.
Subscribe to the Coronavirus newsletter
Get the day's latest Coronavirus news delivered to your inbox by subscribing to our newsletter.
---
Subscribe and log in to the Spokesman-Review to read and comment on this story