News > Voices
'I don't like losing'
Thu., April 26, 2007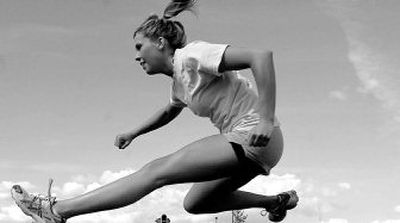 A chain reaction goes off as Dana Werner steps onto the track.
It's as if someone were mixing baking soda and vinegar in one of those science-fair volcanoes. Emotions mix with the lunch Werner ate earlier, and boom! It's a natural response as this explosion occurs in Werner's stomach and exits through her mouth.
"I get emotionally sick," said Werner, explaining the way her body reacts before she runs the 300-meter hurdles. "I throw up because I'm so nervous."
Werner, a senior who runs track and also participates in cheerleading at Post Falls High School, said part of this emotional reaction comes from her desire to perform her best. She is a self-proclaimed perfectionist.
"I don't like losing," Werner said. "I want things done right."
But to perform well, she first must get past her nerves.
"I just tell myself, 'It's just a race – it doesn't matter,' " Werner said. "I just think, 'I have to run fast and turn left,' because the track goes in a circle."
Although Werner is talented, getting her to run hurdles took some convincing from her coach.
"The 300 hurdles are not always something she likes to do, but she's good at it," Post Falls High track coach Wade Quesnell said of Werner. "We just kept working and talking her into it. Once we got her to where she was good at it, she stuck with it."
And despite Werner's bouts with butterflies, she is more relaxed this year, Quesnell said.
"This year, we've been kind of teasing her that this is the 'good Dana,' " Quesnell said. "She used to get really nervous, but this year, as a senior, she has loosened up, and it seems like she doesn't put so much pressure on herself. … I've been telling her I kind of like the new Dana."
But the new-and-improved Werner is still a competitive person. Whether she's increasing her speed or working on stunts, Werner says there's always room for improvement.
"Track is more cardiovascular, and you have to run and work hard to stay in shape and get better, … and in cheerleading, you can always improve in tumbling," she said. "You have to work to get better in both."
But while cheerleading is competitive, more of a team effort is involved, Werner said.
For her, it has been a successful four-year effort. Werner, who started out as a gymnast, has been cheerleading since middle school and has three state championships. Her team took second this year in state competition, but the Post Falls team is appealing its ranking, seeking a first-place trophy.
"We got second because they said we didn't have spotters," Werner said. "We were sad because we should have won."
Werner also has been to the state track meet for three years and is hoping to make her fourth trip this year.
As a freshman, she placed third in the hurdles. But the highlights of her track career came last year when she earned second in the four-by-two relay and eighth in the 300 hurdles and was part of the girls team that took second overall – its highest finish since the '70s.
Not only has Werner made leaps in her hurdling, but she also is a standout in the classroom, earning a 4.1 grade-point average and taking Advanced Placement calculus and English.
Werner said she hopes her grades are good enough to get her into Washington State University and eventually into medical school. Her other option is to spend a couple of years at Idaho State Community College.
"(Dana's) active in a lot of things, and she's a very good student," Quesnell said. "In my Lifetime Sports class, it didn't matter what we did – ice skating, line dancing, archery – she was good at all those things."
Local journalism is essential.
Give directly to The Spokesman-Review's Northwest Passages community forums series -- which helps to offset the costs of several reporter and editor positions at the newspaper -- by using the easy options below. Gifts processed in this system are not tax deductible, but are predominately used to help meet the local financial requirements needed to receive national matching-grant funds.
Subscribe now to get breaking news alerts in your email inbox
Get breaking news delivered to your inbox as it happens.
---