News > Home
Newcomers: Patricia Irons
Tue., Aug. 7, 2007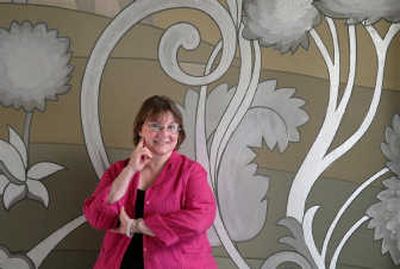 The cultural life. The size. The amenities.
Spokane met her every requirement when it came to choosing a new home, says Portland native Patricia Iron. "Everything seemed to be a very good fit."
Iron was hired in March as the general manager of the Fox Theater. In that role, she'll hire staff, promote the theater and book engagements.
"I'll be the ambassador," she says.
Iron says she is so busy preparing for the theater's late fall opening, she rarely gets a moment to explore the city. But that time will come. And theater is her passion.
"I'm starting to lose my weekends," Iron says. "But that's all right.
"That's what keeps it exciting."
Why Spokane?
Soon after opening a theater in Bend, Ore., Iron found herself frustrated by that city's small size. "I helped bring culture to Bend, but then I thought, 'Where's my culture?' "
She returned to Portland and took an executive position with an environmental group, work she calls her "second love." But theater is her first, and while convalescing from surgery she read a posting for the Fox job.
"I was not on a job hunt, but this was an exciting project," Iron says. "I like these community revitalization projects. They add a new dynamic.
"The Fox has been creating memories for a long time," she says. "The fact that can occur again is a very exciting prospect for me."
She came for an interview at the end of January, got the job and moved here in March.
Real Estate
Iron says she bought a four-level home on the South Side. The house was built in 1993 and remodeled last year.
It has a large, fenced backyard for her two dogs.
"It's a very comfortable home," she says.
She plans to make Spokane her last move, but she plans to keep her Lake Oswego home outside Portland.
"It's too valuable. It's appreciating so fast," she says. "That's my retirement."
What she misses
"My 81-year-old father," she says, adding that he plans to visit often. "And the dog park. Spokane needs a dog park."
Why she plans to stay
"The people are great, friendly, open. People just don't say 'No' here," Iron says.
And Spokane reminds her of the Portland of her childhood.
"Spokane is on the verge of being great," she says. "I want to be a part of that."
Local journalism is essential.
Give directly to The Spokesman-Review's Northwest Passages community forums series -- which helps to offset the costs of several reporter and editor positions at the newspaper -- by using the easy options below. Gifts processed in this system are not tax deductible, but are predominately used to help meet the local financial requirements needed to receive national matching-grant funds.
Subscribe now to get breaking news alerts in your email inbox
Get breaking news delivered to your inbox as it happens.
---