News > Spokane
Break out the driver, and the sprinklers
Sat., Aug. 18, 2007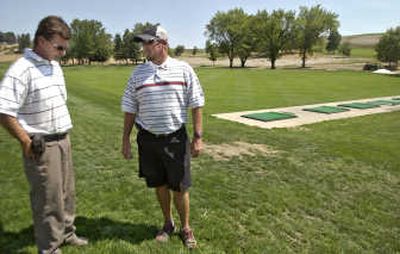 For years now, Washington State University officials have said a new 18-hole golf course on campus would use just 50 percent more water than the old one – despite having twice as many holes and three times the acreage.
Now, with the course construction well under way and the first golfers ready to hit the driving range Monday, it appears that the new course may actually double or nearly triple the water use of the old 9-hole course. That information comes as WSU is asserting, in a proposed water conservation plan, that its new course will be 32 percent more efficient than the old one.
"The figures don't match," said Spokane physician John Osborn, a board member of the Center for Environmental Law & Policy, in a news release. "WSU is telling the public one thing in its water conservation plan and something very different with the actual data and consultant projections."
The discrepancy arose this week after Osborn and other longtime critics of the course challenged the university's math about water usage, based on documents they received in their appeal of a university water-rights case.
WSU's chief of construction services, Keith Bloom, disputed the figures cited by critics, but acknowledged he had overestimated water usage at the old course. That makes it seem as though the increase from the old course to the new one will be smaller than it's likely to be.
He said the figure was based on estimates related to an unmetered pipe that he now believes were too high. But he said the university has tried to be forthright about water estimates, even as they've changed.
"Nobody's holding any information back," he said.
Bloom and others at WSU defended the university's overall water conservation strategy, noting that it had reduced its annual water use by 110 million gallons since 1989, and is preparing a plan that will cut another 14 million gallons a year.
For longtime project opponent Scotty Cornelius, Palouse environmental groups and others opposed to the golf course, the debate over the specific figures obscures a larger question – whether it makes sense to irrigate a golf course from the region's aquifer, which appears to be dropping steadily with little or no recharge. The Grand Ronde aquifer is the source of drinking water for the Moscow-Pullman area and has been the subject of much political debate and research.
"I think it's an egregious use of university resources on several counts – one of them is water," Cornelius said. "I would hope the new president would just abolish the thing."
WSU President Elson Floyd, who's been on the job just a few months, referred questions on the matter to Greg Royer, vice president for business and finance – and Royer said there are no plans to abolish the course. Work on the new course is already well under way, with holes carved out and seedlings beginning to sprout. The full public opening is set for next year, but the driving range will be open for classes and teams starting Monday, Bloom said.
Cornelius is among several parties who have appealed a state ruling allowing WSU to consolidate its water rights. He said that WSU's wells on the aquifer have declined by 1 to 2 feet a year recently.
"Because the water's ancient and because there's little or no recharge, it's totally uncontaminated by man. It's the best water you can drink, worldwide," he said. "It's precious water, in my opinion."
Bloom said WSU wants to eventually use "reclaimed" sewer water to water the course. WSU's initial plans to do so were scotched by Gov. Gary Locke in 2004 when he vetoed a bill to fund the project. Bloom said that the course was built to use reclaimed water, and school officials still hope that's the source of irrigation for the course eventually.
"We don't want to use groundwater for the long term," he said.
Estimates rising
Proposed by former President V. Lane Rawlins, the course was approved by the Board of Regents in 2004. The new, 315-acre Palouse Ridge Golf Course is being touted as a championship course that will attract visitors to Pullman and provide an environment for turf research.
WSU is raising private donations to cover the $12 million-plus cost of the course and clubhouse.
Estimates of water use at the new course have crept upward in recent years. In 2003, a WSU official told the Moscow-Pullman Daily News that the school would be looking to use about the same amount of water as the old course, or slightly more. In subsequent years, the more common shorthand for estimated water use at the new course was 50 percent more – a figure that was repeated frequently in news reports.
The most recent set of numbers in WSU reports indicates an increase of 70 percent. But Cornelius and Osborn issued a news release last week calling those figures into question. In the release, they claimed that WSU consultants had privately estimated that the new golf course would need 100 million acres of water a year – about twice what the university has stated publicly.
This assertion was based on a WSU document calculating "system capability" that included a handwritten note in the margin that reads, "estimated annual water consumption for course 85-115 million gallons."
The undated document bears the stamp of Kuhn Associates, a Mercer Island firm that prepared engineering reports for WSU. Bloom acknowledged that such figures had been discussed during planning, but said they reflect the system's capacity – how much it could pump at "full-on" all season – not its estimated use.
He said a high-tech irrigation system, with 2,500 individually controlled sprinkler heads and water-efficient design, helped keep the usage estimate at 55.6 million gallons a year. Bloom said he'd "triple-checked" that figure with project planners, and there was not a higher "real" figure behind that estimate.
Doing the math
The other half of the university's equation about the change in water usage involves the old course. If estimates of usage there were too high, it reduced the apparent size of the increase at the new course.
WSU's recent figure for annual water usage at the old course has been 32.7 million gallons. The increase from that number to 55.6 million would be 70 percent.
But as part of their appeal of the state's approval of the water project, Cornelius and others obtained WSU documents showing annual water usage at the old course averaged less than 15 million gallons a year over the past decade. The increase from that to 55.6 million would be 271 percent.
Bloom said the figure of 15 million isn't complete, because there is a second, unmetered water pipe that served the old course. He said the 32.7 million figure was based on estimates that incorrectly assumed the second pipe would have pumped as much water as the metered one.
The actual figure, he said, is likely between 19 million and 25 million gallons. That means that water use at the new course is likely to be two to three times more than it was at the old course, he said.
"We'll be using twice as much or more," he said. "I think three times might be pushing it."
Cornelius said that the 15 million figure was provided by WSU as an assessment of water use at the old course, as part of the discovery process in the water rights appeal. He said that there was no mention of another pipe or increased estimates.
Bloom added that during the planning for the course, there was a lot of "guesstimating" about water use, but that the calculations have become more precise now.
"We're going to do everything we can do to minimize water use," he said.
Local journalism is essential.
Give directly to The Spokesman-Review's Northwest Passages community forums series -- which helps to offset the costs of several reporter and editor positions at the newspaper -- by using the easy options below. Gifts processed in this system are not tax deductible, but are predominately used to help meet the local financial requirements needed to receive national matching-grant funds.
Subscribe now to get breaking news alerts in your email inbox
Get breaking news delivered to your inbox as it happens.
---