News > Spokane
Area's colleges beef up security
Sun., Aug. 19, 2007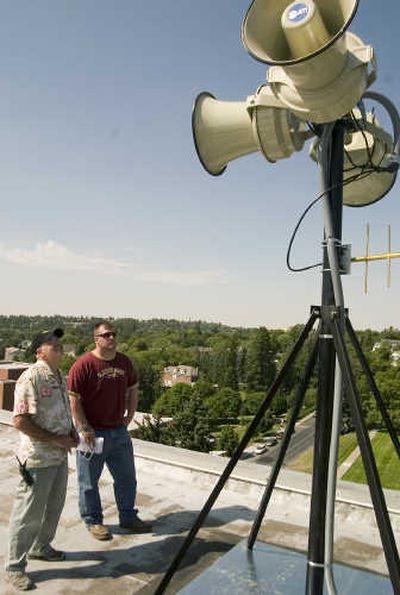 As colleges welcome back students for another academic year, they'll also be putting some new security measures in place – some high-tech, some old-fashioned.
In the wake of the Virginia Tech shootings in April, college officials everywhere fielded calls from parents and students, reviewed emergency plans and systems, and added new tools to improve campus safety.
The most common approach seems to be two-pronged: a combination of siren or speaker systems and new text-messaging networks. That combination is in place at Washington State University, and it's on the way at Whitworth University.
Similar combinations are either in place or under consideration at Eastern Washington University, Gonzaga University and the University of Idaho.
The general idea is that colleges need to expand the ways they contact students, faculty and staff in an emergency. Before this year, most colleges relied on e-mail alerts and Web page updates.
"There is no one way you can reach everybody, so you better have a backup system, and a backup to the backup," said Gary Gasseling, deputy chief of the EWU police force.
New equipment is only part of the equation. One much-discussed element of the Virginia Tech incident was the two-hour gap between the first shooting and the first universitywide notification. Police initially believed the shooting was a single event, and the campus wasn't alerted until the shooter returned two hours later. In the interim, many on campus were unaware of the attack.
Over the summer, campus officials participated in a number of exercises intended to sharpen their decision-making skills during emergencies and consider how they'd react in a similar "active shooter" situation.
"Virginia Tech brought everything right to the table and made us rethink how vulnerable we are on campuses," said Gary Livingston, Community Colleges of Spokane chancellor.
At CCS, security officers were decentralized and given offices on each campus, to put the decision-making closer to the students. At UI, following a tabletop exercise about an "active shooter," the school developed a plan for how it will lock down the campus in the event of an emergency.
Several schools plan increased safety campaigns to students and faculties this fall, and campus officials emphasized that such campaigns are more broadly focused than the "active shooter" scenario.
"Although we certainly want to plan for a Virginia Tech type situation, we want people to be aware that there are more likely scenarios," said Jeff Hart, security director at Gonzaga.
Among the types of emergencies that schools plan for: earthquakes and natural disasters, bomb threats, chemical spills and medical emergencies.
Nevertheless, an incident like Virginia Tech focuses public attention very specifically, and college officials tend to see an outpouring of questions over concerns about safety.
"What they want to know is, what are you doing for my child?" Gasseling said.
Campuses generally are safe places, and the chance of a mass shooting at any given school is slim, officials emphasized. But no place is immune, and the Moscow community received a sharp reminder of that in May when a gunman went on a shooting spree downtown, killing two people and himself.
"I think everybody's a little more aware" said Lt. Paul Kwiatkowski, of the Moscow Police Department. "People thought, 'Moscow is a quiet town and nothing ever happens here,' and that's not true anywhere."
One effective way to reach a lot of people in an emergency is an outdoor siren or speaker system. At WSU, plans for such a system were under way before Virginia Tech, but that incident speeded up the process, said Chris Tapfer, the school's emergency management coordinator.
WSU spent $114,000 on the new system, which includes clusters of speakers atop five buildings and the ability to combine sirens with messages. The speakers were tested last week, as students flooded back onto the Palouse for the new school year.
"This is a completely new system," Tapfer said. "The new sirens are nothing like the old sirens we're used to from the old days, the air-powered windup."
WSU also is adopting a "direct-contact" system of sending out text messages to cell phones and other devices. People would need to register their cell phone numbers with the system, and WSU is urging students, faculty and staff to do so, he said.
EWU's new text-messaging system is similar, and officials there will push students to register as well. Gasseling said that while Eastern doesn't have an outdoor loudspeaker system, it has a network of speakers in each building, which can be used for preprogrammed or live messages.
Whitworth University is adopting a combination of new technologies. A new text-messaging system will be in place for fall classes, and a series of six to eight speakers will be put up on campus, said spokesman Greg Orwig.
Orwig said that Whitworth's approach was not to plan narrowly for a mass shooting, but for a wide range of possible problems. He noted that security efforts at the school had been ramped up the previous year in response to another high-profile public threat, a flu pandemic.
At UI, bids for an emergency notification system have gone out and the school is expected to adopt a system that may include the usual suspects – text messaging and loudspeakers.
"Those are just some of the things that might be a part of that system," said spokeswoman Tania Thompson.
The school has also established a safety-themed Web site as part of a campaign to encourage people on campus to stay safe, Thompson said.
College officials say the new systems will help keep people safer on campus, but they also said no system is perfect. Livingston, the CCS chancellor, noted the difficulties of controlling a college campus, with buildings spread around, widely varying schedules and adult students who are largely free to do what they want.
"Everybody wants to be completely safe," Gasseling said, "and this is not a completely safe world."
Local journalism is essential.
Give directly to The Spokesman-Review's Northwest Passages community forums series -- which helps to offset the costs of several reporter and editor positions at the newspaper -- by using the easy options below. Gifts processed in this system are not tax deductible, but are predominately used to help meet the local financial requirements needed to receive national matching-grant funds.
Subscribe now to get breaking news alerts in your email inbox
Get breaking news delivered to your inbox as it happens.
---